Our Team in Serbia
Aleksandra Siljic Tomic
UNEP
Project Coordination Specialist
Aleksandra Siljic Tomic started her professional career in the development of EEA environmental core set of indicators for the Western Balkan region. She has also contributed to various fields of the regional efforts of ENVSEC Initiative, such as environmental remediation for mining legacies and climate change. She joined UN Environment in 2015, having a significant role in the preparation of the GEF funded project addressing land degradation in Serbia, later to assume the position of national project coordinator for projects and initiatives implemented by UN Environment in Serbia at both national and local level. Ms. Siljic Tomic holds a PhD in Environmental Engineering.
Constantine Palicarsky
UNODC
Regional Adviser (anti-corruption and asset recovery) for South-Eastern Europe and Head of the UNODC Programme Office in Belgrade
A lawyer with more than 25 years of experience, Mr. Palicarsky is a part of a team, based in both Vienna and in the field, that is responsible for providing technical assistance to States parties to the United Nations Convention against Corruption for the more effective implementation of the Convention.

Mr. Palicarsky has been implementing and leading anti-corruption technical assistance projects in Central and Eastern Europe, former Soviet Union, the Pacific, Africa, South-East, East and Central Asia and the MENA region with focus on corruption prevention, support to anti-corruption agencies and effective UNCAC implementation.

Deyana Kostadinova
UNICEF
Representative
Ms. Deyana Kostadinova assumed her duties as the UNICEF Representative in Serbia in October 2020.

Prior to this assignment, she was the Permanent Representative of the Republic of Bulgaria to the United Nations Office at Geneva.

The new UNICEF Representative in Serbia has many years of experience on child rights, both as an expert and as a politician. She was the Deputy Prime Minister and Minister of Labour and Social Policy in a caretaker government in Bulgaria. Ms. Kostadinova has also worked as the Head of the Cabinet of the President of the Republic of Bulgaria and as an advisor to the Prime Minister. Her main achievements were always focused on the advancement of the child rights agenda.

Ms. Kostadinova held the position of Director-General of the "Monitoring on Child Rights" Directorate. During her term as the Director-General, she provided overall monitoring of the Child Protection Departments, specialized institutions, schools, hospitals, and NGOs.

Ms. Kostadinova has a Master of Law degree and she began her professional development as a lawyer specialised in human rights.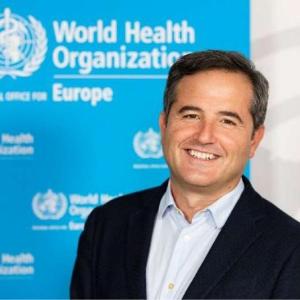 Fabio Scano
WHO
Representative
Dr Scano has over 20 years of experience in public health programme management and policy development in areas ranging from disease control, outbreak response, to regulatory strengthening. Dr Scano took up many important assignments with WHO Headquarters in Geneva and in the field including South Africa to assist the country with the outbreak of extensively drug-resistant TB in 2007.

In China, Dr Scano supervised all communicable and noncommunicable disease programmes in the WHO China Office, and supported strengthening of the National Regulatory Authority for medicine, vaccines and other health products. Since Jan 2020, Dr Scano has been at the forefront of the WHO COVID-19 response in China
first and then he provided support to the WHO European office on COVID-19 response. Prior to his assignment in Serbia as WHO Representative and Special Envoy of the
WHO Regional Director for the Western Balkans, Dr Scano was acting WHO Representative for WHO in Bosnia and Herzegovina.

Dr Scano is a public health specialist and holds a M.D. from University of Padua, Italy; a post graduate degree in Infectious Diseases and Tropical Medicine; and he is a Yale World Fellow.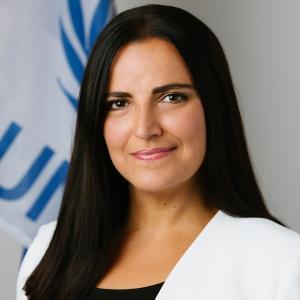 Francesca Bonelli
UNHCR
Representative
Ms Bonelli has 22 years of humanitarian work experience, mainly with UNHCR, in protection of refugees and displaced persons in protracted displacement situations and in management of emergency response. Experience in various operations in Africa, Asia, Europe and Americas.

Areas of Ms Bonelli's expertise include, inter alia, community-based protection, protection of unaccompanied children, support to economic and educational empowerment of refugees and the displaced populations, work with local communities to promote refugee integration, humanitarian interagency cooperation, emergency response coordination.
She has been engaged in the Western Balkans in response to the mixed movement of refugees and migrants since September 2015. She worked in Serbia and was subsequently engaged in Regional Representation in Sarajevo as the UNHCR Deputy Regional Representative for Southern East Europe until December 2019.

She holds University degree and Master in Political Sciences at La Sapienza, Rome.
Her specialization includes International Relations at the University of Lyon Lumiere Deux and Refugee Law at London School of Economics.

Francine Pickup
UNDP
Resident Representative
Ms. Pickup has been the UNDP Resident Representative in Serbia since May 2019. She was previously the UNDP RR ai in India and prior to that Country Director in India. Ms. Pickup served as Deputy Country Director of UNDP Indonesia from 2016-18. In India and Indonesia, she successfully established new innovative financing initiatives and engagement with the private sector on SDGs. She also worked as the Strategic Planning Advisor at UNDP's Regional Bureau for Asia & Pacific, based in New York (2012-16). Between 2008-12, she was Advisor to the Deputy Special Representative to the Secretary General for Iraq and headed a UN Inter-Agency Information and Analysis Unit in Iraq.

Ms. Pickup joined the UN in 2002, working with OCHA for 5 years, as well as UNSCO, FAO and ILO in New York, in Central Asia, Palestine and Lebanon. She has also worked with Amnesty International, Oxfam and the World Bank.

Ms. Pickup received her undergraduate degree in Social Anthropology from Cambridge University and her Masters and PhD in Development Studies from the London School of Economics.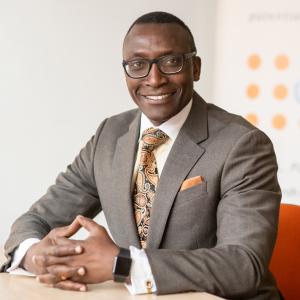 John Kennedy Mosoti
UNFPA
UNFPA Representative for Bosnia and Herzegovina, Country Director for Serbia and the Republic of North Macedonia, and Director for Kosovo (UNSCR 1244)
John Kennedy Mosoti holds Bachelor of Laws degree, Post-Graduate Diploma in Law, a Master's Degree in Criminal Justice and Diploma in International Environmental Law. John is an established diplomat and brings with him twenty five years' experience in the private sector, civil society, the United Nations as well as government. As the Chief of the Multilateral Affairs Branch at UNFPA, John
managed UNFPA's political interaction with Member States in the General Assembly, Security
Council, ECOSOC and its functional commissions as well as the UN secretariat. He later became
the Chief of the Inter-governmental, Inter-agency and Policy Dialogue Branch. Most recently, he
was appointed and served as Deputy Global Coordinator on ICPD 25 charged with the
organization of the Nairobi Summit: Accelerating the Promise.

John speaks Swahili, English, French and Arabic. He is married and has three daughters.

Jovan Protic
ILO
National Coordinator
Mr. Protic has been the National Coordinator of the ILO in Serbia since 2008, responsible for the ILO's representation in Serbia and implementation of the ILO Decent Work Country Programme.

Prior to joining ILO, Jovan worked for the UNDP as the Project Manager in charge of the drafting of the National Sustainable Development Strategy of Serbia on 2005-08.

From 2003-05 he worked as the Coordinator of the Reform of the Labour Inspectorate of Serbia, and for the UNDP as the Project Manager of the Capacity building of the Ministry of Labour and Employment of Serbia in 2002-03.
Jovan holds BA in Economics from the University of Belgrade and BSc in Politics & International Relations from the University of London and two MAs in Economics of European Union from the College of Europe, Bruges, and in Law and Economics, Faculty of Law, University of Belgrade. He is currently pursuing his PhD studies of Labour Law at the Faculty of Law, University of Belgrade.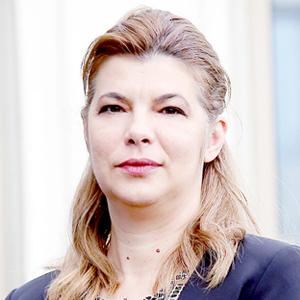 Lidija Markovic
IOM
Head of Office in Serbia
Ms. Markovic has been Head of Office for IOM Serbia since 2012 and she holds a Master of International Relations from Belgrade University in Serbia. Over the course of her extensive IOM career she has been dealing with many areas of migration management, project development and coordination of regional initiatives in the field of migration. Prior to being appointed as IOM Serbia Head of Office, she was managing refugee resettlement programs, housing of refugees and internally displaced persons projects, programs aimed at combatting trafficking in human beings, programs of assisted voluntary return and reintegration, as well as programs providing psychosocial support.

IOM Serbia has actively supported Government of Serbia in all its migration related efforts.

Michela Telatin
UNOPS
Head of Office for Serbia
Michela brings a wealth of expertise in humanitarian affairs, conflict analysis and resolution, team management in insecure environments. Prior to joining UNOPS, she held various senior positions as country director with the ICRIC in conflict-affected countries in Africa, Latin American and Asia. She also worked in the humanitarian policy and advocacy sectors in the UK and Canada, and in the financial sector in the City of London.

Michela holds a PhD in International Relations, a Doctorate in Languages and Literature and a Masters degree in Development Studies. Her research interests include international relations, the link between development and security, and Security Sector Reform.

She is fluent in English, Italian, French, and Spanish.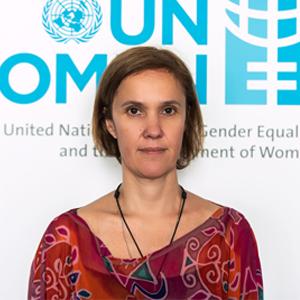 Milana Rikanovic
UN Women
Gender Specialist, Head of UN Women Serbia
Ms. Rikanovic has more than 20 years of professional experience with international organizations in the Western Balkans and Tajikistan, including UN organizations, World Bank and EU initiatives, where she has been leading diverse, complex and multi-sector programmes. This included the Women Economic Empowerment portfolio in Serbia and MNE where her engagement in the area of women's labour rights and gender-based discrimination was featured as the model programme of the economic empowerment of women inclusive of CSOs and local communities. She developed gender responsive governance portfolio in UN Women, where she initiated the programme at the local level and started the process of gender mainstreaming of the EU assistance and accession process and sectoral strategies and budgets.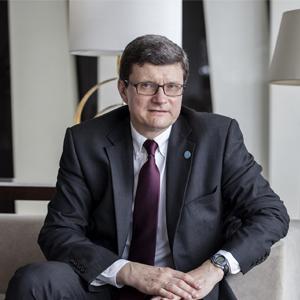 Vladimir Olegovich Rakhmanin
FAO
Assistant Director-General, Regional Representative for Europe and Central Asia
Throughout his career, Rakhmanin has dealt with key policy issues at global and regional levels, including assignments in Beijing, Washington D.C. and Moscow.

From 2002 to 2006 he served as Ambassador of Russia to Ireland.

Prior to joining FAO in January 2014, he was deputy head of the Energy Charter Secretariat in Brussels.