Serbian and Montenegrin producers meet global berry industry's movers and shakers
Serbian and Montenegrin berry producers attended the Global Berry Congress in Rotterdam to exchange ideas and create new business opportunities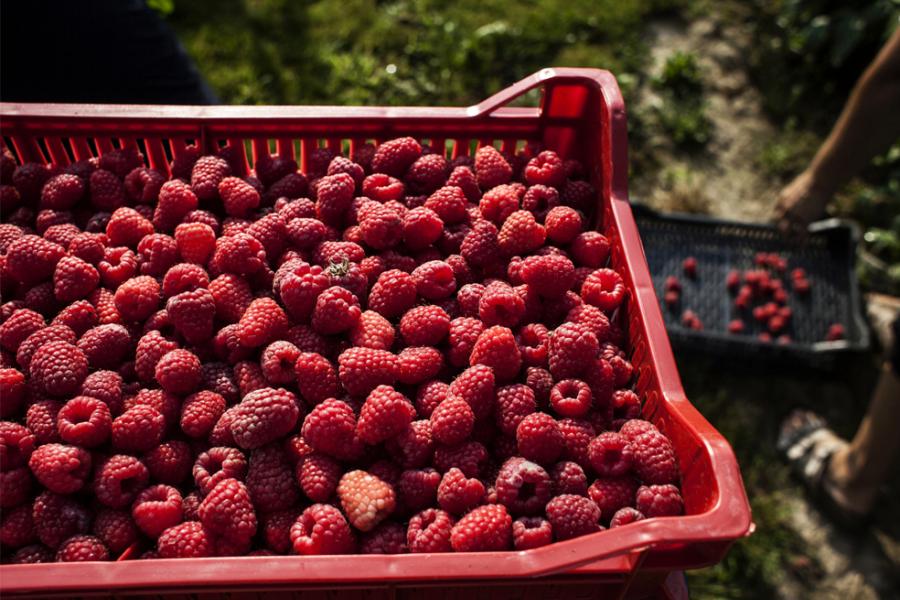 Photo | Igor Pavicevic/FAO
Serbian and Montenegrin berry producers attended the Global Berry Congress in Rotterdam on 25 March – an annual event bringing together the industry's 'best and brightest' to exchange ideas and create new business opportunities.
It was the delegation's first time attending the Congress, organized this year around the theme 'healthy berries, healthy business'.
Over three days, they learned more about the global soft fruit industry – from new berry products and trends to the latest innovations along the berry supply chain. They also had a chance to network with potential clients.
The European Bank for Reconstruction and Development (EBRD) and the Food and Agriculture Organization of the United Nations (FAO) have been helping Serbian and Montenegrin producers in recent years raise quality standards along the supply chain and widen their access to export markets.
The two institutions organized a roundtable at the Congress highlighting Serbia's booming raspberry trade, also known as the country's 'red gold'.
Keeping up with consumers
The Arilje region is the heart of Serbia's raspberry production. There, producers have developed a growing method that involves removing the first batch of shoots to allow for more sunlight.
This traditional method, coupled with the area's favourable agro-climatic conditions, gives the Arilje raspberry its distinctive sweet and tangy flavour.
FAO and the EBRD worked with Serbian producers to create an association and protect the Arilje raspberry as a geographic indication. A GI, which links a high-quality product to its place of origin, can safeguard a product's reputation and help producers secure higher revenues.
The region produces over 30,000 tonnes of berries a year, exporting the bulk to markets in western Europe.
While most of the berries are frozen after being hand-picked, some producers have begun selling fresh or dried berries.
FAO agricultural policy specialist Milos Milovanovic said this type of diversification is key to opening up new markets.
"Global demand is changing. People are eating healthier, fresher food. At the moment, Serbia mainly exports frozen berries, but the price difference between fresh and frozen is huge," he said.
Miljan Zdrale, the EBRD's head of agribusiness for central and southeastern Europe, added that "increasing exports of fresh berries calls for greater investment along the entire supply chain, including new raspberry varieties and cold storage infrastructure, and the EBRD and FAO are there to support producers' efforts."
New contacts and opportunities
Participating in the Congress was Slobodan Obradovic, President of the Serbian Association Ariljska malina.
He is also the founder of Drenovac, a family-owned and run company that specializes in frozen and freeze-dried fruits, which are shipped around the world.
The company has recently ventured into coating its freeze-dried fruits with high-quality Belgian chocolate. 
For him, the Congress was a great opportunity to learn where global berry trends are headed – in production, processing, packaging, marketing – and also to meet with potential buyers.
"This was a huge global event, so having the chance to get to know other industry leaders, exchange ideas and even discuss business opportunities, like quantities and prices, was really valuable," he said.
Andrija Delic, President of the Montenegrin Association of raspberry growers from Polimlje, said that thanks to what he learned at the Congress, he's even more confident that he and his fellow berry producers from Montenegro are in the right sector.
"But I also realize that we will have to invest more in value adding to capture those market opportunities," he said.
UN entities involved in this initiative
FAO
Food and Agriculture Organization of the United Nations