"From Accession to Acceleration" – UN Mainstreaming, Acceleration and Policy Support (MAPS) Mission arrives in Serbia for a week-long visit
The ongoing efforts of the Government to be further supported in contextualizing and adapting the SDGs to national needs in line with the ongoing EU accession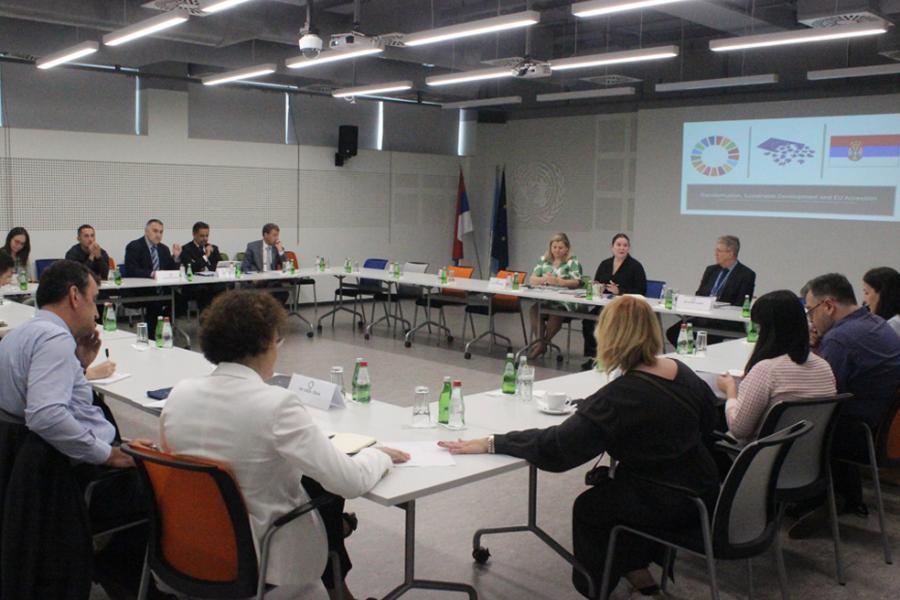 Belgrade – "From Accession to Acceleration" - the UN Mainstreaming, Acceleration and Policy Support (MAPS) Mission has arrived in Serbia for a week-long visit to support the ongoing efforts of the Government of the Republic of Serbia in contextualizing and adapting the Sustainable Development Goals (SDGs) to national needs in line with the ongoing EU accession and related reform processes.
From 3 to 7 September, the MAPS mission, led by Mr. George Bouma, Regional Team Leader for the Sustainable Development Cluster from UNDP Istanbul Hub, and Ms. Catherine Haswell, Chief of the Programme Management Unit, UNECE, will conduct a series of joint meetings and consultations with the representatives of relevant government departments, private sector, and civil society to make available a set of tools, guidance and expertise on effective and coherent implementation of the 2030 Agenda.
The Mission will be led by the Government of the Republic of Serbia, with the support of international experts of the United Nations Agencies, Funds and Programmes, the World Bank, the EU, and other interested stakeholders.  "The MAPS Mission's visit is very timely as it will help define the priorities for country's sustainable development platform while taking into the account the ongoing EU accession process and related reforms that play a critical role as the key accelerator for Agenda 2030 in Serbia," says Ms. Karla Robin Hershey, UN Resident Coordinator in Serbia, while greeting the MAPS Mission at the UN House.
Five UN issue-based coalitions have been included in the MAPS Mission: (1) health and wellbeing for all at all ages; (2) gender equality; (3) adolescents and youth; (4) large movements of people, displacement and resilience and; (5) SDG monitoring.  Thematic areas of specialization in which the UN and development partners have a comparative advantage have also been included and cover: education, poverty, economy, decent work, environment, disaster risk management, innovations, culture and human rights.  Experts are being provided by the UN system, World Bank and the EU.
UN entities involved in this initiative
UNHCR
United Nations High Commissioner for Refugees
UNDP
United Nations Development Programme
UNECE
United Nations Economic Commission for Europe
FAO
Food and Agriculture Organization of the United Nations
ILO
International Labor Organization
IOM
International Organization for Migration
WHO
World Health Organization
UNEP
United Nations Environment Programme
UN Women
United Nations Entity for Gender Equality and the Empowerment of Women
UNESCO
United Nations Educational, Scientific and Cultural Organization
UNFPA
United Nations Population Fund
UNICEF
United Nations Children's Fund
UNODC
United Nations Office on Drugs and Crime
UNOPS
United Nations Office for Project Services
Other entities involved in this initiative
Goals we are supporting through this initiative