UN Women opens exhibition "When the world stopped, they didn't"
the exhibition features artistic photos of 10 women leaders, from all walks of life who led contributed to the betterment of our society during COVID19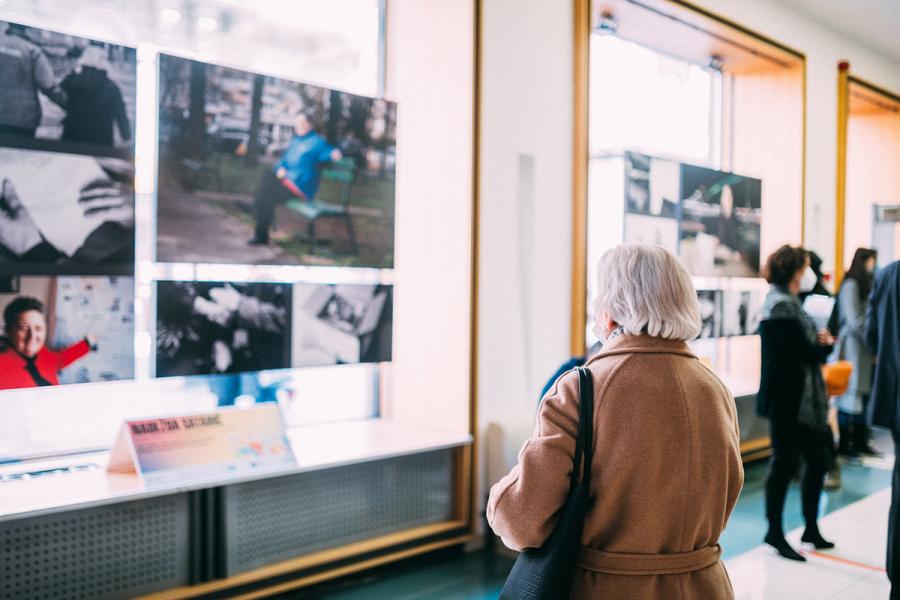 Photo | Marija Piroshki/UN Serbia
Under the headline "When the world stopped, they didn't", UN Women marked this year's International Women's Day - 8 March by opening an exhibition together with the Coordination Body for Gender Equality, Ministry of EU Integration, Ministry for Human and Minority Rights and Social Dialogue, EU Delegation to Serbia and Embassy of France.
"The day when the pandemic started was the longest in my entire life." This is how Sladjana Djokic, a nurse from Nis, describes the beginning of the fight against the coronavirus when they knew so little about it and had no adequate protection.
She is one of 10 women heroes during the COVID-19 crisis in Serbia featured at the exhibition "When the world stopped, they didn't" at the French institute in Belgrade's Knez Mihailova Street.
This year's International Women's Day celebrates the tremendous efforts shown by women and girls throughout Serbia during the COVID-19 pandemic. Therefore, the exhibition features large-format artistic photographs of 10 women leaders, from all walks of life (from nurses and teachers, to pharmacists and cashiers), who have led by example and contributed to the betterment of our society during the COVID-19 pandemic.
Each woman's photographs are accompanied by an audio story about her experience and work during the pandemic.
According to Ms. Milana Rikanovic, Head of UN Women in Serbia, the aim of the exhibition was to symbolically give recognition to these women for everything they have done for all of us through their professions and personal commitment. "They are true heroines of our time and leaders of the struggle for gender equality," said Ms. Rikanovic.
The exhibit was opened at French institute in Serbia (Knez Mihailova 31, Belgrade) on 8 March by several high-level government representatives (Deputy PM, EU integration minister and Minister for human and minority rights), Head of the EU Delegation to Serbia, Head of UN Women and the French Ambassador, as well as one of the women featured at the exhibition.
In her welcome address, Ms. Mihajlovic, Deputy PM and President of the Coordination Body for Gender Equality, said that last year was challenging, but it showed that mostly women were on the frontline. "Faces in the exhibition represent faces of all women in our country", she said.
H.E. Mr Sem Fabrizi, Head of EU Delegation, said that we should also realise that – among the many challenges Covid has brought upon us all – gender equality has been out under additional pressure, socially and economically on a global scale. "2021 celebrations should therefore be based on recognising women role and continuing to fight for gender equality," he added.
The multi-media exhibition will remain on the premises of the French Institute in Belgrade for the duration of 2 weeks after which it will continue touring across Serbia. The authors of the exhibition are Sandra and Igor Mandic.
UN entities involved in this initiative
UN Women
United Nations Entity for Gender Equality and the Empowerment of Women