Launch of Advocacy Campaign: Early Moments Matter for Children's Development
The Early Moments Matter campaign launched to raise awareness on importance and impact of the first 1,000 days of a child's life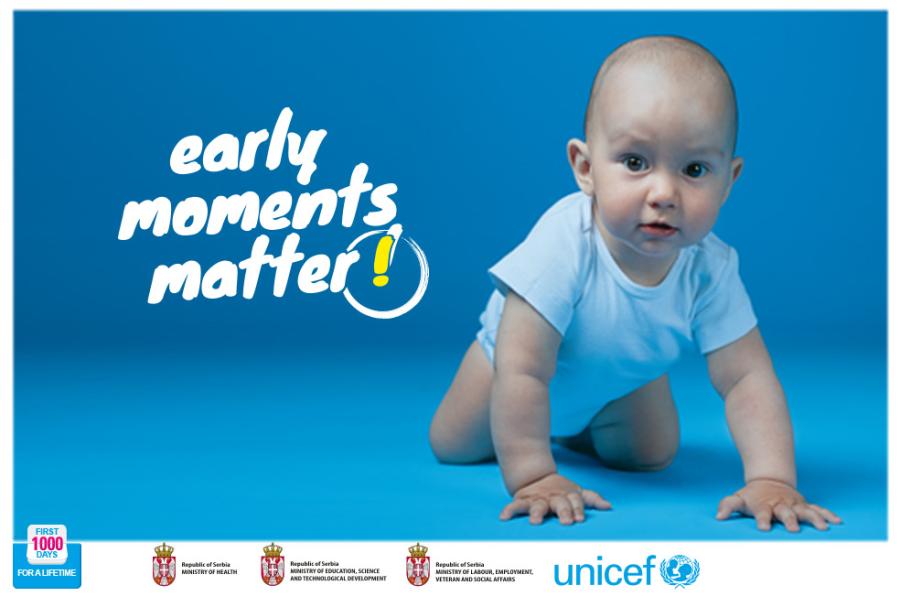 Belgrade – In cooperation with the Ministry of Health, Ministry of Education, Science and Technological Development, and the Ministry of Labour, Employment, Veteran and Social Affairs, UNICEF today launched the national Early Moments Matter campaign to drive increased awareness about the importance of the first 1,000 days of a child's life and the impact of early experiences on the development of the child.
The first years of life are a critical period of adaptability and responsiveness to interventions. When young children are deprived of nutrition, stimulation, and protection, the damaging effects can produce long-term detriments for families and communities.
"UNICEF, together with the Government of Serbia, is working to ensure that all children in Serbia have the best start in life. Every child, regardless of the challenges he or she faces can achieve his or her full potential with the love, adequate care, proper nutrition, including breastfeeding, and protection provided by parents or guardians, and through timely interventions and community services. The most effective interventions must be cross-sectoral. We hope this campaign will raise awareness among parents and caregivers about why these early moments matter," said Michel Saint-Lot, UNICEF Representative in Serbia.
Multi-sectoral interventions are important to reach children early with services that support families to deliver nurturing care and promote, protect, and support early childhood development.
"The Ministry of Labour, Employment, Veteran and Social Affairs knows and understands that every moment in a child's developmental cycle, and especially in the period of early development, is important for the child and his or her future development and life.
Ensuring conditions for the optimal growth and development of a child means respecting the rights of the child as set out in the UN Convention on the Rights of the Child, especially the right to live with their parents, the right to protection from abuse and neglect, and the right to growth and development. In this respect, the role of the social and family protection system is particularly important when it comes to the timely identification of and support provided to families with young children facing multiple problems.
I would especially like to point out the role of the social and family protection system in preventing the separation of children from their biological families at the earliest age. The Ministry is making great efforts to develop intensive support services for families with complex problems in order to ensure the complete enforcement of the legal ban on the placement of children under three years of age in residential institutions, and I hope this campaign will significantly contribute to that goal," said Zoran Đorđević, Minister for Labour, Employment, Veteran and Social Affairs.
Health services, health workers and community providers have an important role in promoting the development of young children.
"The Ministry of Health is extremely proud of its cooperation with UNICEF, especially the project of improving the primary health care of the youngest children, thanks to which, developmental counselling units in 9 primary health centres have opened their doors in the last two years. These units have been instrumental in detecting developmental delays, but also in providing timely and expert support to children and families to overcome them.
We know that investing in early childhood development positively impacts society as a whole, and that is why projects and campaigns like these are welcome and extremely useful. Serbia's health care system is highly qualified and able to provide adequate support to the early childhood development of every child in Serbia, but the successful implementation of strategic policies is possible only through multi-sectoral cooperation.
I am certain that, together, we will achieve significant results through this joint campaign, and provide children with all the necessary conditions for their healthy development," said Dr Meho Mahmutović, State Secretary of the Ministry of Health.
Investments in early child development through early learning activities and improved school readiness increase the likelihood that boys and girls will complete primary school.
"Broader inclusion of children into quality preschool education is important for providing support to children at an early age, as well as to their families. The Ministry recognises the importance of early childhood education and
care, and works simultaneously to increase the coverage of children and to improve the quality of preschool education. Preschool programmes are aimed at supporting the overall development and well-being of the child, in which play and quality relationships play a crucial role," said Anamarija Viček, State Secretary of the Ministry of Education, Science and Technological Development.
Anamarija Viček stressed that the national Early Moments Matter campaign aims to remind parents, and other adults, about the importance of supporting children during early childhood; nurturing close, emotionally warm, relationships between children and family members; the necessity of listening to children and responding to their needs – all through playing, talking and reading stories together, and creating a stimulating family environment.
The process of nurturing young children begins in the earliest stages of life and depends on the environment in which a child is raised. Optimal conditions at home, responsive and adequate feeding, interactions with parents and caregivers and non-violent disciplining practices, all greatly affect a child's wellbeing. By engaging with families, this campaign aims to help parents and caregivers make choices, which will lead to the optimal development of their children – so that every child can have the best start in life!
UN entities involved in this initiative
UNICEF
United Nations Children's Fund
Goals we are supporting through this initiative