Earth Hour 2019: UN Country Team in Serbia joins iconic landmarks 'going dark' to support climate action
The UNCT Serbia dims the lights this evening at UN buildings across Belgrade and joins the millions around the world in support of Earth Hour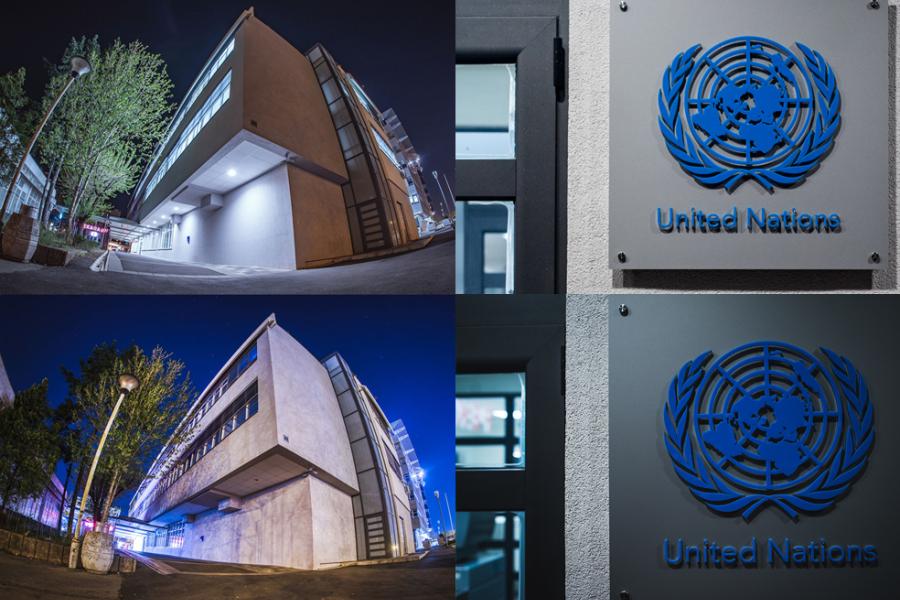 Photo | UNCT Serbia/Marija Piroshki
Belgrade – The UN Country Team in Serbia dims the lights this evening at UN buildings across Belgrade, including UN House, UNOPS and UNICEF premises, and joins the millions around the world in support of Earth Hour, an annual global event raising awareness about the urgent need to take action on climate change and promoting sustainable energy consumption.
Individuals, businesses and cities in 188 countries and territories worldwide joined Earth Hour 2019 to speak up for nature and inspire urgent action for the environment. As Earth Hour rolled around the globe, thousands of landmarks switched off their lights in solidarity for our planet. 
The impacts of accelerating nature loss and climate change on the planet are profound, as are the consequences for humanity. In a video statement, UN Secretary-General António Guterres stated: "This Earth Hour comes with a great sense of urgency. We can see the worsening impacts of climate change, biodiversity loss, ocean pollution, soil degradation and water scarcity." If this trend continues, our planet's ecosystems will collapse, along with the clean air, water, food and stable climate that they provide.
Started as a symbolic lights-out event in Sydney in 2007, Earth Hour is now one of the world's largest grassroots movement for the environment, inspiring millions of people to take action for our planet.
UN entities involved in this initiative
UNHCR
United Nations High Commissioner for Refugees
UNDP
United Nations Development Programme
FAO
Food and Agriculture Organization of the United Nations
ILO
International Labor Organization
IOM
International Organization for Migration
WHO
World Health Organization
UNEP
United Nations Environment Programme
UN Women
United Nations Entity for Gender Equality and the Empowerment of Women
UNFPA
United Nations Population Fund
UNICEF
United Nations Children's Fund
UNODC
United Nations Office on Drugs and Crime
UNOPS
United Nations Office for Project Services
UNV
United Nations Volunteers