Press Release
Countries from South East and Southern Europe agree common vision to beat pollution
05 December 2018
Countries from South East and Southern Europe will pursue new measures that reduce pollution and benefit people's health, the environment and economy.
Belgrade, 5 December 2018 - Countries from South East and Southern Europe will pursue new measures that reduce pollution and benefit people's health, the environment and economy.
A joint vision agreed on at a ministerial conference ending today will see states incentivize and redirect investment towards non-polluting activities, promote waste prevention and recycling and step-up the monitoring of transboundary pollution, among other measures. UN Environment is called on to encourage information exchange and partnerships to support the transition.
A report commissioned by UN Environment titled 'The state of pollution in the Western Balkans and current challenges' finds that countries in the area have made strides in environmental policy. Yet they continue to face serious challenges related to air and water pollution, unregulated waste dumping and soil contamination in particular.
"A regional approach to fighting pollution is crystallizing ahead of the fourth UN Environment Assembly (UNEA4)", said the Head of UN Environment's New York Office and UN Assistant Secretary-General, Satya Tripathi. "This can open a new common chapter in history for the Western Balkans. Countries have the chance to leapfrog some of the development stages experienced by other industrialised states".
"Environmental protection is more than just an economic, technical or cooperation issue - it is a moral obligation," said Serbian Environment Minister Goran Trivan. "High environmental standards mean healthy lives for citizens and will benefit our economies".
Countries in the area currently rank among the worst in Europe for air pollution, the report notes. In Bosnia and Herzegovina for example, heavy dependency on coal, poor energy efficiency in buildings and the use of old cars mean that 225 out of every 100,000 deaths are due to household or ambient air pollution – more than triple the European average[i]. The economic cost of air pollution in the country is equivalent to 21,5 % of Gross Domestic Product.
Meanwhile, over 90% of inhabitants in the area have access to safe drinking water. Yet only a small share of urban wastewater is treated there before entering rivers and sea, the report underlines. Furthermore, municipal waste collection is not available for 20-40% of inhabitants there. This contributes to widespread illegal waste dumping, and means the area is a major source of plastic pollution in the Mediterranean and Black Sea.
Other than Albania, all countries in the area plan to build new coal power plants, the study notes. Yet the economic and environmental reasoning behind this is questionable, the report argues, with solar and wind energy now becoming cheaper than coal or hydropower in the region.
Economic instruments such as an excise tax on dirty fuels and the polluter-pays principle are proposed to address pollution and fund green incentives. The report recommends that environmental objectives also be introduced into energy and transport policies.
Countries should continue to expand their networks of terrestrial and marine protected areas, the report proposes. It finds that Albania is currently the only country in the area on track to have 17% of its territory designated as a protected area – an Aichi target under the Convention on Biological Diversity.
The ministerial conference is organized by the Government of Serbia and the Italian Ministry of Environment, Land and Sea - which provided significant funding for the event and related work  - with support from UN Environment. UNEA4 will gather representatives from all UN member states in March 2019 to address innovative solutions for environmental challenges and sustainable consumption and production.
Note to editors
The Ministerial Conference on 'Innovative Solutions to Pollution in South East and Southern Europe' is attended by officials from Serbia, Bosnia and Herzegovina, Italy, Turkey, the Former Yugoslav Republic of Macedonia, Montenegro, Hungary, Greece, Romania, Slovakia, Spain, Portugal, the Czech Republic, Slovenia and Albania.
Read the joint vision agreed on at the conference and state of pollution report here. More than 20 tangible solutions against pollution presented at the conference can also be viewed. Follow the event on Twitter: @UNEnvironmentEu and hashtag #BeatPollution. Discover examples of how UN Environment is working to help tackle pollution in the region: here,  here and here. Read more about solutions at beatpollution.org
Countries from South East and Southern Europe agree common vision to beat pollution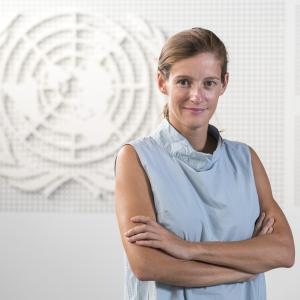 Aleksandra Stamenkovic
RCO
Communications Officer
UN entities involved in this initiative
UNEP
United Nations Environment Programme