First VR film on gender-based violence premiered in Serbia on the occasion of 16 Days of Activism against Gender-Based Violence
Under the global theme Orange the world: Hear Me Too, UN Women joins the UNiTE campaign "16 days of activism against GbV" with unique VR experience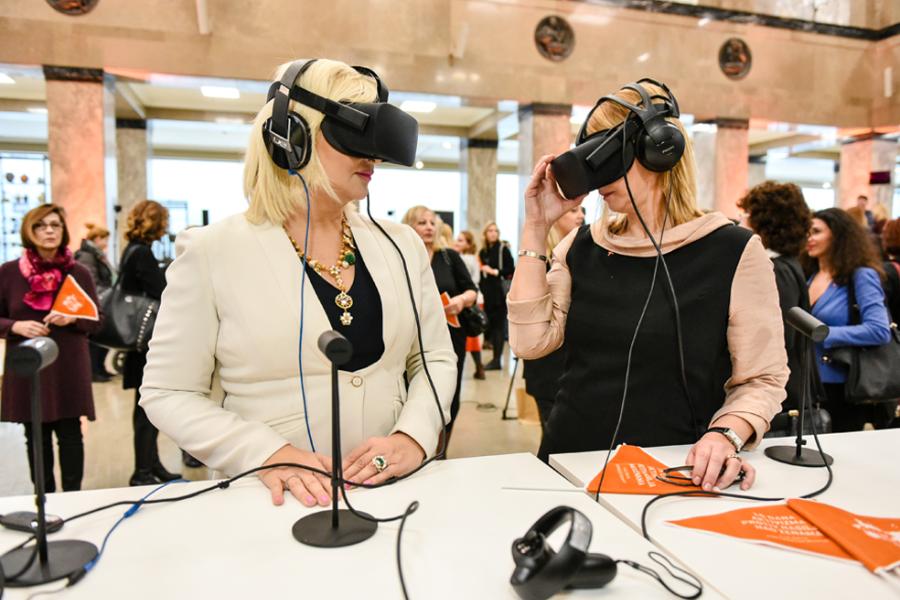 As many as 150 people gathered at the National Museum of Serbia on November 29 at the central event in the 16 days of activism campaign in the country for an "orange" premiere of the first film in virtual reality on violence against women in Serbia entitled "Everything is alright".
Zorana Mihajlovic, Deputy Prime Minister and President of the Coordination Body for Gender Equality, Alia El-Yassir, UN Women Regional Director for Europe and Central Asia, and Matea Norcic Stamcar, Deputy Head of EU Delegation to Serbia, were the first to indulge into the virtual reality experience and witness a scene of psychological violence towards a woman over text messages.
Addressing the audience, Ms. Mihajlovic said that not a single pain and scream should end in silence. "My message to all women and girls who are victims of violence is that they are not alone and that we have to fight against gender-based violence throughout the year, and not only during 16 days of activism," said Mihajlovic addressing the audience.
Ms. El-Yassir said that this year UN Women aim to support all those whose voices are still not yet being heard. "We live in a digital world where all women are easy targets of all forms of violence in their everyday life. I hope this VR equipment will help us understand that we are not alone and that there are other forms of violence besides physical," said El-Yassir.
According to Ms. Norcic Stamcar, gender inequality and violence against women are two sides of the same coin. "These should be fought equally and urgently. We cannot tackle one and neglect the other, because, we will not get sustainable and life-changing results."
After the welcome speeches, all the participants lined up to put on the VR headsets and enter the world of virtual reality. VR technology is especially suited to tapping into other people's emotions and true experiences of how it feels being in someone else's shoes. In this film "Everything is alright", a viewer finds himself/herself in a nicely decorated Belgrade apartment with a young couple at the moment when the woman is experiencing psychological violence by her partner.
The main message of the film, which is available in both Serbian and English, is that violence is not only physical and that not a single woman suffering any kind of violence is alone.
Following the kick off event, the film has continued its life on four different locations in the city - National Museum of Serbia, Ikea store in Belgrade downtown, "Kombank Dvorana" cinema and StartIT hub - throughout the campaign until 10 December.
The campaign is organised with joint forces of UN Women in Serbia, Coordination Body for Gender Equality and EU Delegation to Serbia within the project "Support to Priority Actions for Gender Equality".
UN entities involved in this initiative
UN Women
United Nations Entity for Gender Equality and the Empowerment of Women