Involvement of gender perspective is vital for response to local challenges of climate change
Women should fully contribute to creation/implementation of policies related to climate change, concluded at Women & Men in response to local challenges of cc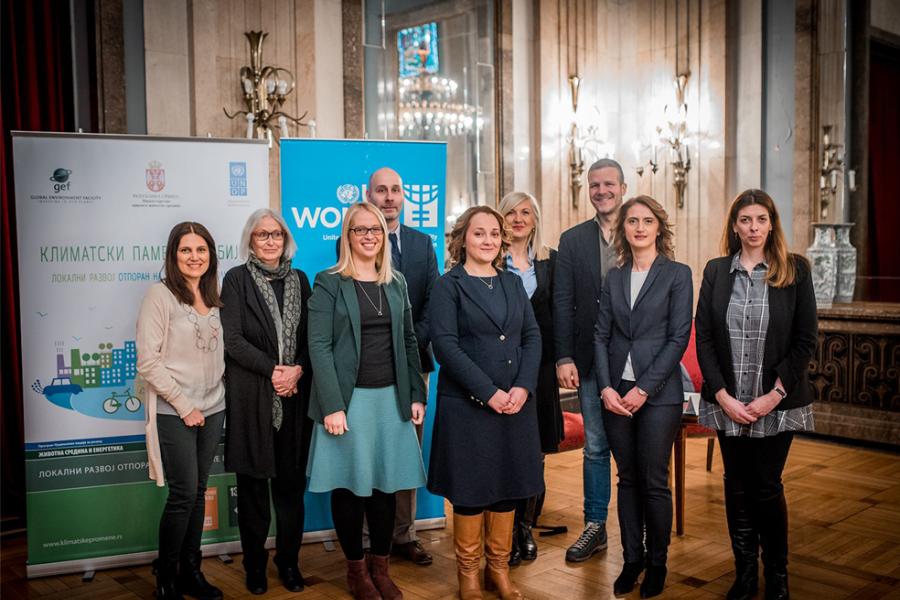 Belgrade – Over 150 local and international experts from the field of urban planning, state and city officials and representatives of local self-governments gathered in the Belgrade City Hall to discuss gender and climate change.
Mr. Goran Trivan, Minister of Environmental Protection of the Republic of Serbia, emphasized the contribution of women to all mankind. "Women have a significant role that men do not have. Women, as mothers, are the pillars of our civilization and we are grateful to them," said Trivan addressing the conference entitled "Women and men in response to local challenges of climate change".
Ms. Steliana Nedera, Deputy Resident Representative at UNDP Serbia, underlined the impact of climate change on the entire human population from different aspects, highlighting the importance of the inclusion of key actors such as girls and women. "Gender equality should be a new business strategy of the Republic of Serbia, and responsibility for climate change should be a method," said Ms. Nedera.
According to Ms. Jelena Milovanovic, Deputy Head of UN Women in Serbia, women, compared to men, often have limited access to resources as well as limited voice in decision-making processes and impact on politics. "The unequal participation of women in decision-making processes and labor market creates inequalities and often prevents women from fully contributing to the planning, creation and implementation of policies related to climate change", said Ms. Milovanovic.
Mr. Milutin Folic, Chief Urbanist of Belgrade, pointed out the importance of the participation of men and women in responding to the challenges of climate change. "Through our strategic documents, we have determined the relocation of industrial zones from the city center, in order to reorganize the hierarchy of traffic, which, implies giving priority to pedestrians, bikers and public, city transport, like it is in other world's great cities," said Mr. Folic.
Ms. Eva Kail, Director of Urban Planning of the Chief Executive Office of the City of Vienna, highlighted the importance of the Urban Planning Plan of Vienna, based on gender perspective and sustainability, which in practice proved to be very successful for spatial and urban planning. Furthermore, the benefits for men, women and the community as a whole of the Urban Planning Plan of Vienna and its implementation were presented to the participants.
The conference has focused on the gender aspects of sustainable planning, the role of women in the decision-making process as well as the response to climate change. The conference was organized as a part of theproject "Climate Smart Urban Development Challenge", that will be implemented until 2021, by the Ministry of Environmental Protection,in cooperation with the United Nations Development Program (UNDP), with the financial support of Global Environmental Facility.  The project will promote innovative and integrative approaches and new technologies for reducing greenhouse gas emissions at the local level and new business models, public private partnerships and social inclusiveness.
UN entities involved in this initiative
UNDP
United Nations Development Programme
UN Women
United Nations Entity for Gender Equality and the Empowerment of Women
Goals we are supporting through this initiative