World Bicycle Day - Cycling for Sustainable Cities in Serbia
UN in Serbia, EU Delegation, Embassy of the Netherlands & Streets for Cyclists association invite all citizens to use bicycles as sustainable means of transport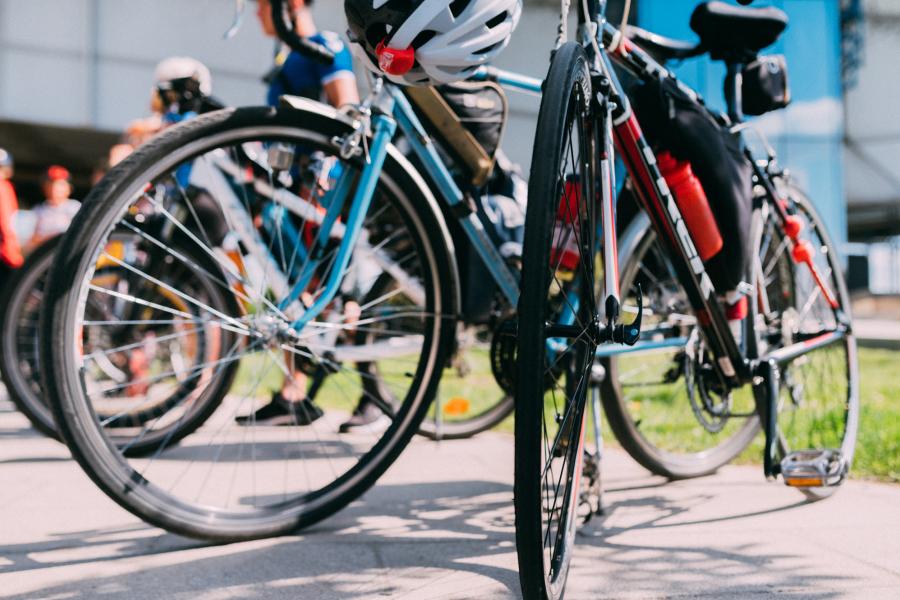 Photo | Marija Piroshki/UN Serbia
Belgrade – 3 June 2021 – On this World Bicycle Day, the UN in Serbia, European Union Delegation to Serbia, Embassy of the Netherlands and Streets for Cyclists association invite all citizens to use bicycles more, as a fast, efficient, inexpensive and healthy means of transport.
To mark this day, a cycling gathering was organised for all cyclists to promote bicycles and cycling as a way to contribute to protecting the environment, reducing the greenhouse effect and slowing down climate change.
"On the World Bicycle Day and any other day, let us continue to pedal and demonstrate the importance of bicycles in creating healthier, more sustainable cities and countering climate change. Together with partners, the United Nations in Serbia will continue to support local and national authorities in improving the cycling infrastructure and road safety, with a view to developing sustainable urban transport and a healthy environment", said Françoise Jacob, UN Resident Coordinator in Serbia.
The Ambassador of the Netherlands Joost Reintjes highlighted the benefits of using bicycles as a means of transportation: "We celebrate the World Bicycle Day to raise the profile of bicycles in urban communities and draw attention to the fact that cycling is not only recreation or sport, but also a means of transportation. We want to show that cycling is a convenient, healthy and inexpensive transportation option that contributes to better environment. This is one in a series of initiatives taken as part of the Green Grove campaign, conducted by the Embassy this year with the aim of introducing good practices from the Netherlands in the 'green' living concept, in cooperation with citizens, companies and decision makers."
At the event, citizens had an opportunity to share experiences, learn more about sustainable mobility options in Belgrade from the presentation of the "Pedalling across Belgrade" guide, make minor repairs on their bicycles, and enjoy special Dutch pancakes.
As one of the most sustainable, inclusive, safest and healthiest mobility options, cycling was given fresh impetus in May by the adoption of the first-ever Pan-European Master Plan for Cycling Promotion at the Fifth High-level Meeting on Transport, Health and Environment, held under the auspices of the UN Economic Commission for Europe (UNECE) and the World Health Organization. Serbia was among the participant countries. The Master Plan is designed to help national and local stakeholders focus their efforts on cycling promotion. It contains seven key goals to be achieved by 2030: significantly increase cycling in the region; provide appropriate space in favour of active mobility; extend and improve cycling infrastructure; develop and implement national cycling policies, plans, strategies and programmes; significantly increase cyclists' safety and reduce the number of fatalities and series injuries; integrate cycling into health policies; and integrate cycling infrastructure into land use, urban, regional and transport infrastructure planning.
Representative of Streets for Cyclists association Zoran Bukvić announced that a National Cycling Strategy was under preparation within a project of the Pan-European Programme, under the EU-funded Danube Transnational Programme. The Strategy would be focused on adopting legal provisions conducive to cycling and rulebooks harmonising the design of cycling infrastructure, and identifying cycling routes across Serbia to promote cycling tourism. The project would also raise awareness about the importance and advantages of cycling as part of citizens' daily routine.
He also made a reference to the recently adopted Belgrade Sustainable Urban Mobility Plan, selected by the European Commission jury as a finalist, together with Bilbao, Spain, and Grenoble, France, in a contest for the best plan. Given Belgrade's high ranking and ambitious plan, the city authorities set themselves high goals in sustainable transport planning, and project partners were certainly willing to help make Belgrade a better place to live with their advice and knowledge.
About the World Bicycle Day
In 2018, the UN General Assembly declared 3 June as World Bicycle Day, in recognition of the importance of this means of transportation and its contribution to achieving the Sustainable Development Goals. World days are an opportunity to raise awareness of specific topics and to appeal for action, which is precisely what we are doing on this occasion.
At the individual level, cycling is healthy and inexpensive, allows us to travel short distances quickly and does not require much parking space. In addition, cycling makes us happy. From the economic aspect, companies know that staff who cycle to work take fewer sick days, are more creative and tend to be happier. Finally, from the aspect of urban planning and development, cycling can improve the city you live in by reducing noise and air pollution, traffic congestions and parking space requirements.
In a nutshell, cycling is healthy, affordable and environmentally friendly, and thus beneficial for all. Therefore, we should all get involved in creating better conditions for cyclists and play a role in urban cycling development. It is essential to grow the existing cycling culture and inform the public about the benefits of cycling for citizens and cities, with the involvement of citizens, city and state authorities, non-governmental organisations and businesses.
UN entities involved in this initiative
RCO
United Nations Resident Coordinator Office