A step forward in EU Integration Process through Sustainable Development Goals
The UN Week in Serbia kicks off with first Constitutional Meeting of the Government Working Group on SDGs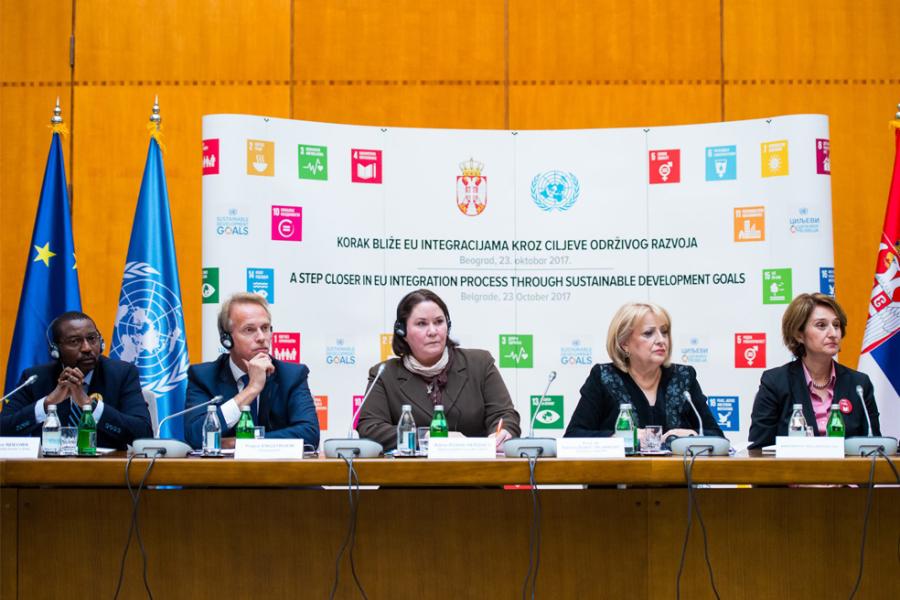 Belgrade – The UN Week in Serbia kicks off with first Constitutional Meeting of the Government Working Group on SDGs. The Working Group will consist of 27 representatives of the Government's ministries, offices and agencies, including the President of the Working Group.
"A specific feature of our country is that we are, at the same time, in the process of accession to the EU; hence, by working towards the many goals, we are simultaneously working towards EU accession. This is also witnessed by the title of today's meeting – A Step Forward in EU Integration Process through Sustainable Development Goals," says Prof. Dr Slavica Đukić Dejanovic, Minister without Portfolio responsible for demography and population policy who has been appointed by the Government of the Republic of Serbia as the President of the Inter-Ministerial Working Group on the Implementation of the UN Agenda 2030 for Sustainable Development.
"Achieving SDGs by 2030 requires us to address issues of equitable development, for example.  This means the Agenda should be supported by strong institutions which is why the governance elements of the Agenda are so important and central to its success. Serbia having a strong government is in a position to nationalize Agenda 2030 and lead it to a successful conclusion," says Karla Hershey, UN Resident Coordinator in Serbia.  
The participants of the meeting were also greeted with video message by Ivica Dacic, First Deputy Prime Minister and Minister of Foreign Affairs, Mr Stephen Ndegwa, World Bank Country Manager in Serbia and Mr. Yngve Engstroem, Head of Cooperation at Delegation of the European Union to Serbia. The event was also attended by the members of the UN Country Team, NGOs, corporate sector and other international partners.
As announced at the meeting, the next step in the work of the Group would be to organize a specialized mission with support from the UNCT Serbia and in cooperation with the EU Delegation and the World Bank. This mission will be aimed at performing another, in-depth assessment of the situation in the country on the basis of the mapping already carried out, and proposing a Road Map for Achieving the Sustainable Development Goals in Serbia.
The Road Map should provide specific guidelines and priorities, define the factors that can help accelerate the achievement of the Sustainable Development Goals in Serbia, propose a financial framework, institutional arrangements and a plan for SDG-inspired dialogue for Serbia.
A national program and prioritization of the set goals should follow from that report.
UN entities involved in this initiative
OHCHR
Office of the United Nations High Commissioner for Human Rights
UNHCR
United Nations High Commissioner for Refugees
IAEA
International Atomic Energy Agency
OCHA
Office for the Coordination of Humanitarian Affairs
UNDP
United Nations Development Programme
UNECE
United Nations Economic Commission for Europe
UNCTAD
United Nations Conference on Trade and Development
FAO
Food and Agriculture Organization of the United Nations
UN-Habitat
United Nations Human Settlements Programme
ILO
International Labor Organization
IOM
International Organization for Migration
WHO
World Health Organization
UNWTO
United Nations World Tourism Organization
UNEP
United Nations Environment Programme
UN Women
United Nations Entity for Gender Equality and the Empowerment of Women
UNIDO
United Nations Industrial Development Organization
UNESCO
United Nations Educational, Scientific and Cultural Organization
UNFPA
United Nations Population Fund
UNICEF
United Nations Children's Fund
UNODC
United Nations Office on Drugs and Crime
UNOPS
United Nations Office for Project Services
Goals we are supporting through this initiative