The UN Free & Equal Campaign kicks off in Serbia spotlighting LGBT diversity
With the aim of reducing negative sentiments & discrimination against the LGBT population, UNCT Serbia launches the UN Free & Equal campaign at national level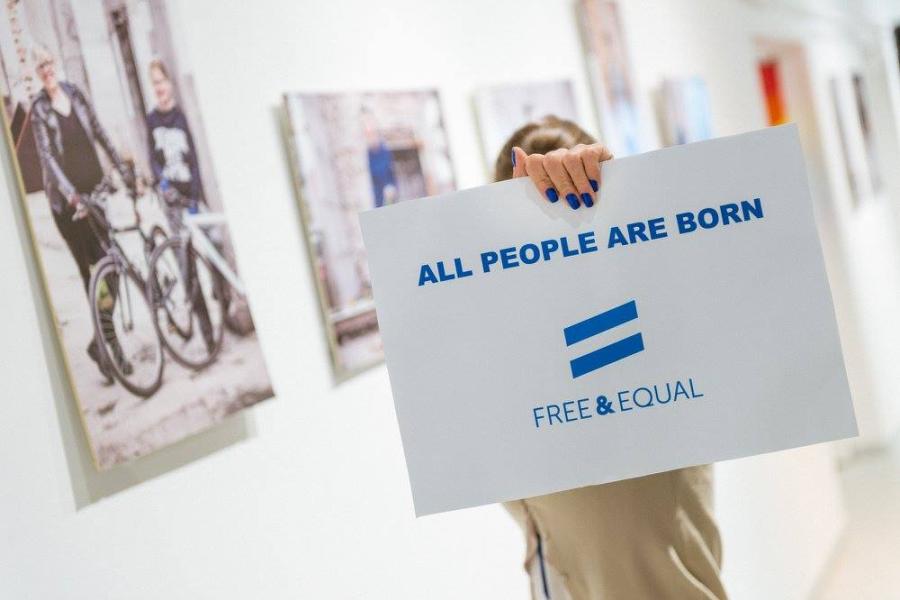 Belgrade - With the aim of reducing negative sentiments and discrimination against the LGBT population, as well as of strengthening cultures of respect for the diversity of the human community,  the UN Free & Equal campaign is launched at national level in Serbia, in a collaboration between the United Nations Country Team and the civil society partner Labris. Free & Equal is a United Nations campaign for Lesbian, Gay, Bisexual and Transgender Equality led by the UN Human Rights Office (OHCHR).
Despite several breakthroughs in the area of rule of law and national legal framework, the Lesbian, Gay, Bisexual, Transgender and (LGBT) community is one of the social groups most exposed to discrimination in Serbia. Everyday life experiences of LGBTI community are marked by fear, anxiety and invisibility, both within the private and public spheres.
LGBT persons and groups are under standing threat of physical and emotional violence as a result of strong negative attitudes in the population-at-large.  For example, in recent studies, 21% of high school students have admitted they verbally attacked or threatened someone they assumed were gay, while 13% stated that they had taken part in in an assault.  41% of the high school population stated that they think that the LGBT population is sick.
The launch of the campaign in Serbia includes an ongoing study into the problem of bullying in secondary education, undertaken in the run-up to the end of 2016, in support of the campaign. In addition to this research, the Free & Equal Campaign in Serbia involves the production of video material and public activities intended to raise awarneness about this project through social gatherings and social networks. Target groups of this project are members of LGBT population in high schools, general high school population, representatives and activists of civil society and public authorities, independent institutions which will take part as strategical partners during the project, as well as media representatives will play the key roles in raising awareness about these problems.  The first phase of the project will last until the end of 2016.
Further information on the UN Free & Equal campaign is available at: https://www.unfe.org/
UN entities involved in this initiative
OHCHR
Office of the United Nations High Commissioner for Human Rights
UNHCR
United Nations High Commissioner for Refugees
UNDP
United Nations Development Programme
IOM
International Organization for Migration
UN Women
United Nations Entity for Gender Equality and the Empowerment of Women
UNFPA
United Nations Population Fund