UN teams up with the Government of Serbia to prevent family and partner abuse
New agreement sealed on cooperation in the prevention of domestic & partner violence & violence against children by launching the 2nd phase of the joint project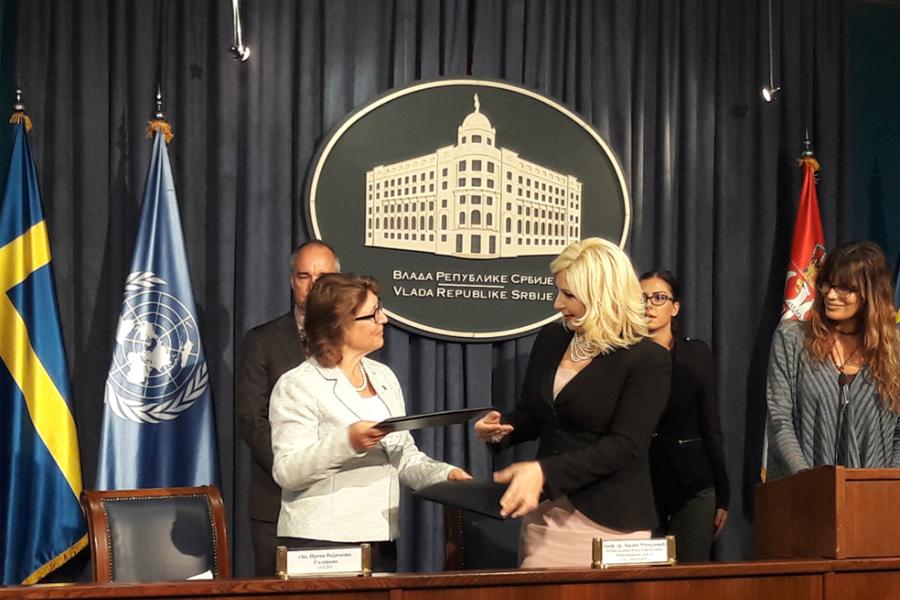 Belgrade – Deputy Prime Minister and President of the Coordination Body for Gender Equality Zorana Mihajlovic and UN Resident Coordinator in Serbia Irena Vojackova-Sollorano today sealed an agreement on cooperation in the prevention of domestic and partner violence and violence against children by launching the second phase of the project Integrated Response to Violence against Women and Girls in Serbia. The project is being implemented jointly by UNDP, UNICEF, UNWOMEN and UNFPA thanks to the support by the Swedish International Development Agency (SIDA) which allocated 948,719.52 Euros to the cause.
Gender-based violence is a complex social problem, and it requires an integrated approach. Ms. Irena Vojačkova-Sollorano, UN Resident Coordinator and UNDP Resident Representative said that the new project aims to change the normative framework, institutional practices and behaviours pertaining to violence against women and girls at state, community and individual levels. Mrs. Vojackova-Sollorano stated that this project will enable the continuation of cooperation between the UN and the Coordinating Body for Gender Equality in the prevention of violence against women, which is ubiquitous.
"We continue to work in partnership to ensure that one December in the future we might be able to report that not one woman or child suffered violence during the preceding year. Only then will we have succeeded," says, Ms. Zorana Mihajlovic, Deputy Prime Minister and President of the Coordination Body for Gender Equality during the launch today and added that the agreement will have, above all, preventive character.  
The Project applies the so-called "5P holistic approach", which focuses on prevention, protection, prosecution, policy and partnership, by engaging all relevant sectors (social, judicial, police, education, health), actors (government, NGOs, media) at all levels of government (national, provincial and local).
The event was also attended by HE Jan Lundin, Ambassador of Sweden to Serbia.
UN entities involved in this initiative
UNDP
United Nations Development Programme
UN Women
United Nations Entity for Gender Equality and the Empowerment of Women
UNFPA
United Nations Population Fund
UNICEF
United Nations Children's Fund