Story
UN Serbia and partners launch a new initiative to address air pollution from domestic heating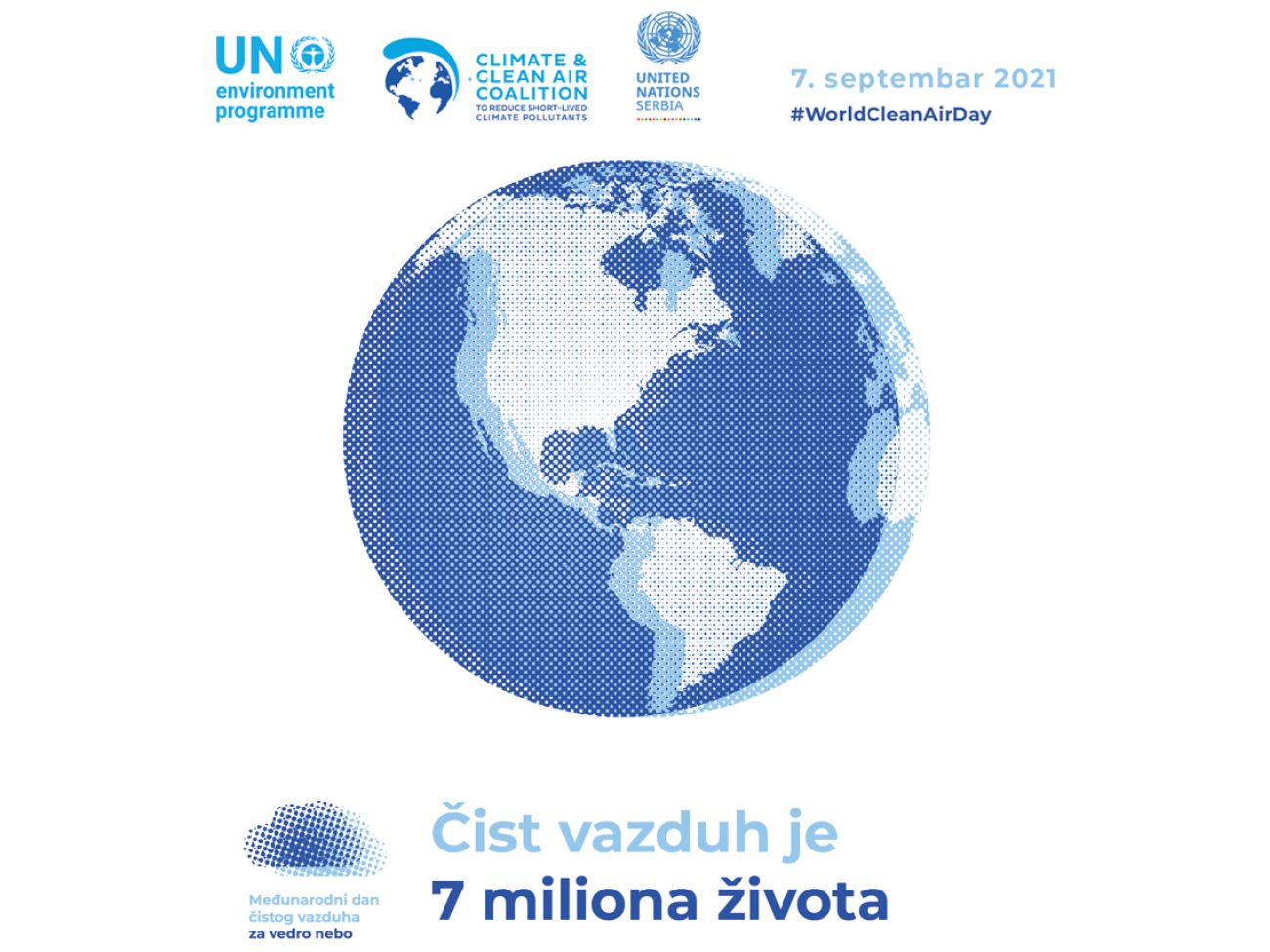 On the International Day of Clean Air for Blue Skies, the United Nations in Serbia is launching a coherent plan for tackling air pollution's causes and effects
Belgrade, 7 September 2021 - On the International Day of Clean Air for Blue Skies, the United Nations in Serbia is launching a coherent plan for tackling air pollution's causes and effects, while stressing that air quality in the region remains to be a cause for alarm.  
Ahead of the next heating season and expected increase in urban air pollution attributed to household heating, recent evidence shows that air pollution is responsible for up to one in five premature deaths in Western Balkan cities, with household heating being one of the two main sources of particulate matter emissions.
On average, city dwellers in the Western Balkans lose up to 13–16 months of life to air pollution, while nearly 5,000 premature deaths are directly attributable to air pollution region each year. In Serbia, nearly 3,600 premature deaths every year can be attributed to exposure to fine particulate matter measuring ≤ 2.5 μm (PM2.5), according to the WHO study on the situation in 11 towns in Serbia. As UNICEF's study on the impact of climate on children highlights, in Serbia, respiratory illnesses account for the most commonly reported morbidities for children and youth, accounting for 17% and 37% of all morbidities for children aged from 0-6 and 7-19, respectively, and are particularly pronounced in cities with high levels of air pollution, like Niš and Bor. Recent research  by UNDP and Institute of Nuclear Sciences Vinca has meanwhile found positive correlation between concentrations of air pollutants (PM2.5, PM10, CO, NO2) and COVID-19 incidence in two cities with the highest number of COVID-19 cases: Belgrade and Niš. The observations for the lockdown period between 15 March and 6 of May 2020 have shown the strongest positive correlation for PM10 and PM2.5.
In response to the air pollution stemming from household devices for solid fuel burning across Serbia, UN agencies, funds and programmes have come together with a number of partners and stakeholders to develop and launch a joint programme to address key challenges related to pollution of ambient air. The programme will complement ongoing efforts by the national and local governments. Activities include assessing the extent of energy poverty and the link between air pollution and health (UNEP); developing innovative technical solutions and business models that reduce greenhouse gas emissions and other forms of environmental pollution at the local level, as well as a web-based geo-platform for identification of stubble burning[1] (UNDP); and introducing air pollution monitoring and impact assessment in schools in 15 municipalities (UNICEF). 
"Tackling Air pollution is a complex issue that requires multiple level action (national, local, individual) across several socio-economic sectors. It provides a great opportunity to introduce social, governance and technological innovations that will spur investments that benefit all, and result in better quality of life. The UN support takes place at the intersection of health, social, gender, climate, energy and environmental policies. In particular, we work with the authorities, the financing institutions and the communities  to develop solutions for more vulnerable and marginalised groups, for youth, with the ultimate objective to build positive changes around the Green Transformation – a major ambition of Agenda 2030," says Françoise Jacob, UN Resident Coordinator in Serbia.
"Today we call upon everyone, from governments and corporations to civil society and individuals, to take action to reduce air pollution and bring about a transformative change to people's lives," said Bruno Pozzi, Director of UNEP's Europe Office. "In addition to improving our health, actions to improve air quality can help in the fight against climate change, because the sources of emissions are often the same. They furthermore improve gender equality, because air pollution disproportionately affects women. Together with country partners and members of the Issue-based Coalition on Environment and Health, we look forward to making a difference to the people of Serbia."
WHY DOES IT MATTER? Approximately 1 million households in Serbia use wood or coal fired small combustion devices and ovens as the main source of heating. These devices, even when new, are inefficient and consume disproportionally large amounts of fuel. The indoor and outdoor air pollution from these stoves is a combined result of the type of fuel used, skill of the user and the efficiency of the device. The 2019 Survey on Income and Living Conditions published by the National Statistical Office has revealed that 9,9% of households in Serbia cannot keep their homes adequately warm, while more than a quarter (26%) are not capable of covering their bills for communal services on a regular basis. A recent analysis on gender aspects of energy poverty has shown that women in Serbia are at a greater risk of being exposed to energy poverty and indoor air pollution, as they have a lower income and spend twice as much time on housework as men.  Data on SDG indicator 7.1.2 collected through UNICEF's Multiple Indicator Cluster Survey indicate that only half (52%) of all households rely on clean fuels and technology for cooking, space heating and lighting. The lowest use of clean fuels and technology is recorded in households belonging to the poorest quintile (6%), compared to those in the richest quintile (97%).
NOTES TO EDITORS
About air pollution and the International Day of Clean Air for blue skies
Air pollution causes approximately 7 million premature deaths annually, making it the single greatest environmental risk to human health and one of the main avoidable causes of death and disease globally. A UNEP report found that one in five premature deaths in the Western Balkans was due to pollution, but air pollution knows no national borders. 
The 2030 Agenda for Sustainable Development, also recognizes that air pollution abatement is important to the attainment of the Sustainable Development Goals.
The International Day of Clean Air for blue skies was designated on 7 September by the United Nations General Assembly in 2019. This follows the international community's increasing interest in clean air and emphasizes the need to make further efforts to improve air quality to protect human health. Nine out of ten people across the world are currently breathing polluted air, so the importance of the day has never been greater. The Day aims to build a global community of action that encourages countries to work together to tackle air pollution to ensure clean air for all. To this end, it gives people a platform that can enable cooperation to mitigate air pollution at the individual, national, regional, as well as international levels.
[1] As a result of a Clean Air Innovation Challenge launched in September 2020 by UNDP in cooperation with WHO and UNICEF – awarded to Biosense Institute in May 2021
UN entities involved in this initiative
RCO
United Nations Resident Coordinator Office
UNDP
United Nations Development Programme
UNEP
United Nations Environment Programme
UNICEF
United Nations Children's Fund
WHO
World Health Organization