Story
Information sessions help LGBTQ+ asylum-seekers find their footing in Serbia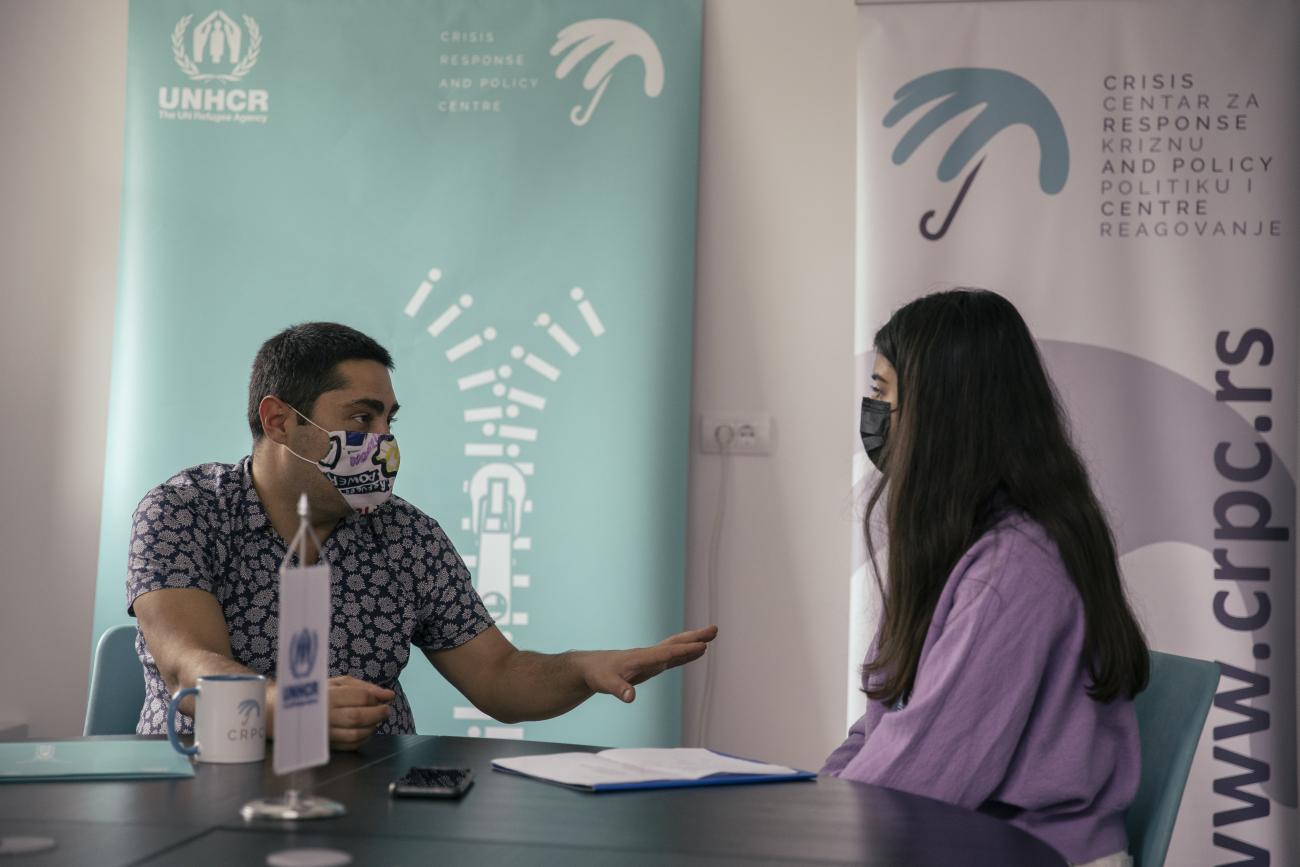 UNHCR actively supports the LGBTIQ+ beneficiaries integration-related activities of its partner organisations such as Crisis Response and Policy Centre (CRPC).
The pride parade filled the streets of Belgrade with colours and music. Starting from Manjež park, people paraded around the city centre cheering and singing in unison. Among the cheerful crowd came Karim*, along with a few other asylum-seekers residing in Belgrade.
Karim, who arrived in Serbia two years ago, enthusiastically talked about the parade and what it meant for him to attend this event. "It's a great day for the LGBTIQ+ population in Serbia. Life in my country is dangerous for us, and I truly want to be myself," he says. Karim faces dual hardship: as an LGBTIQ+ person and an asylum-seeker.
The UN Refugee Agency (UNHCR), together with the Serbian Government, has been assisting and empowering LGBTIQ+ refugees and asylum-seekers as a particularly vulnerable group.
"UNHCR assures the protection of LGBTIQ+ refugees and asylum-seekers. We also raise awareness on the rights of LGBTIQ+ people in Serbia both directly among them and among the rest of society. When we spread this information, we make sure that we leave the door open for LGBTIQ+ beneficiaries to feel comfortable to come forward and ask for our assistance," explains Edlira Baka-Peco, UNHCR's Protection Officer.
Thanks to the European Union funding, UNHCR actively supports the LGBTIQ+ beneficiaries integration-related activities of its partner organisations such as Crisis Response and Policy Centre (CRPC).
"CRPC has established a relationship of trust with them, and we are present in various asylum centres around Serbia, such as Krnjača and Banja Koviljača. We hold sessions on discrimination and LGBTIQ+ rights for the POCs who came out or were outed, as well as for all the other groups and the staff in the centres." affirms Vladimir Sjekloča, CRPC's director.
The EU continuously supports refugees and migrants in Serbia, including their accommodation and the provision of services within 19 Government-run asylum and reception centres.
"Migrants and refugees must not be stigmatized because of their actual or perceived sexual orientation. The EU stands against any form of discrimination and with LGBTIQ+ people for their rights. Everyone has the right to be proud of who they are, and institutions are to continue to uphold those rights," said Dirk Lorenz from the EU Delegation to Serbia.
Working alongside LGBTIQ+ refugees and asylum-seekers to strengthen their inclusion in the Serbian society, is also a must.
"The first months upon my arrival to Serbia were quite hard. CRPC has given me a chance to meet different people through various activities and events and I enjoy taking part in them. I started talking to new people and made friends, which made me feel better here," says Karim.
After the formidable obstacles LGBTIQ+ refugees and asylum-seekers have had to face in their home countries or on the route, UNHCR seeks to facilitate their participation in the Serbian society by encouraging their involvement in all kinds of activities.
"UNHCR, along with all the UN agencies in Serbia, attended the parade to show our support and solidarity for the LGBTIQ+ community. We also went in hope that many LGBTIQ+ refugees and asylum-seekers would feel that they belong and are free to join the parade either with us or independently," says Edlira.
Together with the EU and the civil society, UNHCR will lend a helping hand to LGBTIQ+ refugees and to empower them to fully integrate into Serbian society.
For Karim, Belgrade has a lot of similarities to his hometown and he believes he could fit in without too much difficulty. Proudly, he explains that he was able to return to his initial career as a restaurant manager in the hospitality industry in Belgrade. His next step is taking Serbian classes so that he can easily communicate with Serbian people. Although he already has some knowledge of the language through his job, he wants to have a solid foundation to help him feel even more at home.  
*The name of the boy has been changed for protection reasons
Written by Shiraz Haghdoust Mehrabadi 
UN entities involved in this initiative
UNHCR
United Nations High Commissioner for Refugees