Blue is the winning colour
Players, cheering crowds and children were all as one, understanding, self-confidence, and hope for every child always win out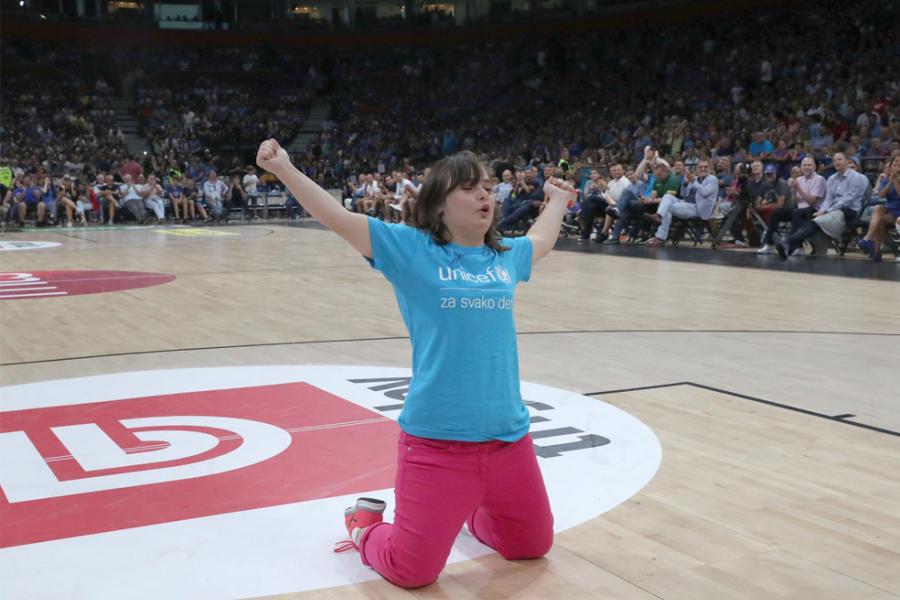 Photo | UNICEF Serbia/2019/Markovic
Belgrade, Serbia - It was tense in the Belgrade "Stark Arena"- the score was constantly changing as the crowd was cheering and then the referee announced it was over – Serbia outplayed Lithuania 72:68.
Thanks to everyone who came and supported the Serbian "dream team" in Belgrade, children will soon be able to play in new inclusive playgrounds.
This is part of the "Everyone in blue – for current and future generations" campaign, jointly launched by the Basketball Federation of Serbia and UNICEF.
"I think the tickets were sold out as people felt the need to participate. We all know that every small donation counts," said Aleksandar Djordjevic, UNICEF National Ambassador and Head Coach of the Serbian national team.
Part of the money from ticket sales will be used for building inclusive playgrounds.
This is all happening in the year that UNICEF is marking the 30th Anniversary of the adoption of the Convention on the Rights of the Child and the Serbian national team is playing in the 2019 FIBA Basketball World Cup in China.
"If we succeeded in sending a message which espouses our joint values, then that is terrific news," said Dejan Tomasevic, Secretary General of the Basketball Federation of Serbia.
Players, cheering crowds and children were all as one, not only making sure that every ball scored a basket, but also sending the message that trust, understanding, self-confidence, and hope for every child always win out.
"I started playing basketball so I could become someone children could look up to, just as I was looking up to players when I was a kid", explains Boban Marjanovic, Serbian national team player. 
Nobody could hide their smiles at the end of the game. 
"Putting a smile on a child's face is extremely valuable, because children have pure hearts and pure smiles. When I manage to do that, I feel happy too," this is how Boban Marjanovic described the pride he feels when wearing blue, the Serbian team's colour. 
And these smiles from the Belgrade "Stark Arena" will spread far. Through a participatory process between UNICEF, parents and local self-governments, inclusive playgrounds will be built to include equipment for children with different types of disabilities.
"We don't have playgrounds that are inclusive in all aspects," believes Velimir Knezevic, the President of the Sports Association of Persons with Disabilities.
The first two playgrounds will be built in Ada Ciganlija in Belgrade, and in Cicevac, with the financial support from NCR, as well as thanks to those fans who bought tickets to the Serbia-Lithuania match.  
  "Having inclusive playgrounds makes it possible for all children to play together, grow up together and to learn about accepting differences," said Velimir Knezevic.
UN entities involved in this initiative
UNICEF
United Nations Children's Fund
Goals we are supporting through this initiative