Story
Women with disabilities in Serbia boost skills and confidence through a leadership academy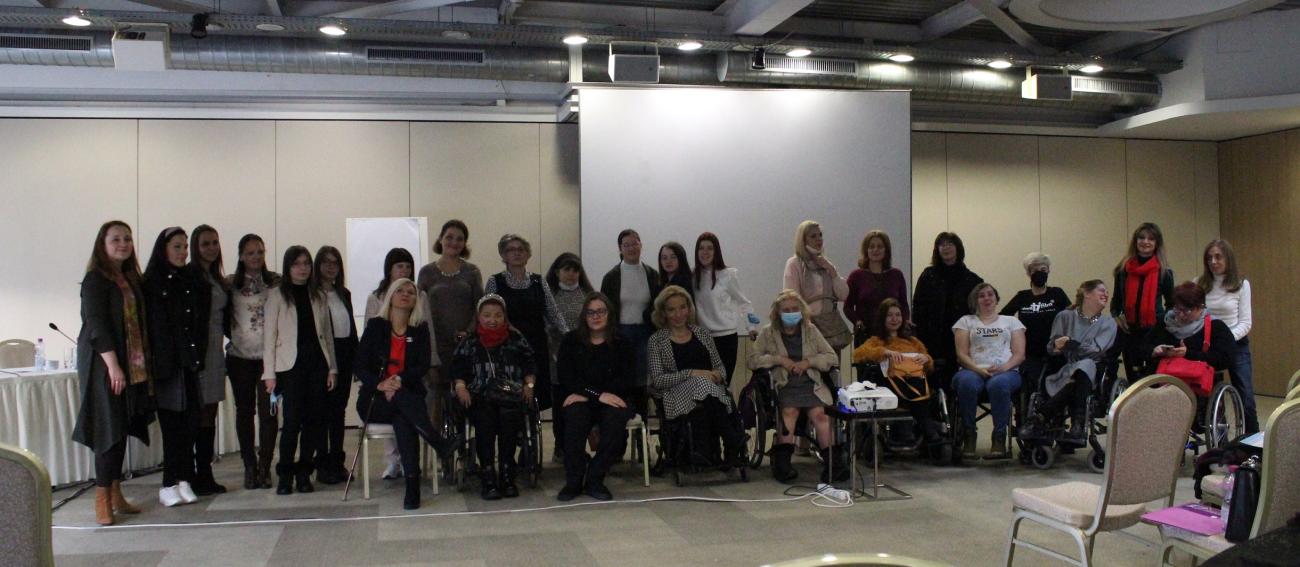 Running from August until October 2021, 22 women with disabilities took part in nine online modules focused on improving their computer and leadership skills.
To achieve greater involvement of women with disabilities in all spheres of social life, the first "Leadership Academy for Women with Disabilities" was established by UN Women Serbia and a network of civil society organizations working on the gender dimensions of disability "...Out of the Circle-Serbia". The Academy sought to increase the knowledge and skills of young women with disabilities and activists from different cities to influence public policies related to women's rights in Serbia.
Running from August until October 2021, 22 women with disabilities took part in nine online modules focused on improving their computer and leadership skills. It also expanded participants' awareness of their rights and issues including discrimination and violence against women with disabilities, ways and means of fundraising, project-writing, human resource management, etc. Tablets and mobile Internet cards were sent to all participants, to enable them to follow the lectures via the Zoom platform.
"The Academy was useful to me because I improved my computer skills and communication skills, and what is most important is that I overcame my fear of engaging in conversation... somehow after all the lectures I feel more self-confident. I think I have made huge progress on a personal level," says Jovana Ilić, a 26-year-old participant from Zaječar with an intellectual disability, adding that the knowledge she gained was important, but so were the different life stories that were shared about overcoming adversity.
"The biggest obstacles to the participation of women with disabilities in public life, are the fear of rejection and the opinion of the community that a person with intellectual disabilities cannot contribute anything, either to themselves or to the community," says Ilić.
One of the mentors of the programme, Dragana Dragićević, a Member of the Organization for the Protection of Rights and Support of Persons with Disabilities "...Out of the Circle-Bor, says that Academy gave women with disabilities the opportunity to pass on their knowledge to the participants, who share the same reality.
"They learned that they are not alone, and that other women and organizations can help and support them," she explains. "Moreover, participants were young girls and women and some of them were not active in any organizations, but this Academy led them to think seriously about becoming active. I am glad that women with disabilities have been recognized by UN Women Serbia, and I hope that we will continue to get this type of support to improve their position."
Participants included girls and women with different types of disabilities (physical, sensory, chronic diseases), of different ages and backgrounds. Some already had experience working with organizations representing the rights of persons/women with disabilities, while for others this was the first time they were dealing with these topics.
Suzana Ilić, who leads the RIME Citizens' Association, an organization that brings together children and young people with disabilities, parents and professionals, adds that women with disabilities do not have equal opportunities to be included in public life: "The process of accepting disability is very complex for both the woman and the family. Obstacles start from the very beginning. There is no support in some communities, which goes along with prejudice. There is also a lack of self-confidence, fear of rejection, the attitude that they are either a burden to someone, or they feel high expectations from others to fight for them."
The programme's long-term goal is to establish the first Network of Women with Disabilities in Serbia to unite different rights activists, which will consist of participants and trainers from the Academy as well as other stakeholders. It will serve as a platform for discussion, the exchange of knowledge and information, and the further expansion of capacities and contacts of women with disabilities in the Republic of Serbia.
UN Women Serbia Country Representative Milana Rikanović pointed out the importance of empowering these women and girls to speak out publicly about the problems they face, which are often invisible.
"We will continue with our efforts to support women with disabilities in their effective and full participation in public life, without discrimination and on an equal basis with others. All women in Serbia must have equal rights to participate in policymaking and influencing their own lives," says Rikanović.
UN entities involved in this initiative
UN Women
United Nations Entity for Gender Equality and the Empowerment of Women