23 September 2019 | 11:00 AM - 15 September 2020 | 10:00 AM
Youth Challenge
We are bringing together bright young minds to tackle some of the biggest challenges facing their generation.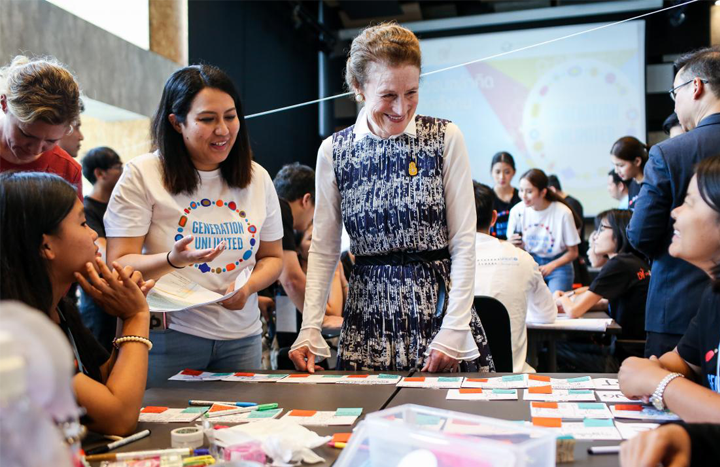 UN entities involved in this initiative
UNDP, UNICEF
Other Organizers
Plan International, World Organization of the Scout Movement, Irish Aid
Sustainable Development Goals
No Poverty
Zero Hunger
Good Health and Well-being
Quality Education
Gender Equality
Clean Water and Sanitation
Affordable and Clean Energy
Decent Work and Economic Growth
Industry, Innovation and Infrastructure
Reduced Inequalities
Sustainable Cities and Communities
Responsible Consumption and Production
Climate Action
Life Below Water
Life on Land
Peace, Justice and Strong Institutions
Partnerships for the Goals
23 September 2019 | 11:00 AM - 15 September 2020 | 10:00 AM
About the initiative
Young people are experts in their own lives and experiences. They have the ideas and energy to create a better world for themselves - if only we give them the chance.
The Generation Unlimited Youth Challenge 2018/2019, launched in September 2018, worked with more than 800 innovators across 16 countries to answer an urgent question: how can we ensure every young person has the education, skills and empowerment to build a better future?
Launched in September 2019, the Generation Unlimited 2019/20 will take place in 40 countries worldwide and be co-hosted globally by four Generation Unlimited partners – UNICEF, UNDP, Plan International and the World Organization of the Scout Movement, with support from Irish Aid.
The Youth Challenge calls on young innovators to design solutions to improve education, employment and civic engagement. It aims to inspire young people with brilliant ideas, but without the resources to bring them to life. This includes young refugees, those who face daily discrimination due to their ethnicity, their gender or their disability and those who are disadvantaged by poverty.
A call for applications will be launched in each of the 40 participating countries in the coming weeks and successful applicants will be invited to take part in design workshops. Following these workshops, the five most promising ideas from each country will be selected and awarded USD 1,000 each in funding and provided with mentoring to support the projects' implementation. Then, in June 2020, the most promising solutions from each country will be submitted to a global judging process.
These projects will receive further funding of up to $20,000, along with a tailored global incubation programme from Generation Unlimited partners to support them to scale.
We recognise that while talent is universal, opportunity is not. So we work hard to support young people who have brilliant ideas but lack the resources to turn ideas into reality.
We're proud to help these young innovators to develop their own game-changing ideas and make an impact for their communities.
Join us
Your creativity and passion can unlock new ideas and create a world without limits.
We hope you can be a part of the Youth Challenge in 2019 as we expand our reach across more countries. Please follow us on Twitter or Instagram to be the first to hear our announcements in the coming months and to start an application.