The UN family in Serbia joins the Belgrade Pride in requesting equality and human rights of LGBTI people in Serbia
The UN Country Team in Serbia joins the Belgrade Pride Parade in the request of equal rights and freedoms of all members of the society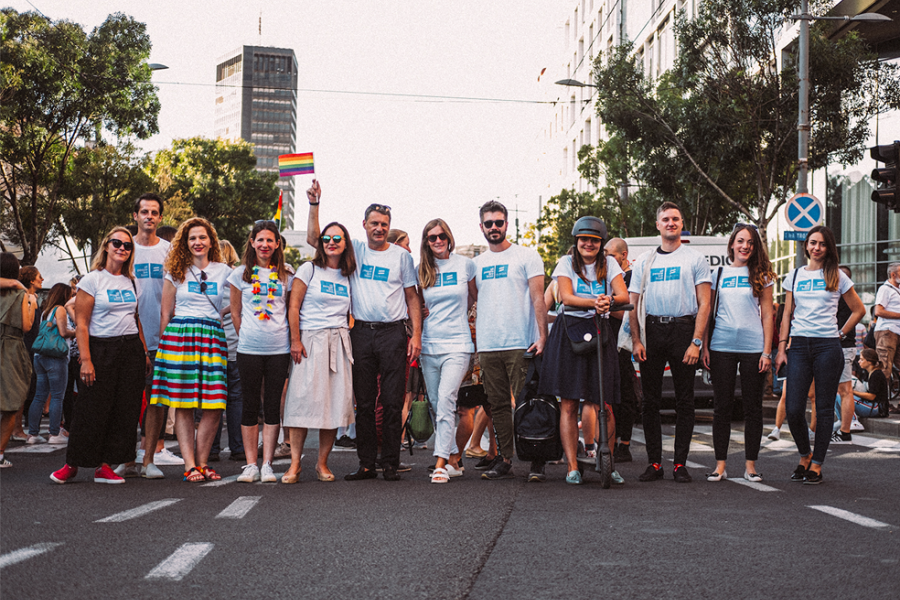 Photo | Marija Piroshki/UNCT Serbia
Belgrade – The UN Country Team in Serbia joins the Belgrade Pride Parade under the tagline "I don't renounce", in the request of equal rights and freedoms of all members of the society, regardless of their sexual orientation, gender identity or other personal trait. To bring the principal promise of Agenda 2030 to Leave No One Behind, around 20 UN staff members joined the final event of this years' Belgrade Pride Week.
"Our team remains committed to end stigmatization and discrimination against LGBTIQ people all year around", says Mr. Hans Schodder, the UN Resident Coordinator a.i. in Serbia.
UN Team wore unified T-shirts with the common message of freedom and equality, promoting the UN global Free & Equal campaign for LGBTI equality, also implemented with the civil society in Serbia.
The LGBTI population remains among the most discriminated and violated groups in the country, according to reports from UN Human Rights bodies, the European Union and independent institutions. Their access to rights remains limited, and discrimination widespread in healthcare, social care, education and employment. Legal recognition of gender and the right to registered partnerships among same-sex couples are still unresolved and not regulated, and the intersex people continue to be invisible and underrepresented. Despite the progress in the public perception around different sexual orientation and gender identity, further normative work and improvement of practice is needed to reach equality in rights and dignity for all people in Serbia, as well as intensive awareness raising.
The UN family in Serbia will continue to support the LGBTI community and the policy-makers in efforts towards the full enjoyment of all human rights for all people, through its human rights programmes and campaigns.
UN entities involved in this initiative
OHCHR
Office of the United Nations High Commissioner for Human Rights
UNHCR
United Nations High Commissioner for Refugees
UNDP
United Nations Development Programme
FAO
Food and Agriculture Organization of the United Nations
ILO
International Labor Organization
WHO
World Health Organization
UNEP
United Nations Environment Programme
UN Women
United Nations Entity for Gender Equality and the Empowerment of Women
UNFPA
United Nations Population Fund
UNICEF
United Nations Children's Fund
UNODC
United Nations Office on Drugs and Crime
UNV
United Nations Volunteers