Story
Campaign against toxic masculinity yields success in Serbia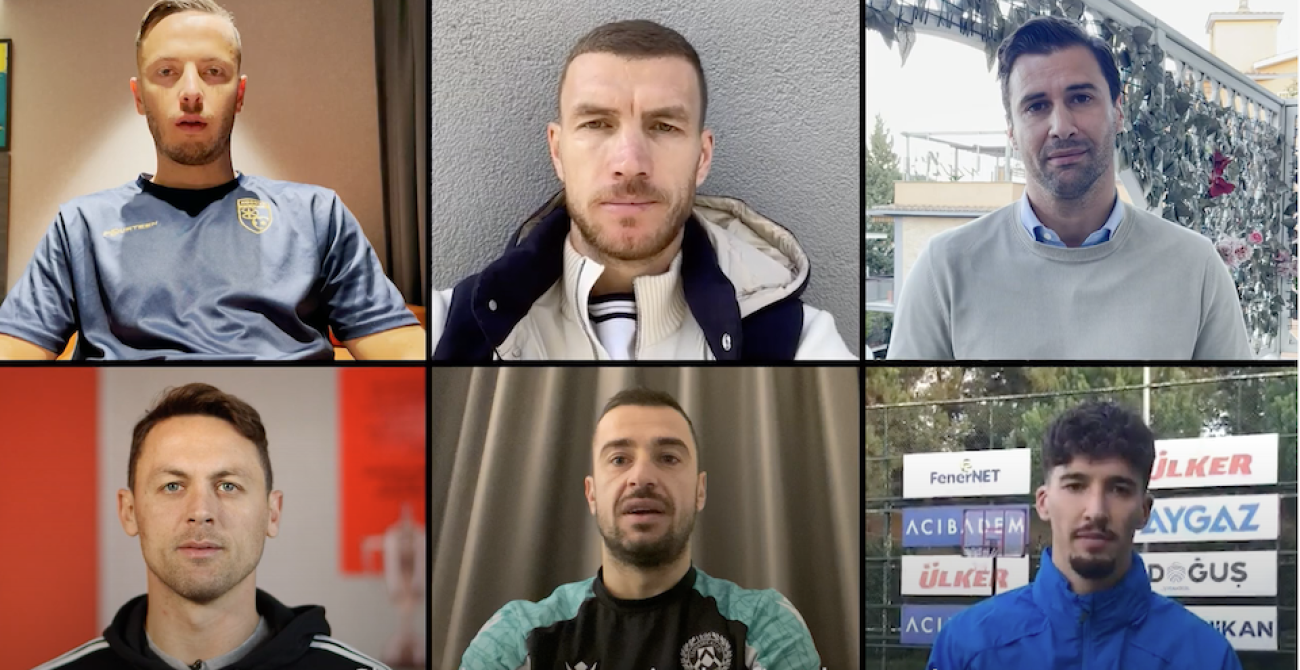 UN Women Serbia campaign against toxic masculinity and gender stereotypes.
Under the headline "Show that you are in the first league!", media campaign in Serbia against toxic masculinity and harmful gender stereotypes reached over seven million women and men, girls and boys.
With sexist jokes and "boys will be boys" attitudes, football clubs have long been traditionally masculine environments. This adherence to traditional masculine ideals and rigid gender roles is known as toxic masculinity, an interpretation of masculinity that causes harm to both women and men and is characterized by dominance, aggression and emotional repression.
To address the issue of toxic masculinity and recruit football players as drivers of change, a video entitled "Show that you are in the first league!" was produced as part of the regional campaign "Embracing positive masculinities to promote gender equality and end violence against women," developed within UN Women regional programme on ending violence against women in the Western Balkans and Turkey "Implementing Norms, Changing Minds," funded by the European Union.
The video features six well-known and respected football players from the Western Balkans – Albania, Bosnia and Herzegovina, Kosovo*, North Macedonia, Serbia – and Turkey who share their thoughts on positive masculinity and how normalizing men's violence against women harms men and boys as well.
"Now, as an adult man, I believe mistakes can be corrected! People can change. Treat others with the love and respect that they deserve," said Nemanja Matic, Serbian football player with Manchester United.
In addition to Nemanja Matic, the video portrayed messages from Lorik Cana, former Nantes football player, originally from Albania; Edin Džeko, football player in Inter Milan, native of Bosnia and Herzegovina; Amir Rrahmani, football player in S.S.C. Napoli, originally from Kosovo; Ilija Nestorovski, football player in Udinese Calcio, native of North Macedonia; and Altay Bayındır, football player in Fenernahce football club from Turkey.
The campaign, which took place in February in Serbia, yielded great results, with 21 media reports including special video broadcastings on three national TV stations. In the online world, "Show that you are in the first league!" reached over 30,000 women, men, girls and boys, under the hashtag #BudiPrvaLiga [Be in the first league].
In addition, UN Women in Serbia partnered with Soccer, the country's largest betting company, which broadcast the video in over 280 betting shops throughout February and March.
Drazenko Ruljic, managing director of Soccer, said it was an honour for them to take part in this campaign. "This partnership meant a lot to us, and we have been broadcasting the video in all our betting shops throughout the country. Preserving families and speaking out against all kinds of abuse is of great importance to us, and we will continue supporting similar campaigns in the future with this type of powerful message for our players," Ruljic noted.
Natalija Ostojic, programme manager with UN Women in Serbia, mentioned that UN Women is devoted to addressing social norms that perpetuate inequality as the cornerstone of preventing violence against women. "We are happy that the campaign reached so many people, especially men at betting shops, as predominantly masculine spaces," said Ostojic.
UN entities involved in this initiative
UN Women
United Nations Entity for Gender Equality and the Empowerment of Women