Press Release
Healthy environment - an important priority for the citizens of Serbia
02 June 2022
Results of the public opinion survey presented.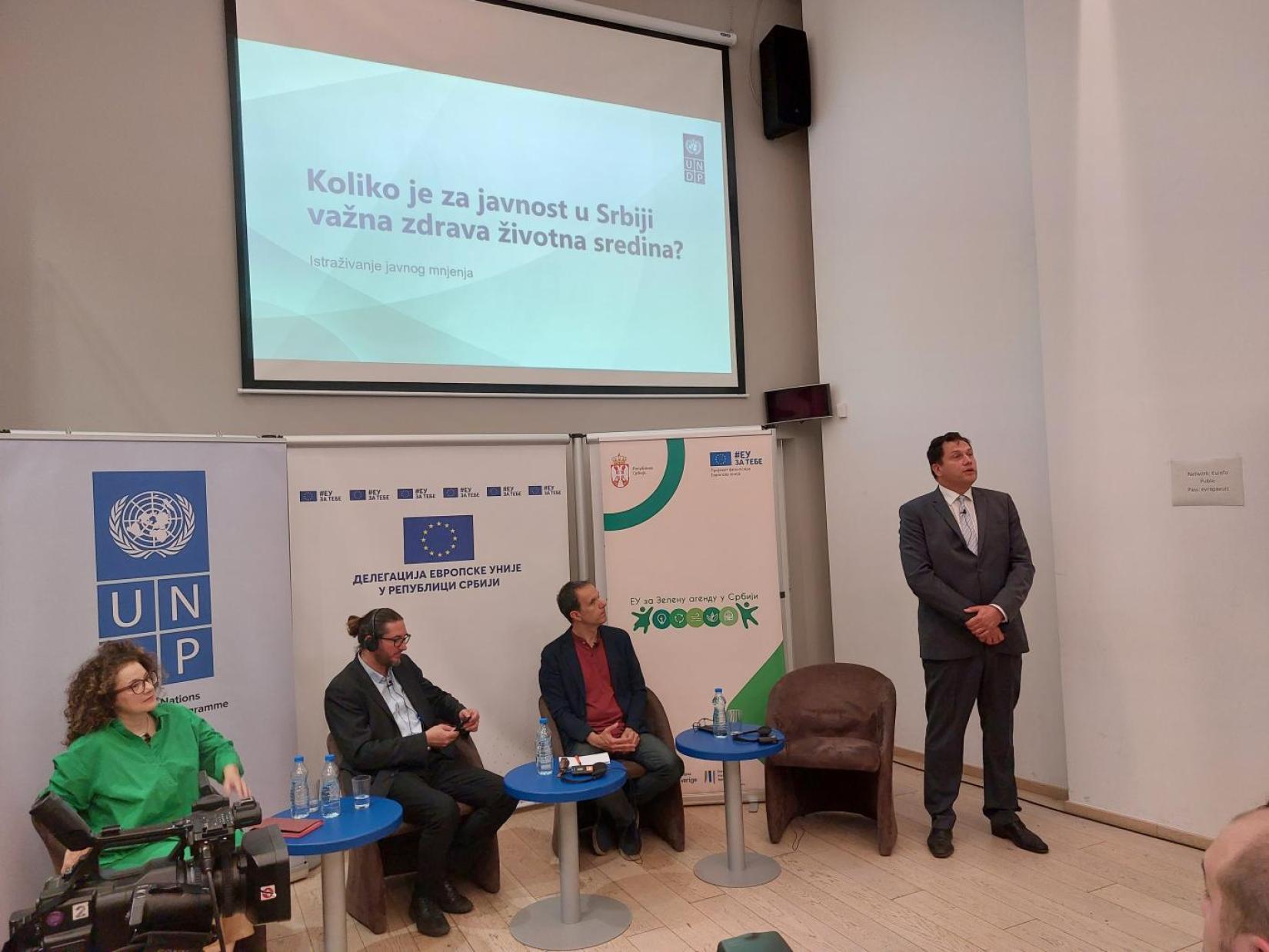 Belgrade, 2 June 2022 – About two thirds of Serbian citizens believe that preserving a healthy environment is more important than the economic growth. This is one of the main findings of the public opinion survey.
Belgrade, 2 June 2022 – About two thirds of Serbian citizens believe that preserving a healthy environment is more important than economic growth. This is one of the main findings of the public opinion survey, observing personal relations to the environment and climate change in Serbia, which was presented today at the EU Info Center, within the European Green Week 2022. 
This quantitative survey on a representative national sample was conducted by the United Nations Development Program (UNDP) in cooperation with the Center for Free Elections and Democracy (CeSID), in order to determine the public opinion on topics covered by the EU Green Agenda for Serbia. 
"Public opinion is very important, and the EU often produces 'European barometer' on various topics. End of 2021, a survey for the 'Future of Europe' showed that 91% of young Europeans (15–24-years old) agree that tackling climate change can help improve their own health and well-being, while 87% of all respondents also share this sentiment", said Antoine Avignon, Program Manager, EU Delegation to Serbia, and added: 
"Today, at the occasion of the event 'Listening to Serbian public on environment' organized at the EU Info Centre in Belgrade as part of the EU Green Week, very similar data were presented. In particular, our partner UNDP mentioned that in Serbia 62% citizens believe that climate change is a real threat which requires real action. Further, a survey conducted by our new project "Odvajamo" also found that 94% of persons are motivated to take action for waste separation to help Serbia in reducing pollution. Policy makers need good data analysis to take good decisions. We need to work together for actions to stop global warming and pollution. That is the meaning our slogan: Bolji smo zajedno! (Better Together!) " 
The research was presented by the Team Leader for Resilient Development at UNDP, Žarko Petrović, who pointed out: 
"Our main conclusion from this research is that the citizens of Serbia are aware of the importance of preserving a healthy environment and tackling climate change. They also know what should be done to find solutions to these challenges. However, it turned out that the citizens are not ready to contribute to that purpose by allocating additional funds from their household budgets." 
When it comes to the environment, every fourth citizen of Serbia (26%) worries the most about the air pollution, this concern followed by the water quality (13%) and illegal dumpsites (12%). 
Most respondents are not entirely satisfied with what the state is undertaking to solve environmental problems. As possible solutions citizens propose increasing fines for polluters - both businesses and individuals, preventing logging and planting forests, greater support for environmental organizations, as well as subsidies for economic entities and individuals that contribute to the fight against pollution and climate change. 
Almost two thirds of Serbian citizens (62%) believe that climate change is a real threat and that it is necessary to introduce changes that would prevent its consequences. According to 82% of respondents, the main cause of the climate change are human activities. 
Regarding solutions to prevent the consequences of climate change, the public in Serbia proposes the preservation of forests and additional afforestation, as well as water conservation, reducing greenhouse gas emissions and increasing the volume of recycling. 
However, the habits of Serbian citizens are not entirely in line with their views on environmental protection - 75% say that they do not sort waste, while 55% do not pay additional attention to the packaging when buying products. 
Also, most citizens (73%) are not ready to spend more money on environmental protection costs, by paying higher bills for electricity, water and other utilities. One part of them thinks that the bills are already too high (43%), and the other does not believe that the money would go to the intended purpose (30%). 
The vast majority of respondents are not ready to invest additional funds into purchasing a new heating device or insulating their homes, citing lack of need or lack of money as the main reasons.
UN entities involved in this initiative
UNDP
United Nations Development Programme