Press Release
The best innovations in the field of circular economy in Serbia rewarded
21 December 2022
With the support of the Global Environment Fund (GEF), the Ministry of Environmental Protection and United Nations Development Programme (UNDP) awarded today the authors of 21 best innovative ideas for the further development of circular economy in Serbia. The awarded innovations come from the public and private companies, local self-governments, civil society organisations and scientific institutions, that have been selected through previously organised public calls. They will contribute to decreasing greenhouse gases (GHG) emission and more efficient use of energy and resources.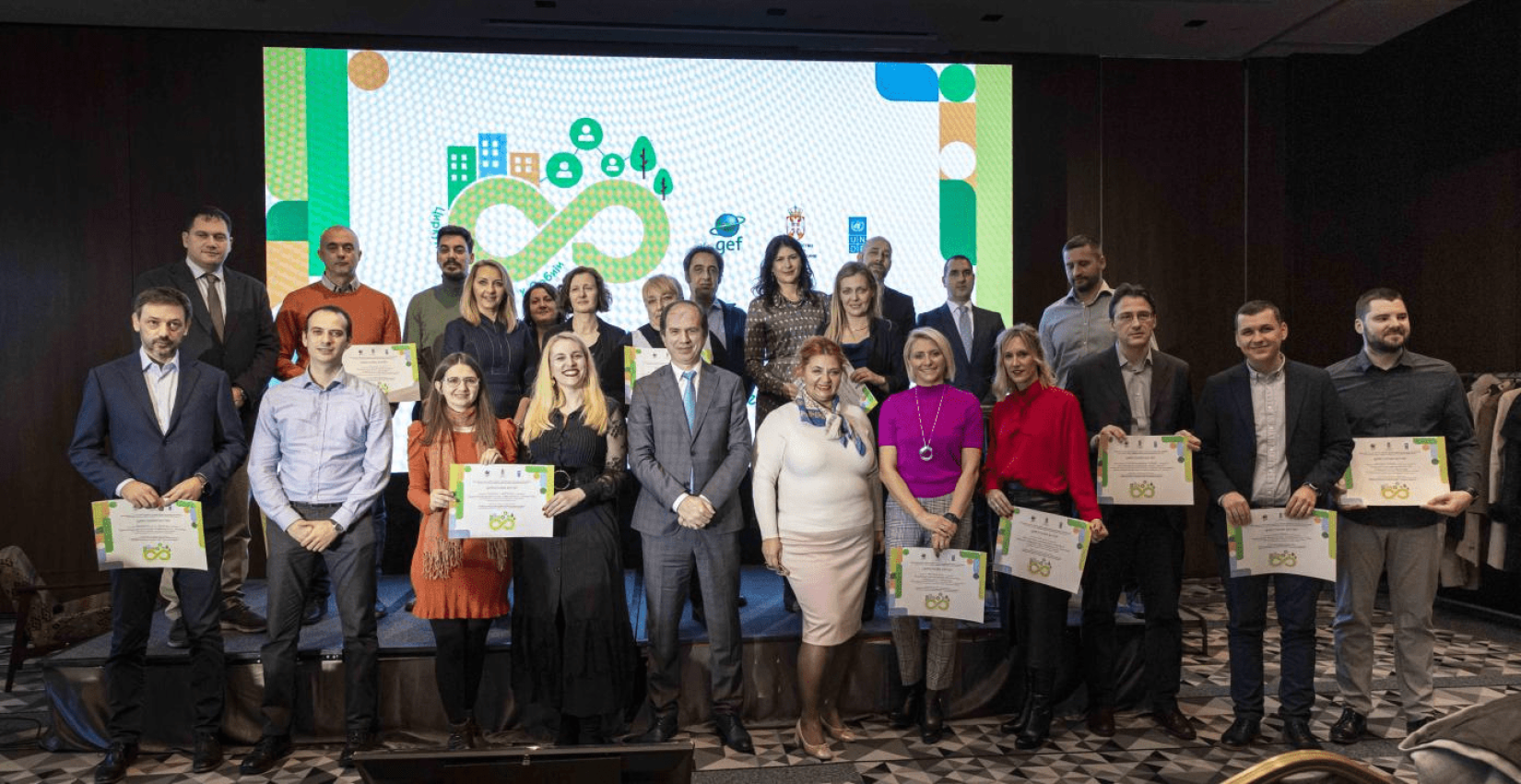 On this occasion, the Minister of Environmental Protection, Irena Vujović, said: "The linear economic model based on the principle "take-make-use-dispose" is unsustainable, as the natural resources are limited, thus making the transition to circular economy a necessity," and added: "The Government of Serbia has adopted the Circular Economy Development Programme for 2022-2024, which recognizes circular economy as a tool for Serbia's green transition."
"The high turnout to the public calls for innovations in this field shows that a wide circle of actors in Serbia recognises the importance of saving natural resources and energy, reusing and recycling materials and products and decreasing the amount of waste. The solutions that we awarded today will have a positive impact on the environment, while also bringing economic profit through new jobs and higher competitiveness of Serbian companies, for the benefit of all citizens in Serbia", said Yakup Beris, UNDP Serbia Resident Representative.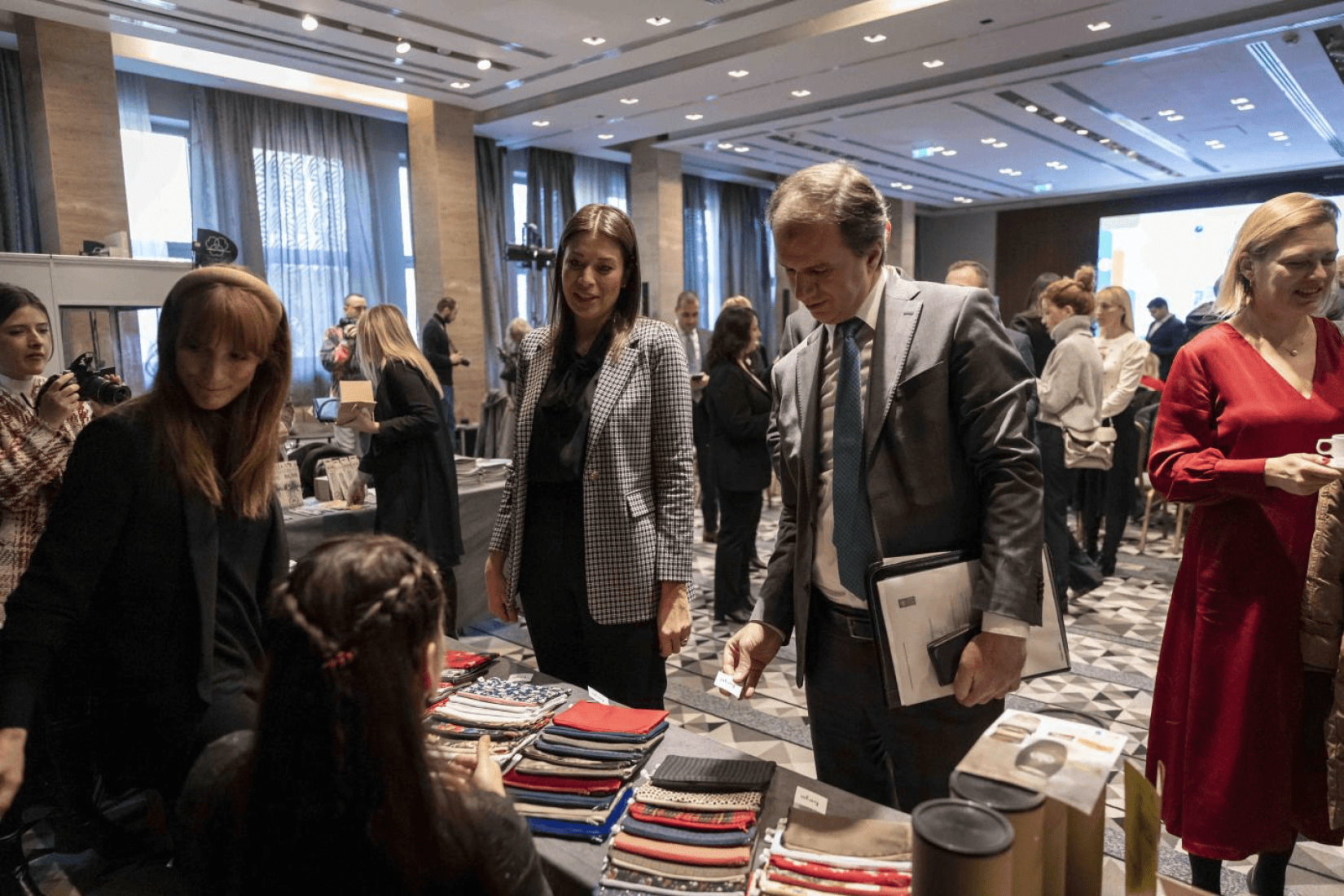 Nine innovations received financial support totalling at 746,000 USD to be implemented during the next year. They include ideas for saving electrical energy by using new technologies, producing energy from bio-waste, using organic waste for producing compost, fertilisers and new materials, using hazardous waste for the production of a high-quality fertiliser, as well recycling of textile, paper, cardboard and cigarette packs in making new products. The funds recipients are: Nektar d.o.o, DETO d.o.o. Pančevo, Elixir Zorka - mineralna đubriva d.o.o. Šabac, Bitgear Wireless Design Services d.o.o, Mivaka d.o.o Belgrade, Association for Persons with Developmental Problems "Naša kuća", Public Utility Company (PUC) Osečina, PUC Novi Pazar and PUC Novi Sad.
The twelve best innovations that involve cooperation between science and business in the field of circular economy received the "circular vouchers" worth 10,000 USD each, as an incentive for further development, leading to practical implementation. These innovations envisage the use of bio-waste in energy production, composting and manufacturing of new products (cosmetics, paint, varnish, ecological adhesives), as well as wastewater treatment in wood processing industry to make innovative bio-products. Some of the solutions propose using new technologies (artificial intelligence, software and applications) to decrease the emission of pollutants from thermal power plants, optimisation of electricity consumption, as well as transition from fossil fuels to renewable energy sources. The voucher winning ideas also include production of biodegradable bags from natural materials and breeding of insects whose larvae can decompose plastic. All these innovations were proposed by renowned scientific and research institutions in Serbia.
You can find more about the awarded solutions here.
At the event, 10 large companies working in Serbia presented their plans for saving energy and resources with the purpose of sustainable operation in 2023. These plans were made in response to the initiative "Accept Circular Challenge" by the Ministry of Environmental Protection, UNDP and Chamber of Commerce of Serbia. These companies include: Elixir Zorka, Nektar Grupa, Belgrade Airport, Coca-Cola HBC, Ball Packaging, DunavNet, MG Mivela, Bex Espress, Yettel and Eko Bio Invest.   
Small producers of "circular products", who make soaps, candles, tote bags, vanity cases and pencils, were also presented. 
The event was organised within the project "Reducing the carbon footprint of local communities by applying the principles of the circular economy in the Republic of Serbia - Circular Communities", implemented by the Ministry of Environmental Protection and UNDP, with the financial support of the GEF.
UN entities involved in this initiative
UNDP
United Nations Development Programme