Story
Twelve Vulnerable Families in Čačak Have New Homes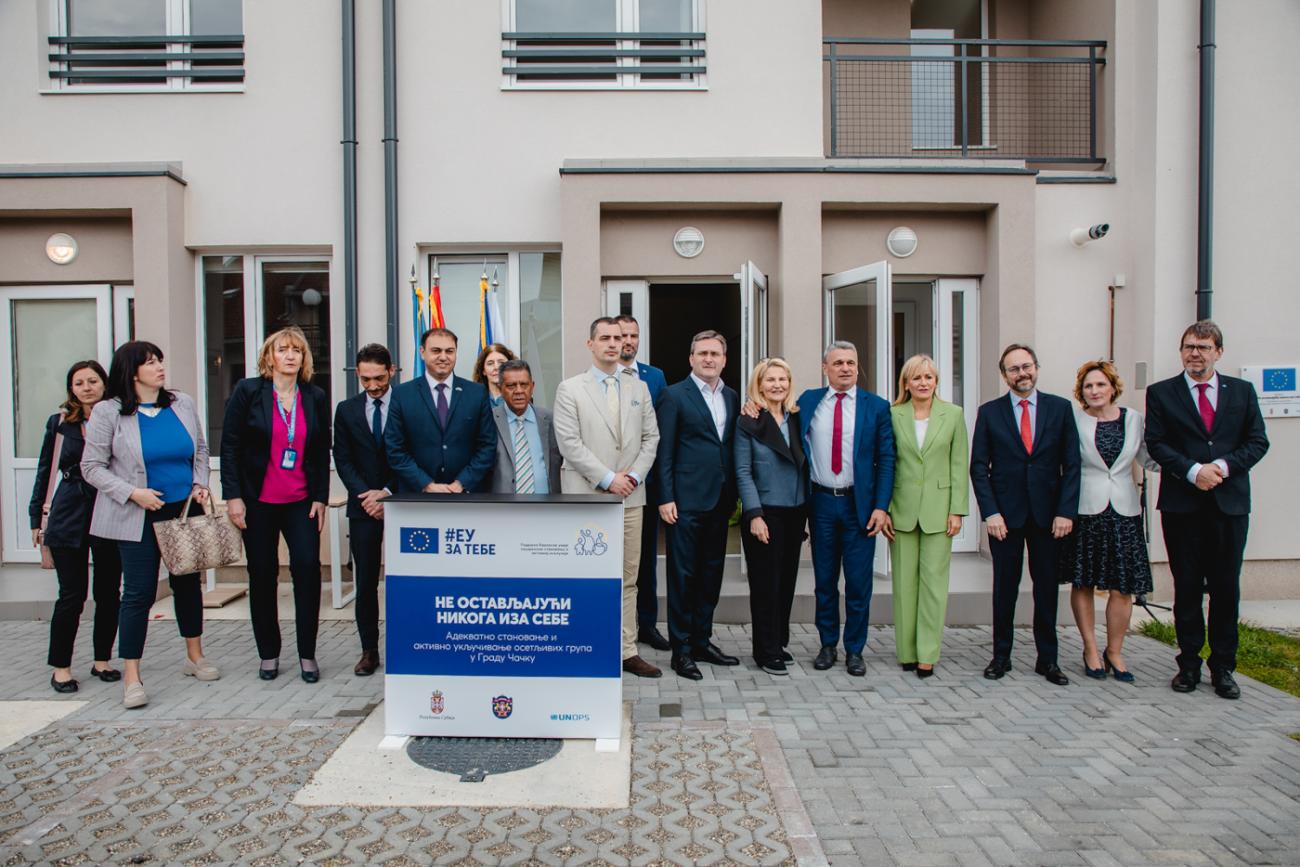 Within the "European Union Support for Social Housing and Active Inclusion" funded by the EU and implemented by UNOPS in Serbia, 12 families have moved into a newly built building for social housing in the Čačak. Within the grant "Leaving no one behind" awarded to the City of Čačak, fully furnished and equipped apartments were provided to families from the most vulnerable social groups.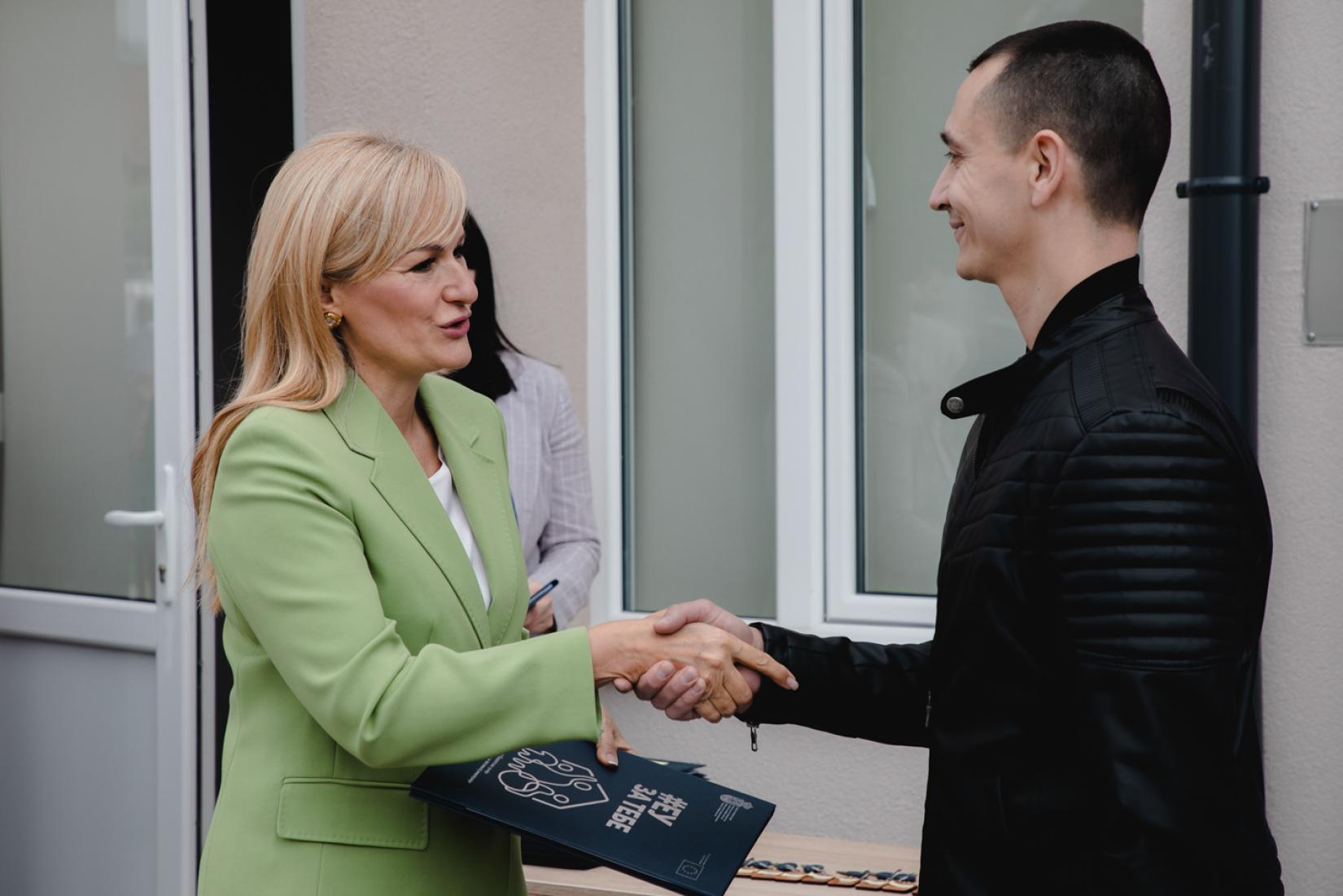 The keys to the new apartments were handed over by the envoy of the President of Serbia Suzana Paunović, the mayor of Čačak Milun Todorović, the Ambassador of the European Union in Serbia Emanuele Giaufret, the Minister for European Integration Tanja Miščević, the Minister of Labour, Employment, Veteran and Social Affairs Nikola Selaković, the Minister of Human and Minority Rights and Social Dialogue Tomislav Žigmanov and the Assistant Minister of Construction, Transport and Infrastructure Dušan Radonjić.
Mayor Todorović opened the event by saying that it is a great success that after two years of hard and persistent work and great support from the EU, we are here to hand over the keys to 12 families through the "Leaving No One Behind" project.
"The value of the project is EUR 1,410,000, of which EUR 1,209,000 was donated by the EU, and the City of Čačak participated with EUR 201,000. We worked together with the EU to provide furniture for apartments and houses and for beneficiaries to finally be safe and secure for a minimal monthly rent. I wish them to enjoy their homes and to know that their city and their country are here to support them. I want us to continue this kind of cooperation with the EU and to be aware at this moment how important it is that Serbia should stay on the European path,'' concluded Todorović.
"Diversity is a fact, while social inclusion is a matter of choice. Today we see the result of our joint choice that we leave no one behind", said Ambassador Giaufret, and emphasized that the move of 12 families into their new apartments is a clear and tangible result of the joint effort of the EU, the City of Čačak and the Government of Serbia to support equality, solidarity, tolerance, and inclusion. "I believe that housing is only the first step in ensuring a better life. That is why this project envisages that particularly vulnerable groups acquire knowledge and skills that will enable them to have a quality life and inclusion in society."
Minister for European Integration Tanja Mišćević pointed out that moving into apartments marks the beginning of a new, happier life for families. "Our engagement to build a better society does not end there, and European integration enables us to grow the infrastructure that is necessary for a better life and a better standard."
Minister Selaković pointed out that it is a "great project" that includes not only a roof over one's head but also inclusion in society. "That is why it is important to continue with inclusion, to strengthen the standard, for people to find a job, to be trained, to acquire the knowledge necessary for the labour market and to find a job".
"At most of the gatherings I have attended, best practice examples, prevention measures to address all forms of discrimination, various affirmative measures, the application of international human rights standards, as well as all applications related to the prevention of recognition and removal of all possible stereotypes, have been shown. But I can point out that this kind of gathering is one of my favourites. Because when you approach someone in this way, you really give them a chance for a new life", said Minister Žigmanov.
Assistant Minister Dušan Radonjić thanked the European Union for its help and pointed out that he is proud that his Ministry is a partner in this project because there are 12 apartments in Čačak, in which women victims of domestic violence, young people without parents, people with disabilities and members of the Roma national minority will move - a proof that in EU-Serbia relations, solidarity does not remain just a political or philosophical concept, but materialises in reality.
The UNOPS Serbia Multi-Country Office Director, Michela Telatin, pointed out that sustainable housing solutions are the result of sincere cooperation and engagement of all actors.
''I'm very happy to witness today moving in of these 12 families into a newly constructed social housing building. A home is a place where we feel safe, protected from the potential outside perils, where we rest but also work hard to plan and achieve a more prosperous future. That is why today we are happy to be a part of a huge step in making better lives of our beneficiaries and to continuously support the Serbian national and local institutions and the European Union in delivering a more promising and hopeful future for those in need", UNOPS RSMCO Director said.
One of the project beneficiaries, Žarko Džambasević thanked everyone on behalf of 12 families.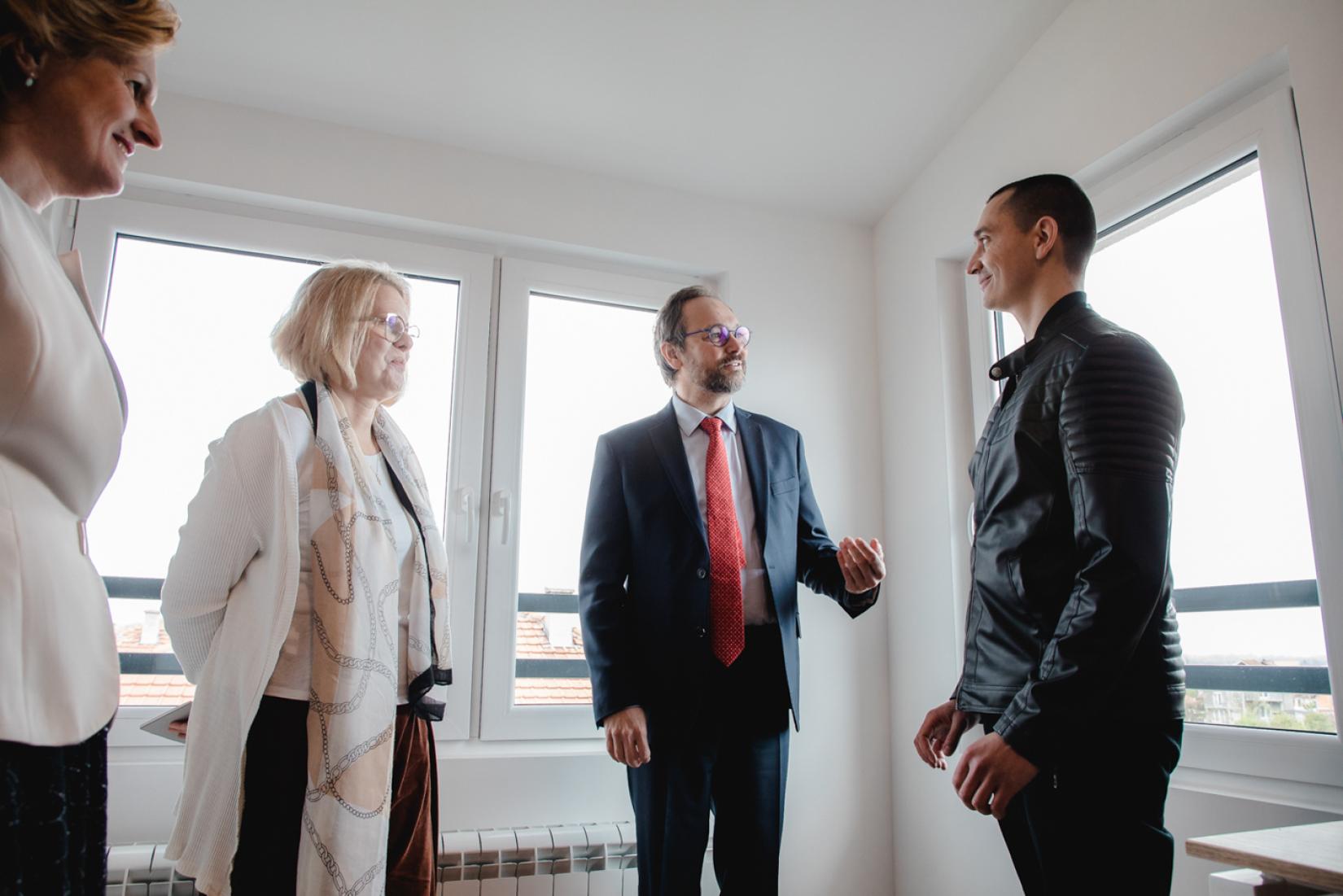 "Today, I am here with my wife and our son, so moving into our new home is one step which will ensure our better life, maybe even to have another child soon. We hope that with this support, all of us will have a better future," Džambasević said.
The project "Leaving no one behind" is implemented as part of the "European Union Support for Social Housing and Active Inclusion" Programme, for which the EU allocated 27 million euros, and which, in addition to Čačak, is implemented in 21 other cities and municipalities.
UN entities involved in this initiative
UNOPS
United Nations Office for Project Services