Story
It's best when we learn together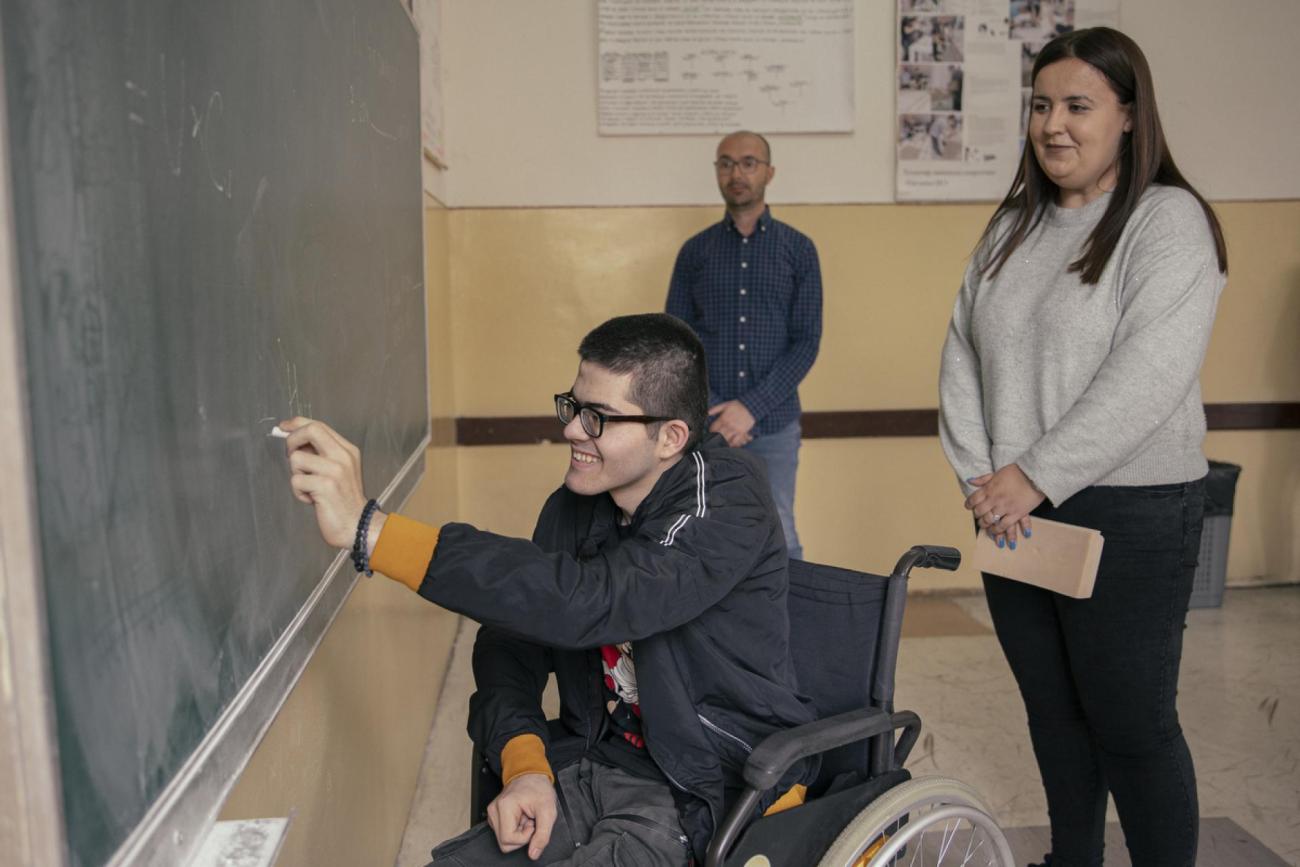 Inclusive education is a responsibility shared by the entire community.
Raska, May 2023 – "We're all equal, it doesn't matter if someone can walk or not. We all help each other, and we're all friends," believes Nemanja. He's a fifteen-year-old student at the Kraljica Jelena Secondary school in Raska. Nemanja is an exceptional and proud straight-A student who enjoys learning, especially about history. He has a passion for reading, drawing, and watching series and films. He has a bright smile and is a good friend to his classmates. Nemanja has developmental difficulties caused by cerebral palsy.
"When I need something, they're all there to help me. Or when there's something that, for example, I don't understand, they're also there to help me," he says.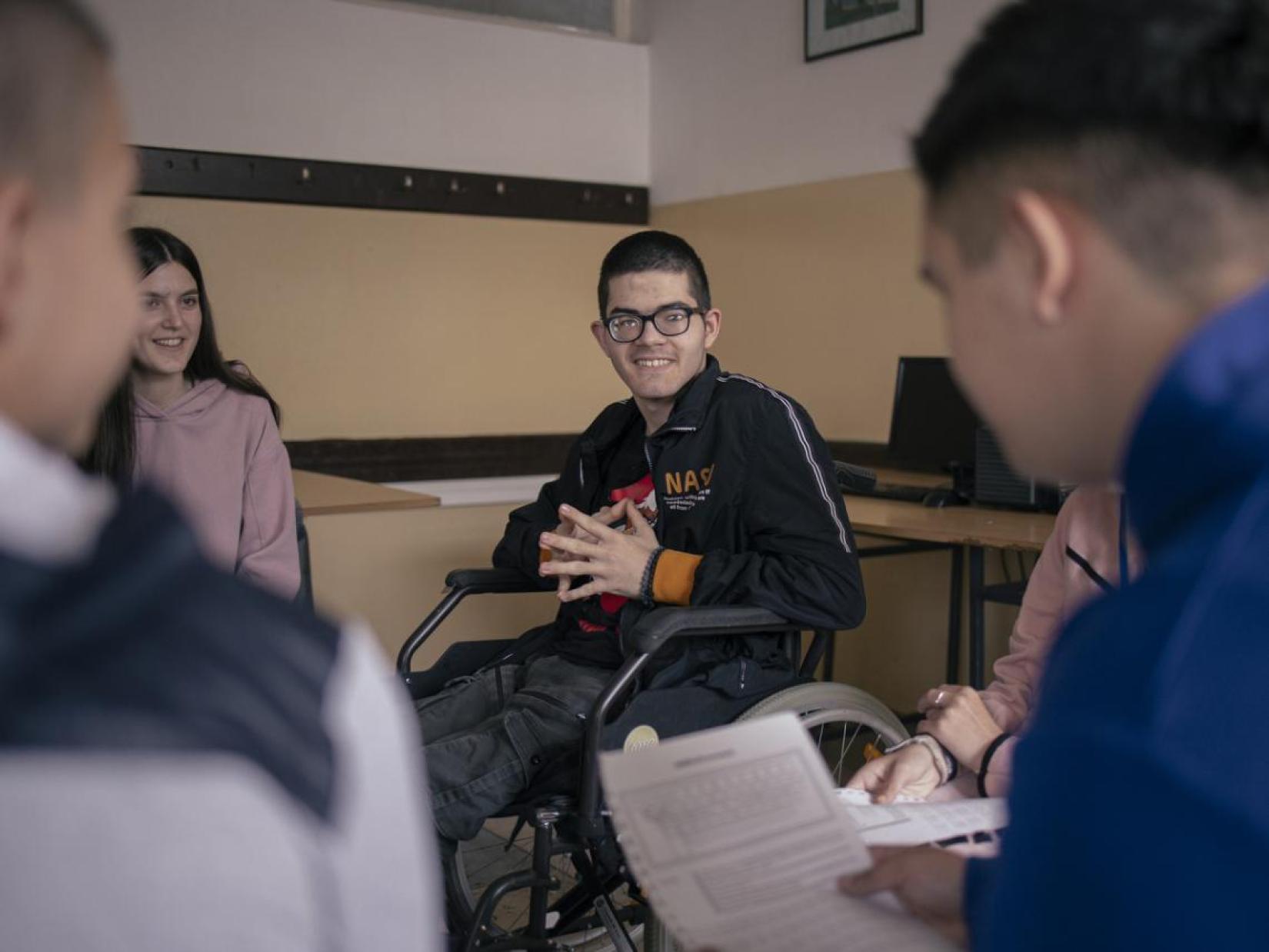 Nemanja is happy that he can help his friends with subjects in which he excels.
The Ministry of Education and UNICEF, with the support of the European Union Delegation in Serbia, are implementing the project Enhanced Equal Access to and Completion of Pre-University Education for Children in Need of Additional Support in Education - Learning Together.
The project empowers the school, the Raska Municipality, and the Intersectoral Committee to provide Nemanja and other children with developmental disabilities with various types of support, enabling them to consistently access quality inclusive education.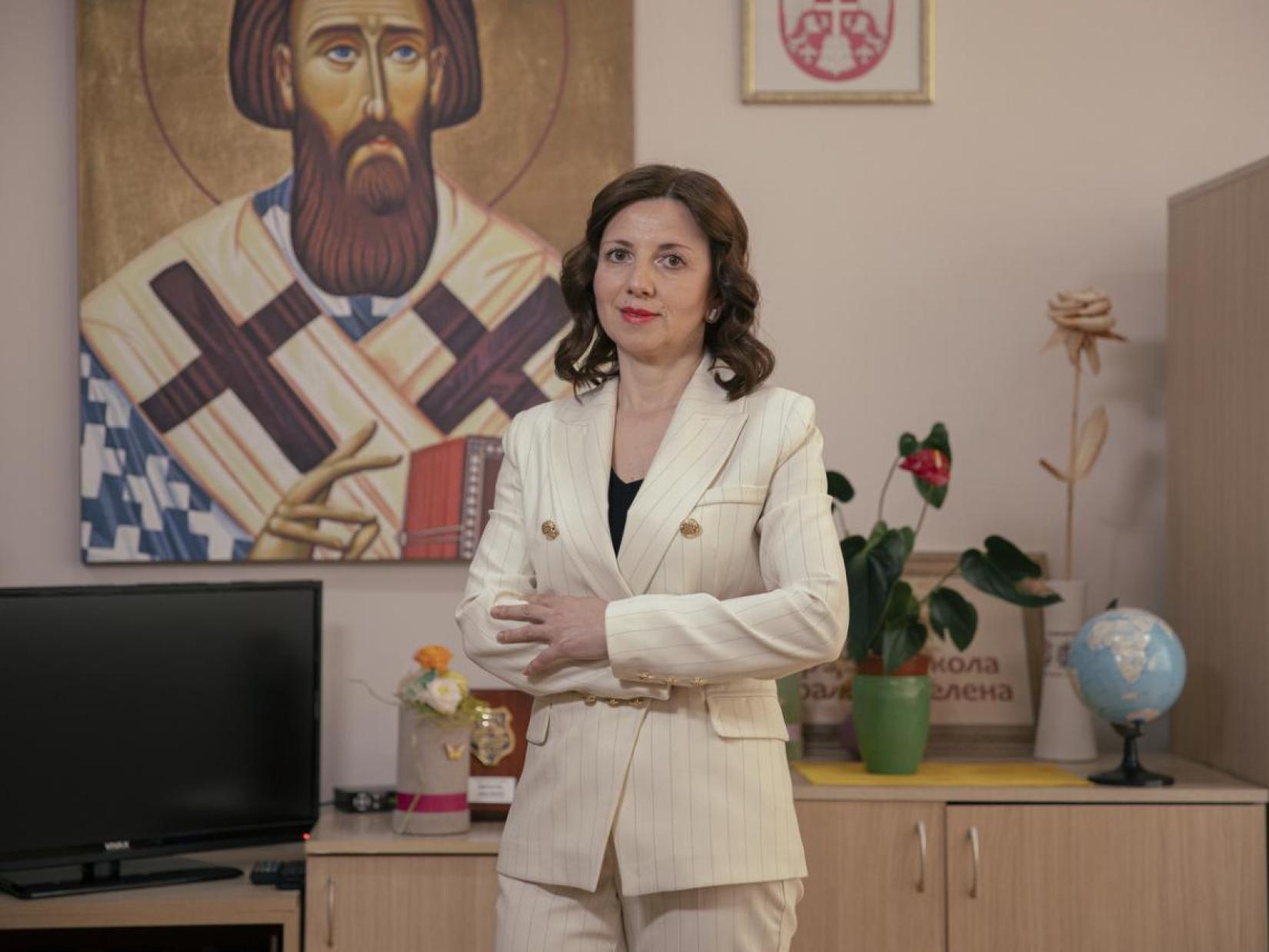 "The school's participation in this project has contributed to the development of new approaches and the strengthening of the support we provide to students. The school employs differentiation strategies tailored to each student's needs, while also fostering a collaborative environment that encourages group work, peer learning, and peer support. In this school, everyone is equal, every student has the same rights and receives equal treatment from all staff members. They actively participate in our school events, including the Saint Sava's Day ceremony, without any discrimination, just like their peers," says Marija Trikos, school principal.
As a teacher of English language and literature, Marija has been in education for 28 years. For the past six years, she has served as the principal of a school with 320 students. Each year, the school welcomes approximately 20 students with developmental disabilities who require additional learning support.
"The school's commitment to these students, as well as their peers, is of the utmost importance. The school provides all necessary conditions to ensure smooth class attendance, including accessible entrances and adapted facilities such as classrooms, offices, and toilets, catering to the needs of students requiring special support," explains Marija.
Her words about equality and peer support are confirmed by Nemanja's classmates.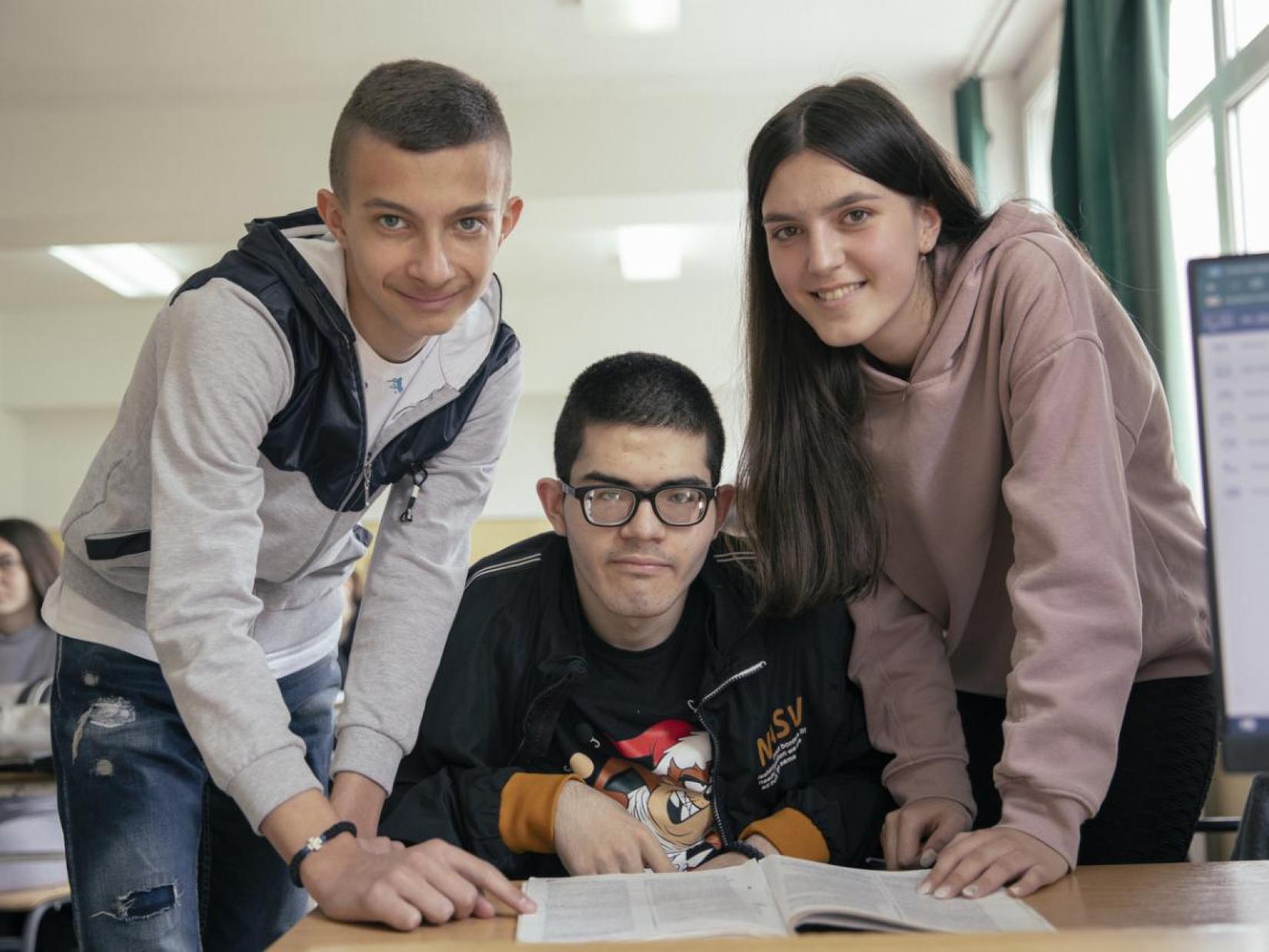 "We all see that he's a good friend, we always talk, even on breaks and hang out and we are all as one. He taught us that we're different but, in fact, the same, and that we shouldn't focus on our differences. He's always there to help us, and, of course, we're also there for him. He's always cheerful, smiling, and radiating positive energy," says Julija, who is also Nemanja's sister and who spends a lot of time with him outside school.
Bogdan and Nemanja have a strong bond of mutual support and understanding.
"We first met at the beginning of the school year, and we've been best friends ever since. Being friends with Nemanja has taught me that, despite our differences, we're all equal," he says.
At Nemanja's school, everyone understands that supporting students who need additional educational support is the job of the entire school, and not individual employees.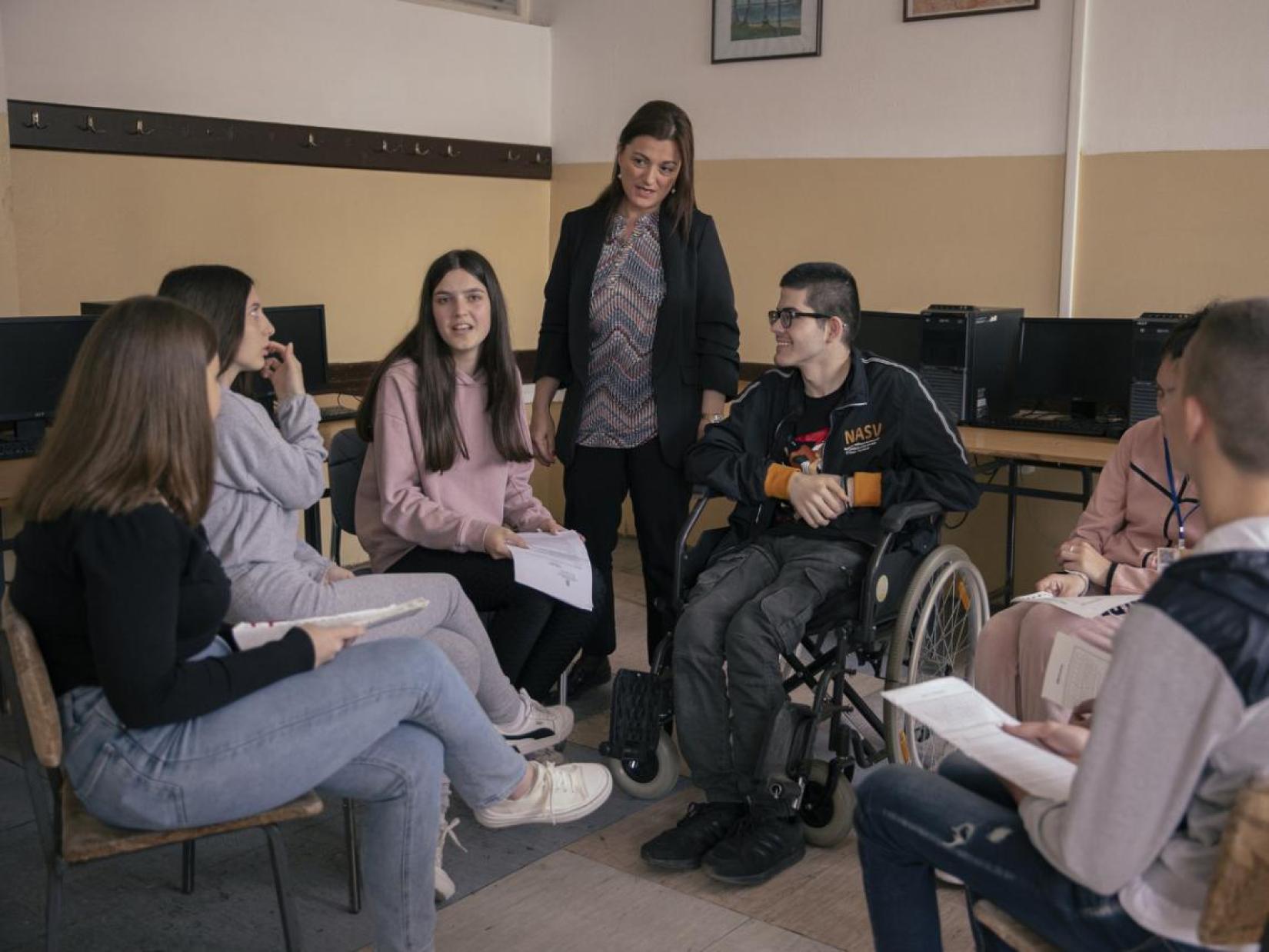 "Inclusive education is a responsibility shared by the entire community. It benefits every child, not just some children. To provide a quality education for each child, it is necessary to adopt an approach that embraces and addresses the potentials and needs of every individual child. In our school, we have students who follow a special plan and programme, yet they are integrated with their peers in the same classroom," says pedagogue Sonja Komatina.
The Raska Municipality is one of the 20 local self-governments actively involved in the Learning Together project.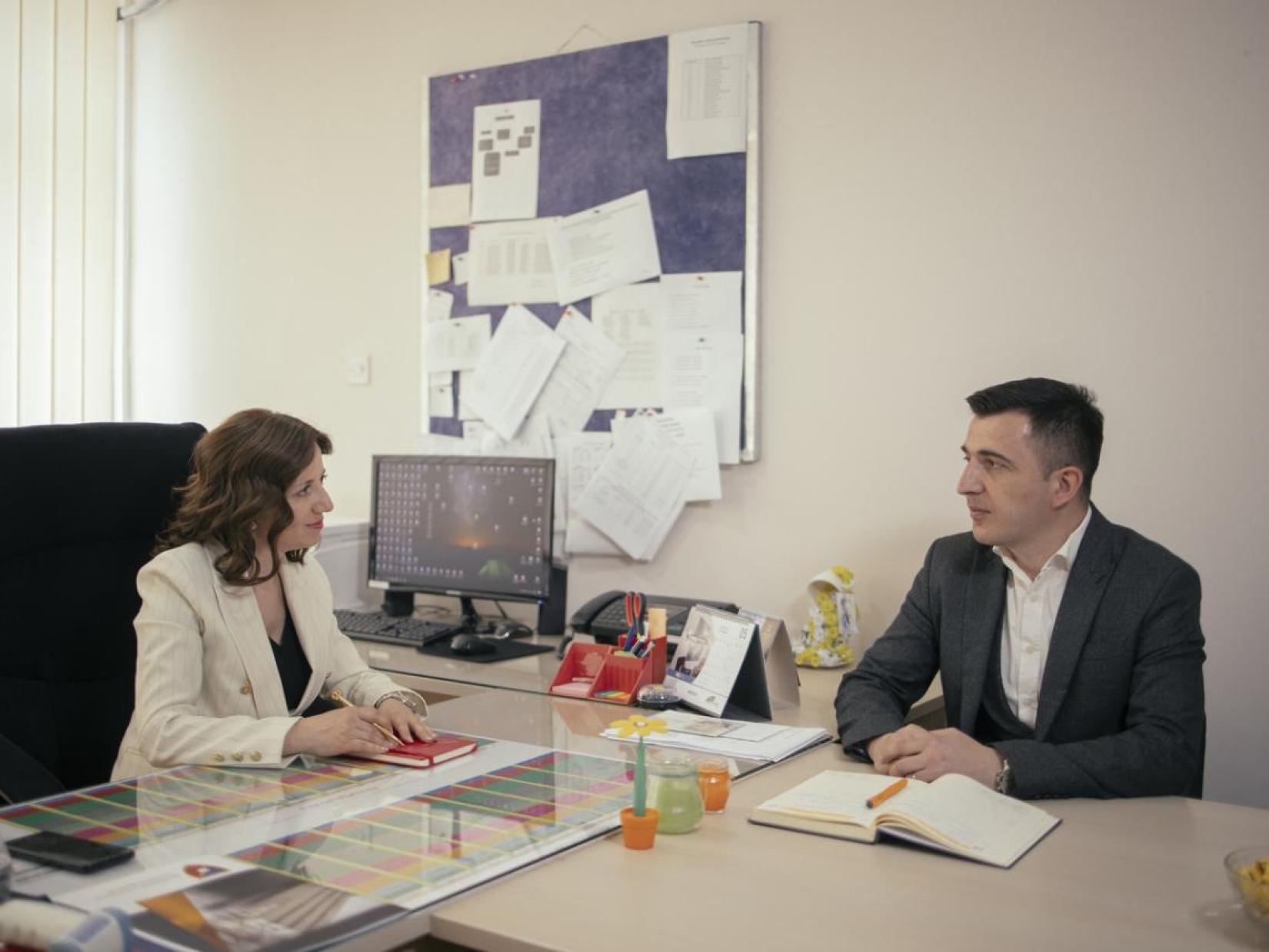 "Every child has the right to education, and I believe we should all be guided by that principle when implementing local support policies. The local self-government has the mandate to map, plan and provide support measures for inclusive education," says Srdjan Vasiljevic, who has been working in the municipality of Raska for a decade now on social protection affairs, and as the Coordinator of the municipality's Intersectoral Committee.
He explains that the Intersectoral Committee is the key actor in planning and implementing the support that the school, social protection and health care institutions and the local self-government will provide to the child. For years, it has been intensively working on assessing Nemanja's needs.
"The role of the Intersectoral Committee is to adapt the education system to the needs of the child, rather than adapting the child to the system. Currently, Nemanja utilizes the services of a personal assistant, specialized van transport, and the Day-care Centre for Children, Youth, and Adults with Disabilities. At the centre, he has access to the services of a physiotherapist," says Srdjan.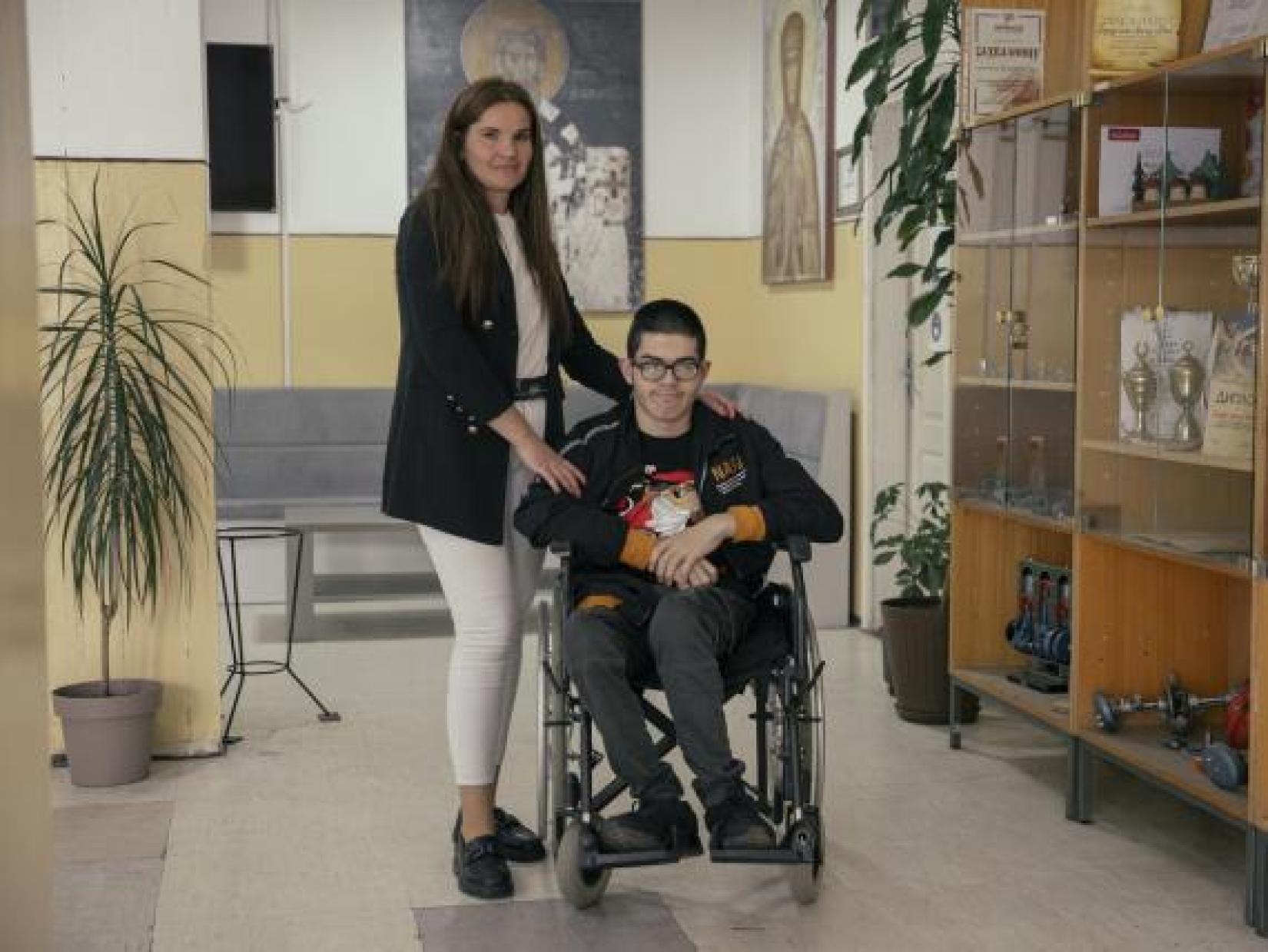 He notes that involving parents in mapping children's needs and implementing support measures is crucial. Danijela, Nemanja's mom, expresses gratitude for the understanding and assistance they have received from both the school and the municipality. She greatly appreciates the adaptation of the teaching programme to Nemanja's needs.
"I see that he is cheerful, that he is accepted, when he comes home, he says that he had a good time with his friends. It's very important for me as a mother that he doesn't fall behind, that he doesn't miss out, and that he's always included with other children. He receives support from his assistant, transportation, fellow students, friends, and teachers. He is not falling behind; in fact, he is an excellent student who studies regularly. I'm happy with his development considering his challenges and needs," says Danijela.
UN entities involved in this initiative
UNICEF
United Nations Children's Fund