Continued involvement of all the relevant institutions and stakeholders at all levels needed to build a society that does not tolerate violence against women and girls
On the International Day for the Elimination of Violence against Women, global data show that 1 in 3 women and girls experience physical or sexual violence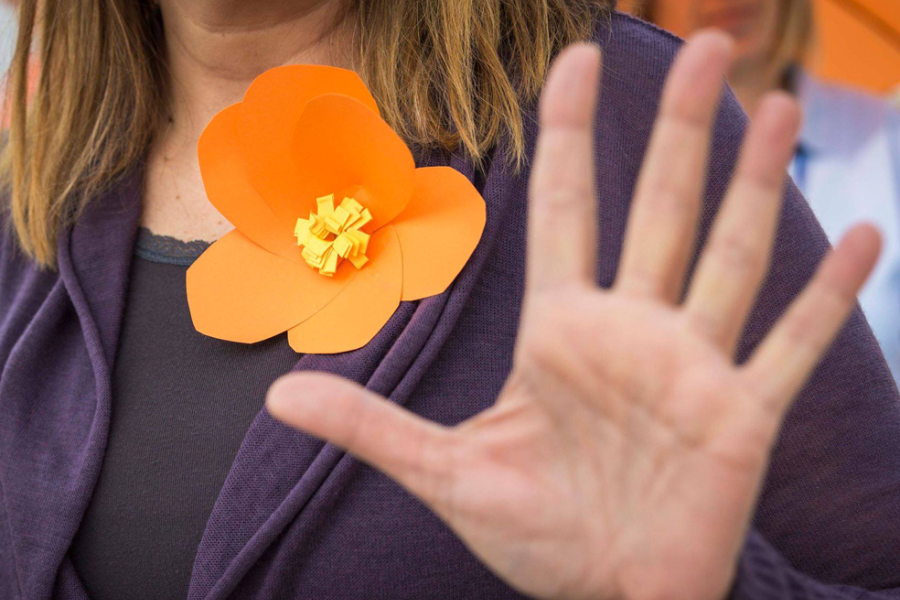 Belgrade, 25. November 2019  – On this International Day for the Elimination of Violence against Women, global data show that one in three women and girls experience physical or sexual violence in their lifetime, most often by an intimate partner. One in two women killed worldwide were killed by their partners or family member in 2017; only one out of 20 men were killed under similar circumstances. When it comes to Serbia, every other woman faced psychological, and every third physical violence.
Violence against women and girls is one of the most widespread, persistent and devastating human rights violations in our world that remains largely unreported due to the impunity, silence, stigma and shame surrounding it. Combating domestic violence demands a coordinated and comprehensive deployment of prevention, protection, prosecution actors and adequate policy measures across its landscape. "Violence against women happens in all societies and in all social strata! We will continue working tirelessly with all our partners, at all levels to address the root causes of such violence by challenging social norms and behaviours, by strengthening the legal frameworks and institutions and improving services for the survivors, while Leaving no Woman or Girl Behind," says Francois Jacob, UN Resident Coordinator in Serbia.
Eradicating violence against women and girls is at the heart of the 2030 Agenda for Sustainable Development. It is the first step towards global peace and security, a precondition for the promotion, protection and fulfilment of human rights, gender equality, democracy, and economic growth.
Together with the Government of the Republic of Serbia and partners, the UN Country Team in Serbia has put substantial actions in place to ensure violence against girls and women is eradicated once and for all. Our actions are bearing fruit. Over the last three years, the UN Country Team in Serbia and the Government of the Republic of Serbia, headed by its Coordination Body for Gender Equality, have been working on prevention of violence, while ensuring that the victims get timely and effective protection and support from relevant institutions, and the perpetrators get punished. Thanks to the support from Swedish International Development Agency domestic violence in Serbia is gradually changing from "someone's private business" to coming into the public limelight and scrutiny.
To date, the programme of our alliance trained 360 police officers on first response to reported violence. In addition, over 200 healthcare workers across Serbia were trained to provide adequate support to victims. In terms of prevention, more than 2500 boys and girls were mobilized through a variety of activities designed to promote gender equality, and address harmful gender stereotypes and gender-based violence. The network of women reporters of violence against women has been a key reinforcement to the overall effort. The informal group is made up of 31 editors and journalists committed to improving media reporting on violence against women.
At the same time special attention has been given to marginalized group of women including Roma women, women with disabilities and rural women, who tend to report violence disproportionally less than others. During 2018 activists from women's CSOs, themselves from vulnerable groups, trained 200 professionals about the specific vulnerabilities of these groups and ways to improve their access to the support services.
Notwithstanding the fact that children witnessing domestic violence should also be considered direct victims, institutions often fail to take appropriate protection measures. To save and protect women AND children, local-level inter-sectoral teams from 12 municipalities were trained and armed to better respond to gender and transgenerational models of domestic violence.
The UN Country Team in Serbia remains committed to work relentlessly towards elimination of gender-based violence. A life free of violence is an inalienable fundamental right. Depriving women and girls from freedom, means depriving the world from freedom.
UN entities involved in this initiative
UN Women
United Nations Entity for Gender Equality and the Empowerment of Women
UNDP
United Nations Development Programme
UNFPA
United Nations Population Fund
UNICEF
United Nations Children's Fund