27 November 2019 | 11:00am — 6:00pm
YOUTH RIGHTS TALKS 2019: #BezPlejbeka
Youth Rights Talks is an event that gives young people a space to express their views, share their thoughts on social issues and share experiences through their talks, thus establishing a dialogue with young people from all over Serbia, State representatives, media, youth organizations, and CSOs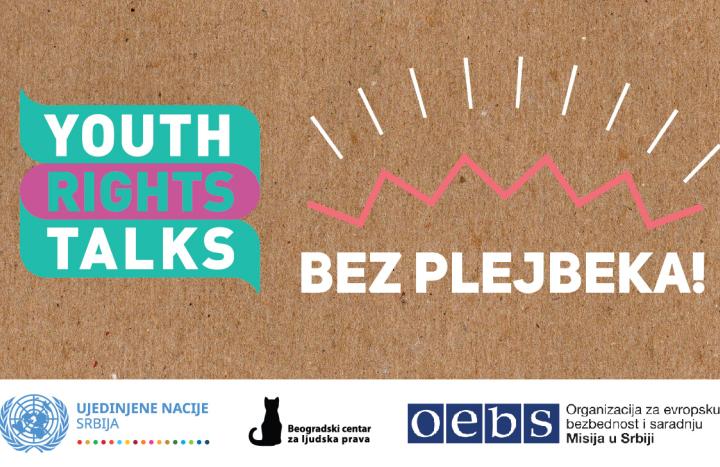 UN entities involved in this initiative
Other Organizers
OSCE Serbia, Belgrade Center for Human Rights
Goals supporting this initiative
1. No Poverty
5. Gender Equality
10. Reduced Inequalities
16. Peace, Justice and Strong Institutions
17. Partnerships for the Goals
Location
Gold Inn venue (Beton Hala, Bulevar vojvode Bojovića 30, Belgrade)
Bulevar vojvode Bojovića 30
11000 Belgrade
Serbia
27 November 2019 | 11:00am - 6:00pm
About the initiative
Youth Rights Talks is an event that gives young people a space to express their views, share their thoughts on social issues and share experiences through their talks, thus establishing a dialogue with young people from all over Serbia, State representatives, media, youth organizations, and civil society organizations, as well as influencers and other significant actors in society.
Youth Rights Talks 2019 promotes the role of young people in maintaining peace and creating a just and inclusive society.
YOUTH RIGHTS TALKS 2019 programmatically builds on the Sustainable Development Goals, defined in the 2030 Sustainable Development Agenda, with a particular focus on Goal 10: Reduced Inequalities, and Goal 16: Peace, Justice and Strong Institutions. Additionally, the focus  of the event is on the role of young people in this process, so YRT2019 also draws attention on the relevant documents highlighting the role of young people in peacekeeping. The United Nations Security Council Resolution 2055 is one of such documents.
The official language of the conference is Serbian. The event is accessible to people with disabilities.
We hope that you will be able to join us and to participate in the discussion regarding important issues, establish a sincere dialogue with State institutions, organizations, media, youth, and other individuals concerned regarding (in)justice issues, (in)equality, peace and rights of young people.