Further Efforts Needed to Enhance Persons with Disabilities' Autonomy and Participation in All Segments of Society
The specific challenges include the absence of equal recognition before the law, adverse situation of women and girls with disabilities, and the right to work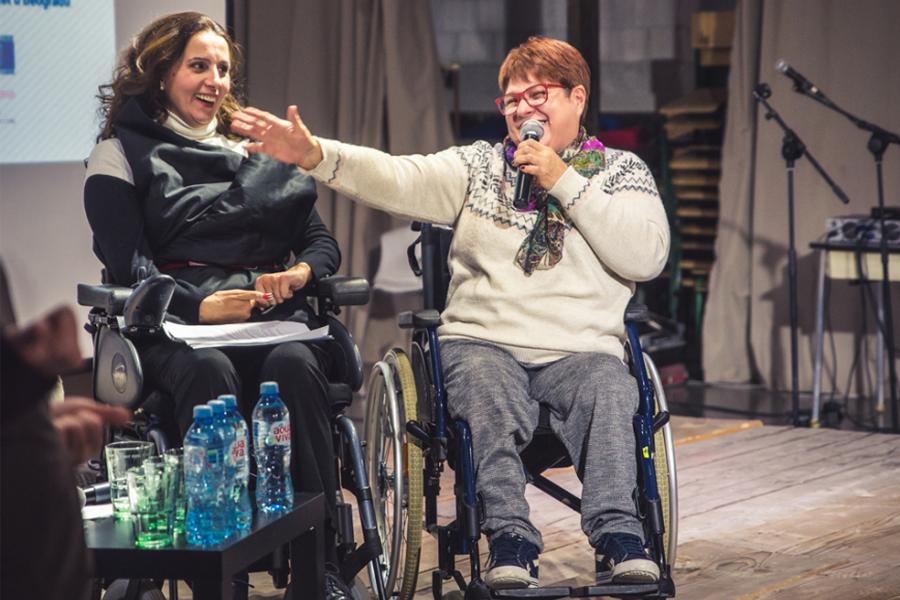 Photo | Marija Piroshki/UNCT Serbia
Belgrade, 3 December 2019 – On this International Day of Persons with Disabilities, according to estimates, over 700 thousand persons with disabilities live in Serbia. The specific challenges faced by this highly vulnerable group include the absence of equal recognition before the law, adverse situation of women and girls with disabilities, as well as the right to work, in accordance with the recommendations of the UN Committee on the Rights of Persons with Disabilities and with the key pledge of the 2030 Agenda for Sustainable Development – to leave no one behind.
Persons with disabilities share the same rights as all people, and shall enjoy a life full of opportunities, dignity and love. Significant improvements have been made in taking their needs into consideration through enactment of laws and adjustments of strategies in several social and economic sectors. Much remains to be done. The UN family in Serbia will continue to work with its government counterparts, with communities and with all its other partners to change the perception about persons with disability, while removing barriers and discriminative practices. No women, man nor child should be left behind because of his/her disabilities," says Françoise Jacob, UN Resident Coordinator in Serbia.
With regard to the current labour market situation in Serbia, the status of persons with disabilities has improved in the transition years. Nevertheless, some far-reaching barriers to their greater inclusion persist. Employers still mainly fail to recognise persons with disabilities or to utilise their potential adequately. Sometimes, employers lack sufficient knowledge and competencies to recruit and successfully manage persons with disabilities; however, more often, they lack awareness of their qualities as potential workers, while many persons with mental disabilities are entirely left out of the labour market.
This is witnessed by the fact that about 330 thousand persons with disabilities are of working age, only half of these are economically active (employed or seeking employment), while only 9 percent are employed, according to the most recent census data.
To tackle some of these challenges, the UN Country Team agencies, together with the Government of the Republic of Serbia, persons with disabilities' organisations and the civil society, are working together to empower persons with disabilities, enhance their full participation in decision-making processes through the improvement of the strategic and legal framework, advancement of their position in the open labour market, with special emphasis on improving the status of women and girls with disabilities. The development of the National Strategy of the Rights of Persons with Disabilities 2020-2024 and amendments to several laws are currently in progress and it should be adopted early next year. All these activities are part of the joint UN Project Autonomy, Voice and Participation of Persons with Disabilities in Serbia.
UN entities involved in this initiative
ILO
International Labor Organization
OHCHR
Office of the United Nations High Commissioner for Human Rights
UN Women
United Nations Entity for Gender Equality and the Empowerment of Women
UNDP
United Nations Development Programme
UNFPA
United Nations Population Fund
Goals we are supporting through this initiative