Press Release
Pretty Loud in Collaboration with UN Serbia and Coordination Body for Gender Equality Releases Music Video for the Song "Ravnopravno" to Mark the International Day for the Elimination of Violence against Women and 16 Days of Activism Campaign
24 November 2021
To mark the International Day for the Elimination of Violence against Women and the launch of the 16 Days of Activism campaign, the band Pretty Loud, in collaboration with UN Serbia and the Coordination Body for Gender Equality, releases the music video for the song "Ravnopravno" (Equal). 
Belgrade, 24 November 2021 – Ravnopravno is the latest song / music video by Pretty Loud, the first all-female Roma hip hop band in Serbia, created to mark the International Day for the Elimination of Violence against Women and the launch of the global 16-day campaign.
Violence against women is a ubiquitous social problem that cannot be exclusively attributed to any single social class, and one that affects all women irrespective of their education level, socio-economic status and other socio-demographic characteristics. However, women with disabilities, women living in rural areas, women in traditional, minority or Roma communities, who face various challenges on a daily basis, find it even more difficult to speak out about violence and to seek help.
Therefore, the aim of the Ravnopravno music video, released as part of this year's 16-day campaign is to send a message to the general public about the various forms of violence against women, as well as to help young people to recognize it and adopt a constructive attitude towards eliminating all forms of violence as they grow up.
Ravnopravno tells a story about a young woman growing up in an atmosphere of violence. Told from her perspective, the story exposes various traditional and cultural dimensions of violence against women, which often remain taboo subjects.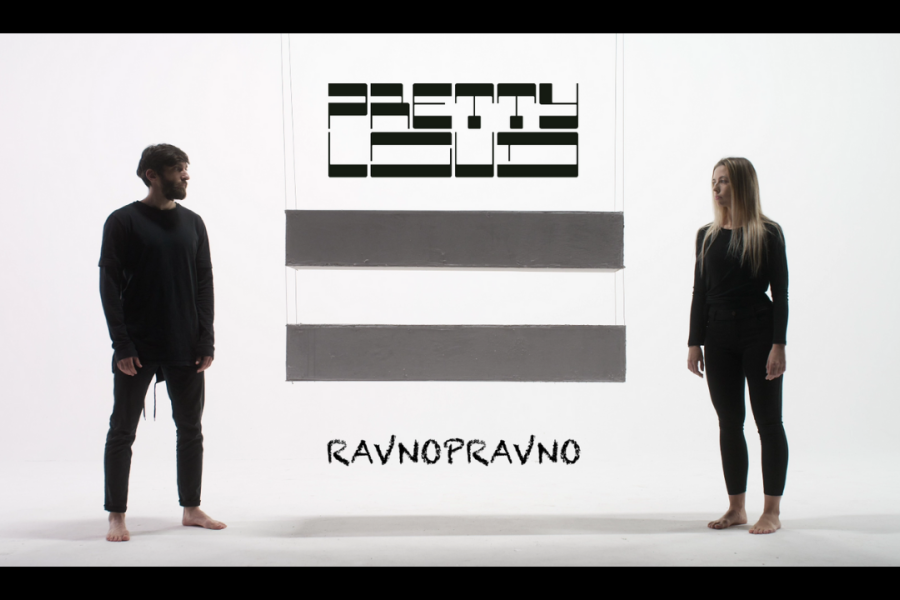 "All women should bravely stand up and speak openly about the violence taking place every day in various communities. This issue is not given sufficient attention. How do we go about changing this? We have decided to stop the violence using music. Hence we made this song and this music video. We would like to see more articles on positive topics, on women being successful, independent and very brave", said the Pretty Loud girls.
"All women and girls, especially those from vulnerable groups, should live their lives free from violence, should be encouraged to report violence, and should receive timely and efficient protection against it. As the United Nations in Serbia, in cooperation with all our partners, we will continue our joint efforts towards building a society in which violence is not tolerated and perpetrators are punished", said Françoise Jacob, UN Resident Coordinator in Serbia.
Combating gender-based violence is one of the objectives of the Republic of Serbia's gender equality policy, and domestic violence is prohibited by law. Despite considerable progress in this regard, many women and girls in Serbia still live in fear of violence and the circumstances surrounding the COVID-19 epidemic pose an additional challenge for ensuring their full safety.
"Violence against women and girls is widespread and constitutes a major social problem. It is, therefore, imperative that we all increase our efforts towards preventing violence, as well as working with the perpetrators and educating the youth and entire communities. Roma girls and women are multiply vulnerable and discriminated against, and are exposed to the most serious violation of human rights – child marriage. We must fight against this, since underage marriages affect the social well-being of a country and undermine the development and future of every girl. The very moment that girls enter such unions, they face alarming risks of violence, impaired health, inability to continue their education, and are precluded from gaining economic independence and dreaming of a better life. Child marriage does constitute a form of violence against women and girls", said Prof. Zorana Mihajlović, Deputy Prime Minister and Chair of the Coordination Body for Gender Equality.
Although gender-based violence is widespread and mostly affects women and girls of various ages and takes various forms, in recent years we have witnessed an increasing number of women who are encouraged to report violence and seek institutional assistance, as well as a developing positive climate in society and communities that are ready to support the victims and condemn violence. The activism and voices of young women, including the members of Pretty Loud, are symbols of the new generations that are capable of changing the reality and creating a society based on equality, in which violence will be totally unacceptable.
The music video for Ravnopravno is available at: https://www.youtube.com/watch?v=85uoOsHFpaM
PRETTY LOUD is the first all-female Roma band.
It was founded as part of the activities of the GRUBB foundation, at the initiative of a group of girls and young women aged between 15 and 27.
Roma women are predominantly housewives, dropping out of school early and marrying young. Pretty Loud breaks this stereotype. They are proudly fusing rap and hip hop with Roma music to create a unique blend, while combining contemporary and urban movement with the traditional dance. Their lyrics send straightforward messages on the importance of education, the right to
personal choice and independence, and maintain that underage marriage is not a Roma tradition. They sing about their daily challenges, hopes and discrimination, as well as about love and equality.
GRUBB works with Roma children and youth to ensure that everyone can achieve their full potential and social integration. In 2017, GRUBB's innovative method was the winner of the 2017 EU Award for Roma Integration.
UN entities involved in this initiative