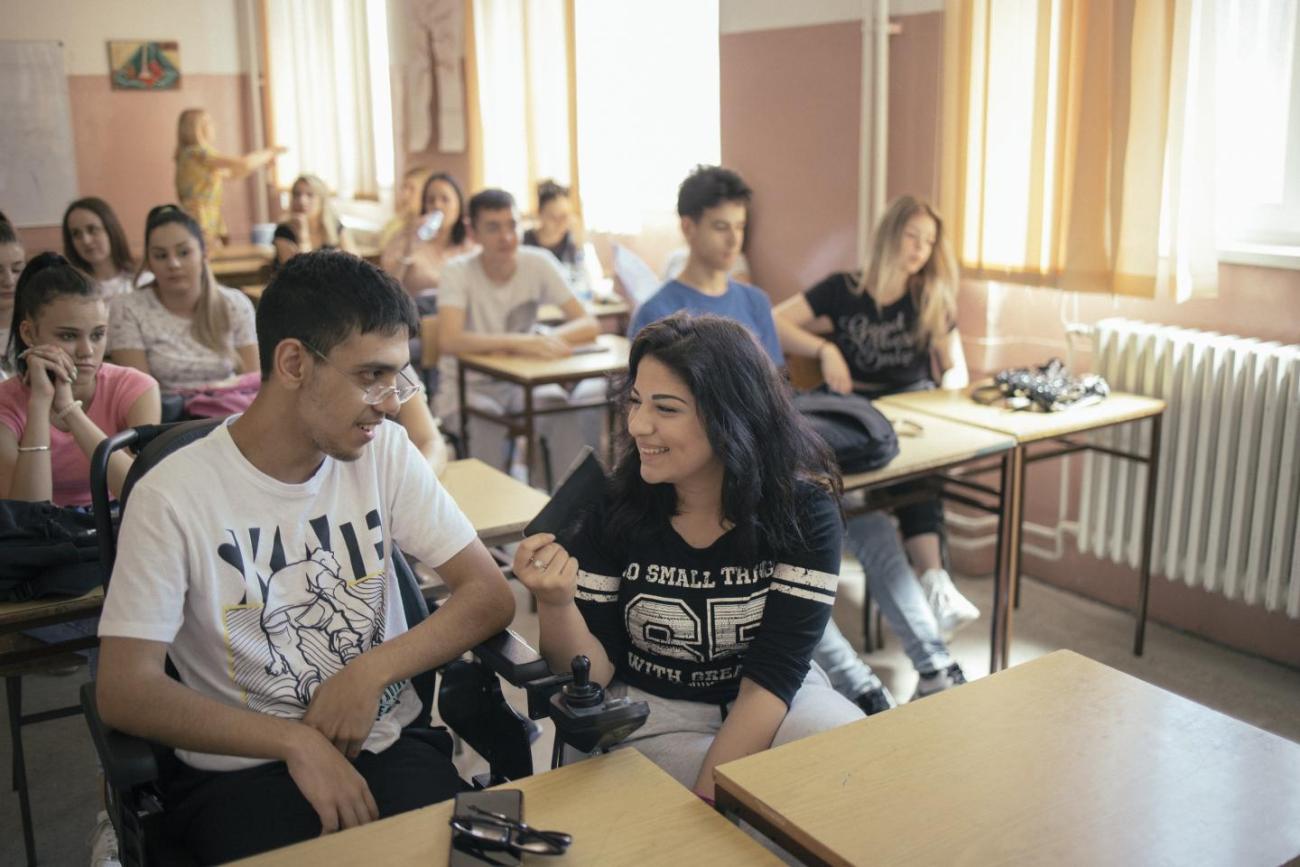 Economic and Trade school, Zajecar
At Economics and Trade Secondary School, they know that a child's right to inclusive education does not stop with health difficulties and developmental disabilities. That's why Rade and Mihajlo are part of the class. Their friends help them with wheelchairs.
"It's going well at school. I've been accepted [by my peers]. I'm grateful for that. I thought they wouldn't accept me, but I was wrong.... I have the best friends."
For Rade, the most important thing is that they are all together. "They've learned how to behave towards me. We should always help and never reject each other. We should always help each other out."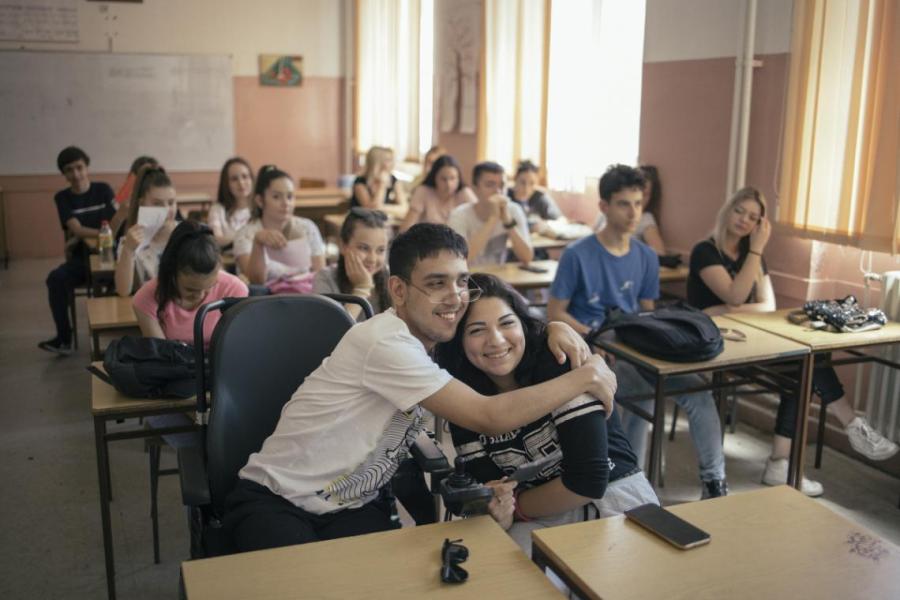 Their school friends took some time to learn how to establish a relationship with them. Rade's best friend, Alisa, says that he is proof that anything is possible – when you have support.
"There is no need for them to get the impression that they're any different from us. We're all the same. And regardless of their problems, they're children just like us."
Parents and caregivers say that the progress is more than evident.
"His memory is better. His vocabulary is better compared to when he was staying at home. We're involved as partners, with both teachers and children. We're doing everything we can to ensure good results for children," says foster mother Ruska.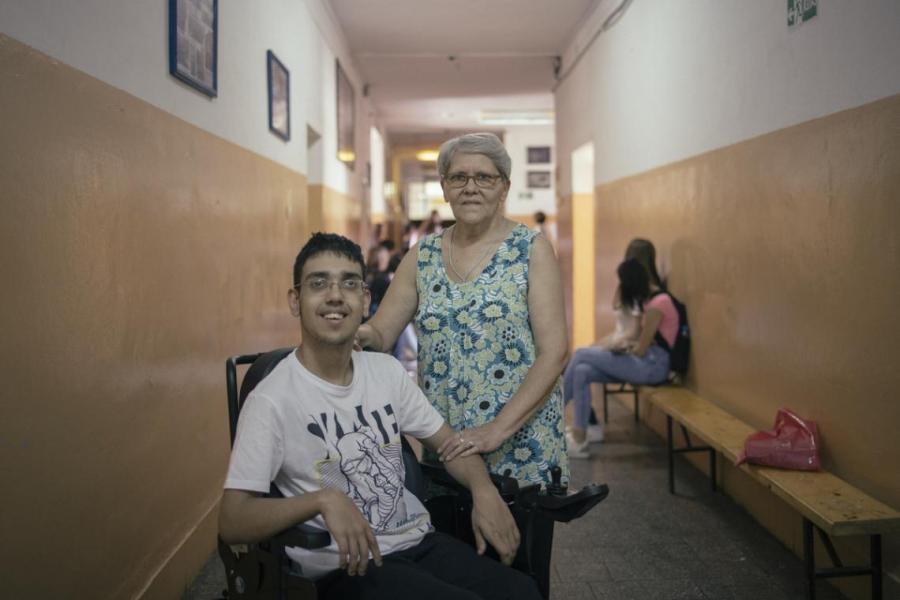 Dusan is a student at the Economics and Trade Secondary School in Zajecar, in eastern Serbia. He never missed a single class. He is in the running to be class valedictorian. He has a talent for cooking and is developing his culinary skills during practical lessons. Most of all he likes baking bread rolls.
"I spread the oil, make the dough balls, put the cheese, cut it on top, roll it, put it on a baking tray, put the sesame seeds. Then I wait for it to rise and then put it in the oven. My best friend, Nemanja Jovanovic, taught me how to do that," Dusan explains the process.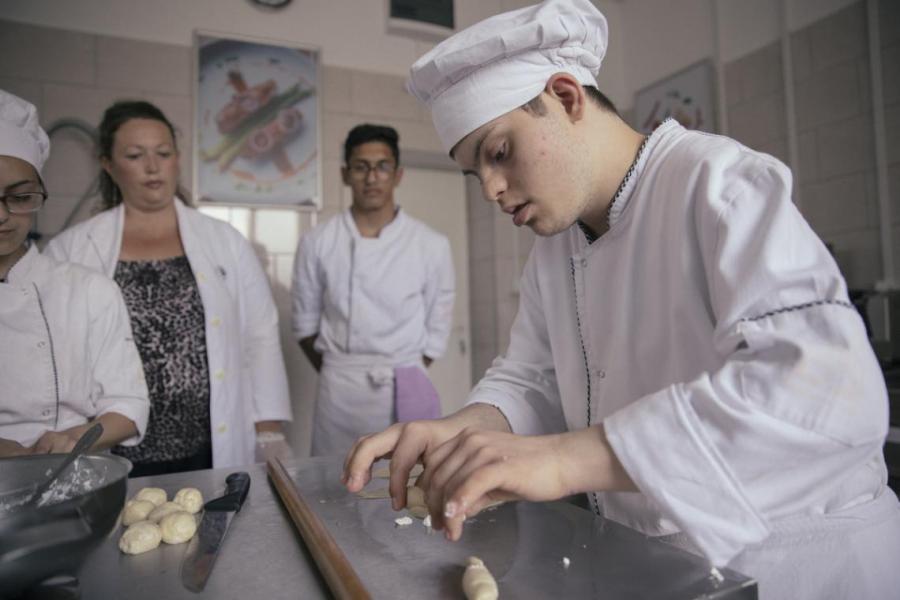 Nemanja is glad that he was able to teach him something, but says that Dusan taught the entire class about tolerance and responsibility.
"My heart is full when I see that he implemented what I told him and he always thanks me. But we also learned a lot from him – most of all to study hard, improve our grades and go to classes regularly."
Although she was worried about how he would be accepted, Dusan's mother is happy, because she knows that she can count on everyone's support at school.
"Dusan had an individualized education plan. He had lesson plans for each subject and his friends helped him."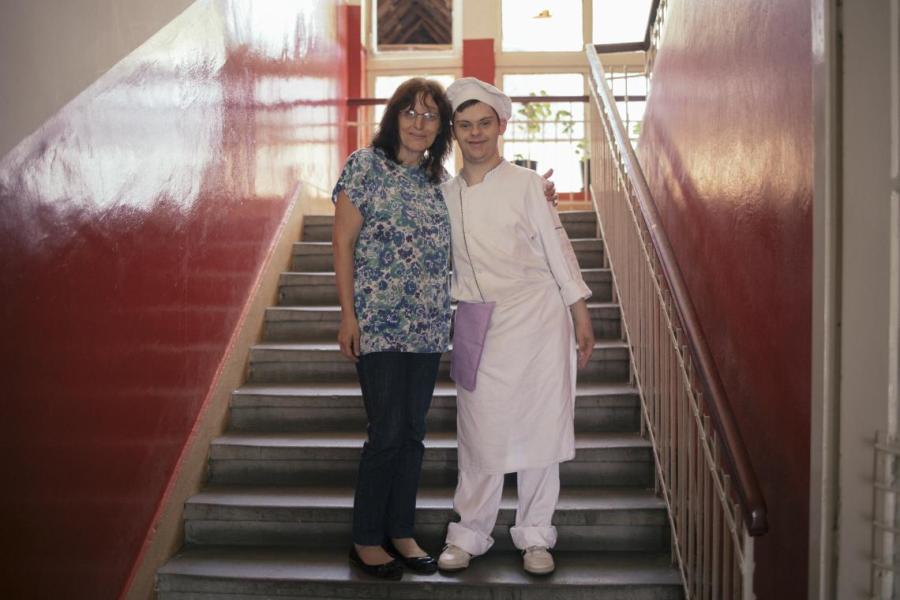 Marina Ilic, the school pedagogue, explains that they make plans in cooperation with parents. "All of our students are different. No one's difficulties and needs are completely the same. We must be ready to support each of them individually to help them, to support them, and to make sure the plans are in line with their capabilities."
There are more than twenty children who need additional support in this school. And each one of them is included in group and team work. If possible, they are also included in project teaching, extracurricular and sports activities.
Biljana Milkic, a teacher, believes they are on the right track to additionally improve inclusive education.
"Inclusive education is not only for children who have a problem. It's intended for all children – because they're fulfilling their goals when interacting with other children."
At the Economics and Trade Secondary School in Zajecar, they have ten years of experience with inclusive education. This is one of the 200 schools that will be included in the Learning Together Project, implemented by the Ministry of Education, Science and Technological Development, the Delegation of the European Union to Serbia, and UNICEF. The aim is to provide support to institutions, schools, teachers, communities in order to ensure quality education for every child.
Danijela Arunovic, a homeroom teacher in the school, says that individual education is everyone's business in the school. "Yes, all employees, all teachers, not only homeroom teachers or subject teachers. We're trying to include students in all activities, both in classes and extracurricular activities. We are developing their peer learning and group work skills, so that they can help each other, socialize more, be in touch with each other."
Dusan hopes he'll stay in touch with his friends, even after they finish school. He is also hoping to get a job in a hotel, so he can show off his skills and bake a cake for his friends.
Written by Jelena Obućina
UN entities involved in this initiative
UNICEF
United Nations Children's Fund