Story
Soon in your neighbourhood – new equipment, new services, new jobs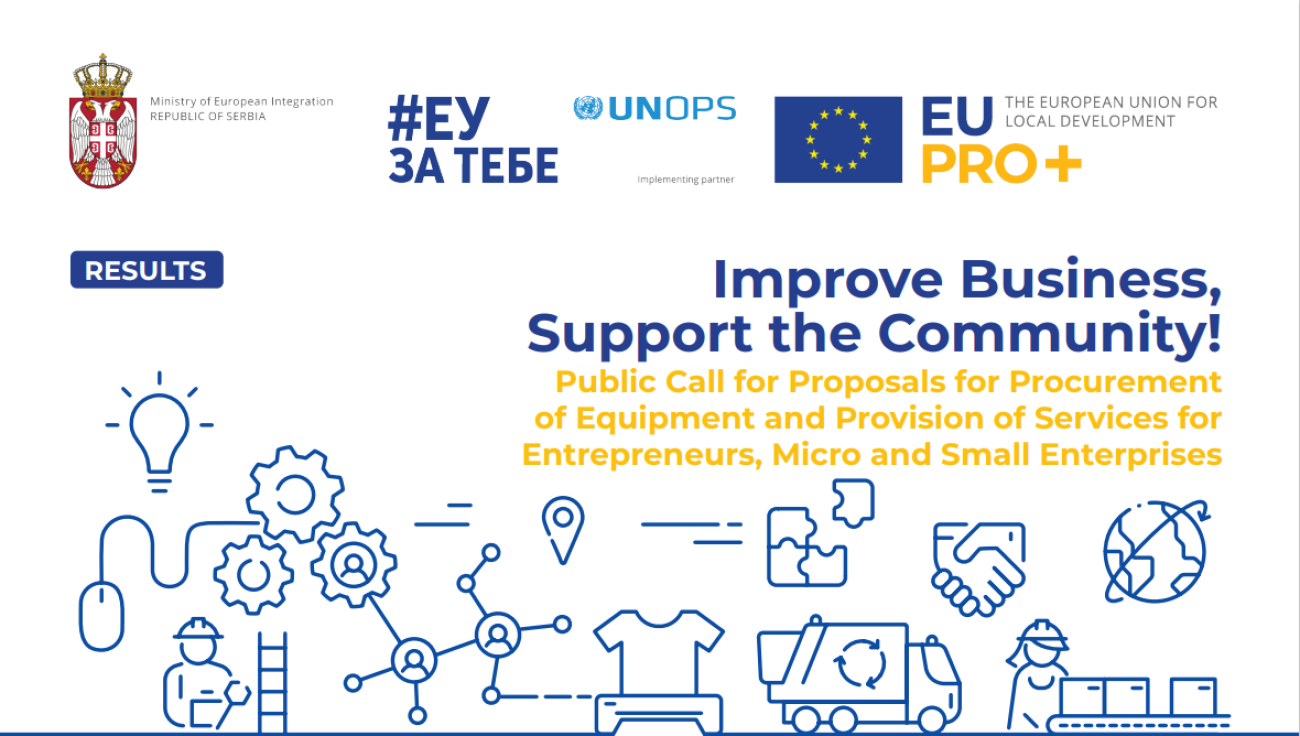 Belgrade, 29 December 2022
A total of 124 entrepreneurs, micro and small businesses from Šumadija, western, southern and eastern Serbia will utilise the European Union grant support worth over 2.9 million Euros to purchase new equipment and introduce services in order to improve production and market potential and contribute to increasing employment. The grantees were selected through Public Call organised by the EU PRO Plus programme.
"The fact that these enterprises will employ 270 people already after the first year of using the approved funds and will export goods and services for two million Euros more than before, shows the concrete benefits the citizens of this part of Serbia have from European integration. The EU grants aimed at small businesses, which are new to the market, will help them to be more efficient and productive and to prepare for the European market. And what is even more important, they will employ more people and soon contribute to the overall economic development of their communities and the entire country," said Tanja Miščević, Minister of European Integration.
"The European Union supports development and competitiveness of the micro and small business sector because it is them who contribute to sustainable economy and higher employment rate. These are 124 entrepreneurs and their families who will benefit from the funding so this is one of the perfect examples of how the EU accession is directly affecting the citizens. With the new equipment, these companies throughout Serbia, especially in smaller and less developed municipalities, will improve production and employ their fellow citizens. Additionally, in this way, together with the Government of Serbia, we are working on both local and more balanced regional development," said Ambassador Emanuele Giaufret, Head of the Delegation of the European Union to Serbia.
The European Union support is aimed at young, micro and small enterprises up to five years old, which are in the second investment 
cycle. Of that, close to two million Euros have been earmarked for 77 enterprises engaged in production, mainly food, furniture, clothing, and wood processing. The remaining support of 936.492 Euros will be used for the purchase of equipment for a total of 47 enterprises that provide services such as information technology, architectural and engineering activities, health care services, maintenance and repairs.
During the duration of the projects, the enterprises, which will participate financially in the procurement of equipment with 880,228 Euros, are expected to carry out socially responsible activities thus supporting their local communities, through help to vulnerable groups, children, sports clubs or environmental protection.
Within the public call for the procurement of equipment and the introduction of services for entrepreneurs, micro and small businesses that was prepared and conducted with the support of the Ministry of Economy, the EU PRO Plus programme organised 18 info-sessions that gathered over 800 participants, and then, out of the 610 applications submitted, after the administrative and technical evaluation and field visits to enterprises, a total of 124 projects were approved for financing based on expected results and effects, sustainability, social impact and costs. The list of approved projects is available here on the website of the EU PRO Plus programme: Results of Public Call for Proposals for Procurement of Equipment and Introduction of Services for Entrepreneurs, Micro and Small Enterprises
UN entities involved in this initiative
UNOPS
United Nations Office for Project Services