Story
Empowering Families: The Transformative Impact of Visiting Nurses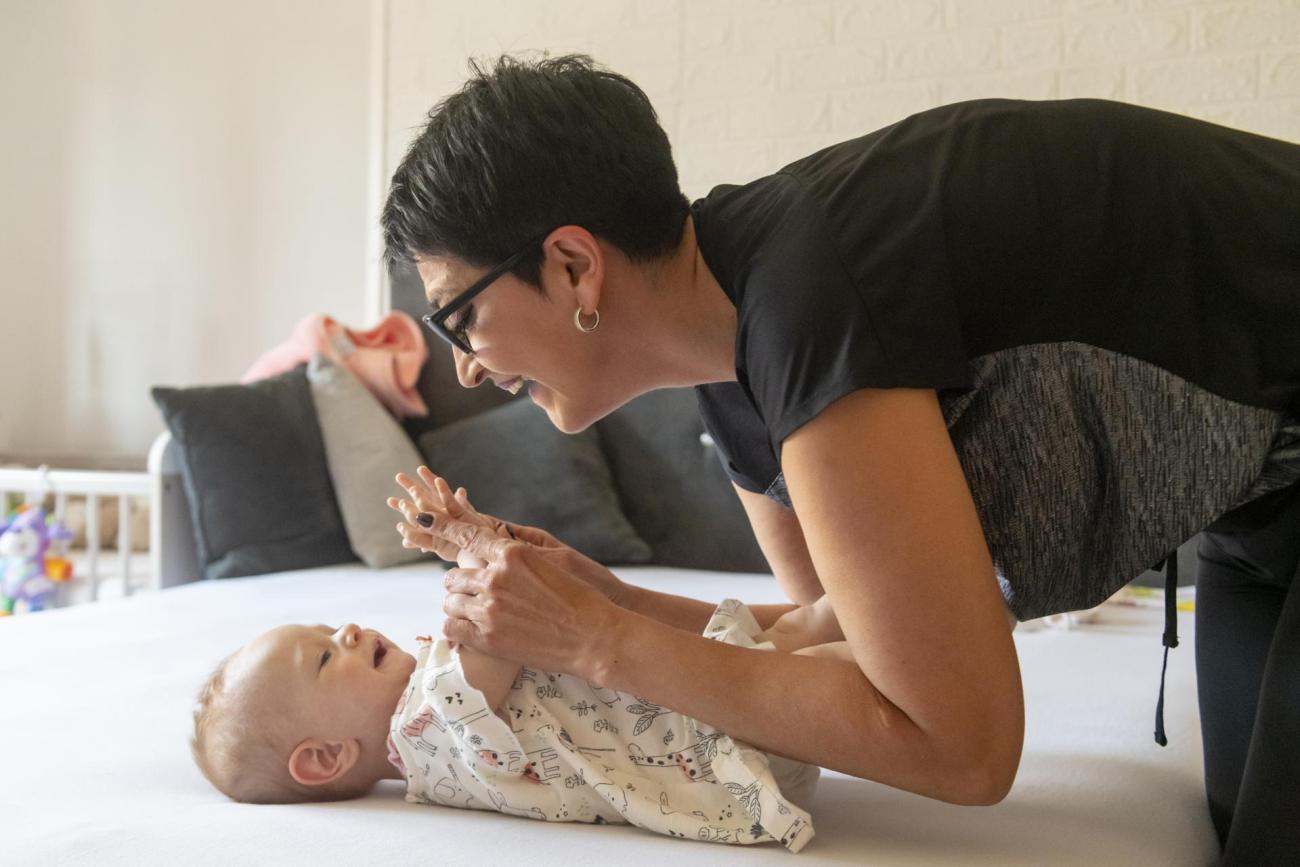 Singing, talking, and playing with her child from birth are crucial for stimulating children's development
Vrsac/Uljma, Serbia, May 2023 - With curious green eyes, six-month-old Lara cheerfully responds to her mom's voice. She sings along with her mother as she is changing her. Miljana and Lara like to sing. And they talk a lot.
"Many people, including me, think, it's a little baby, she can't understand anything at first. But I think it's very important for your child to get used to your voice from the birth so she can recognize it," says Miljana Popov, Lara's mom.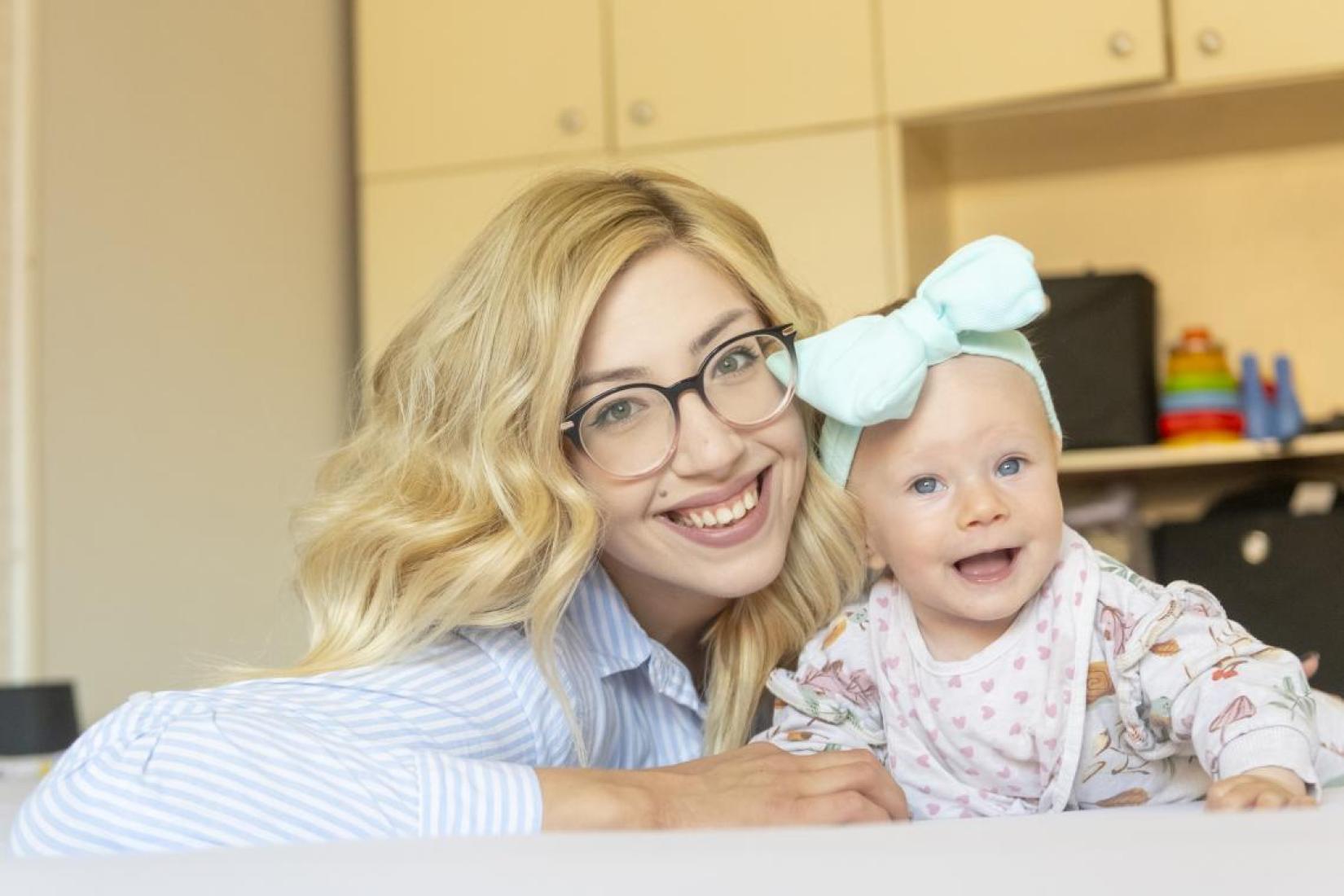 Visiting nurse Jasmina Birta taught Miljana that singing, talking, and playing with her child from birth are crucial for stimulating children's development.
While Lara was still in the womb, Jasmina began counselling Miljana essential parenting skills.
"We built trust early on, with Jasmina being informed about every aspect of my journey even before I gave birth," Miljana recalls.
Jasmina recalls the circumstances that led Miljana to the decision to raise Lara on her own.
"When I met Miljana, she had already decided to be a single mother, to take care of her child on her own. When you work with a single mother, it's very important to make sure she feels supported, empowered, and that someone is always there for her - that she's never alone on her parenthood journey. We really learned a lot through the Playful Parenting programme. We learned how to apply our knowledge and our skills and how to make it easier for single mothers."
UNICEF, the Government of the Republic of Serbia and partners, with the support of the LEGO Foundation, are implementing the Playful Parenting programme. The visiting nurse is one of the first pillars of support for parents and their young children, especially in stressful situations.
"I had firmly decided, talking to Jasmina, that I would breastfeed. But the stressful situations prevailed, and I thought that I wouldn't be able to breastfeed because of that," explains Miljana. "However, with Jasmina's help, we managed to do it. We managed to do a lot!"
Jasmina provided Miljana with extensive guidance on breastfeeding, bathing, changing clothes, and feeding the baby. Additionally, she advised Miljana on stimulating the child through play, communication, self-care, and relying on the support of her surroundings.
"What I observed in her family was a strong support system and an environment that provided immense support. Her parents played a significant role in offering unwavering support. I emphasized to her that she was not alone in her parenting journey," explains Jasmina.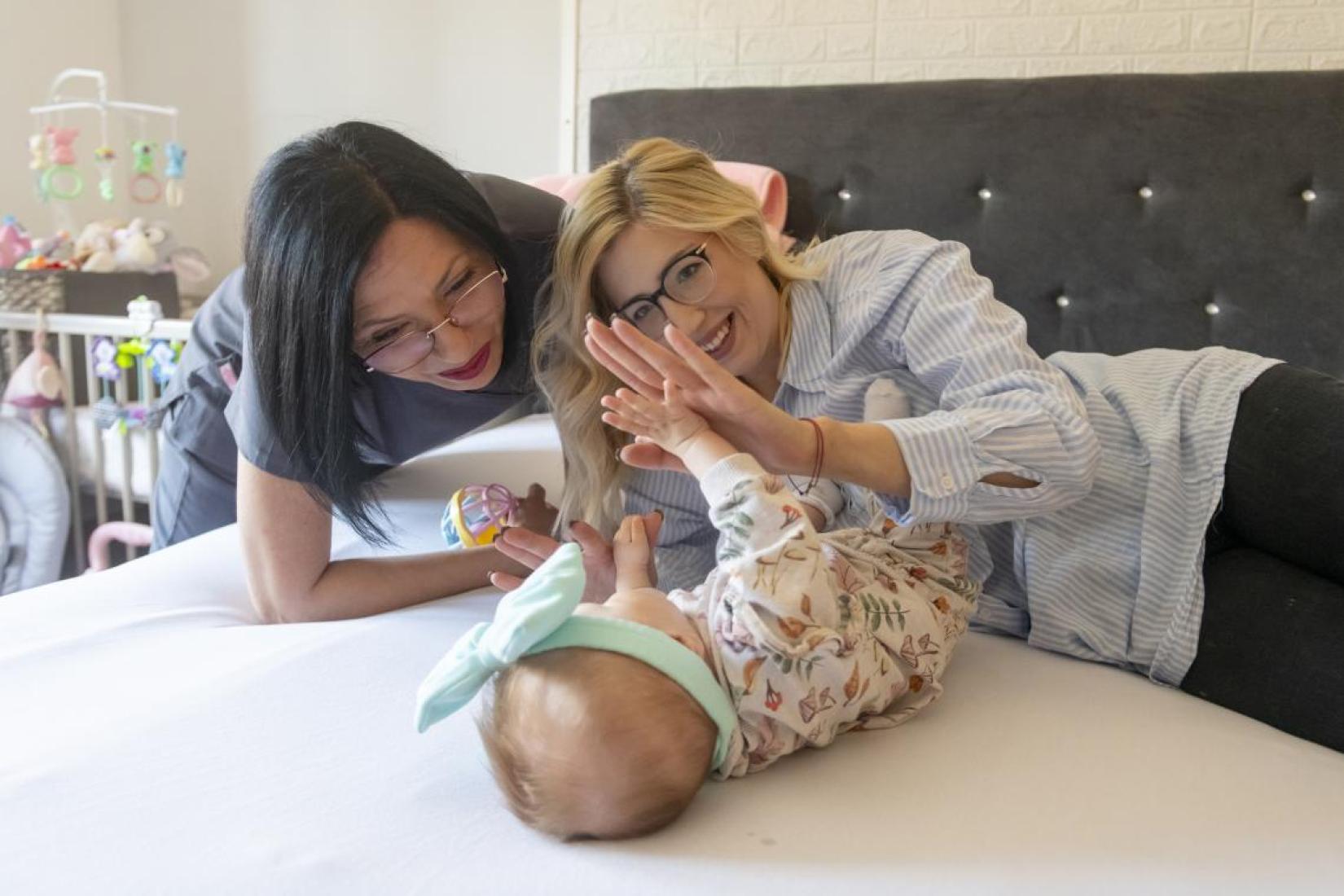 Following the visiting nurse's advice, it meant a great deal to Miljana to have dedicated time for herself each day while Lara played with her grandparents.
"What I tell all mothers, all families, is that only the best version of themselves, as parents, as mothers, can give the best version of the child," says Jasmina.
Jasmina also met the Jovanov family from Uljma, near Vrsac, while their ten-month-old Marta was still in her mother's womb. Jelena and Bora, her parents, recall that Jasmina, whom they affectionately call Jaca, asked them about their vision for their baby and how they envisioned themselves in the role of parents.
"I knew I wanted to be the best mom for Marta!" Jelena Jovanov recalls.
On the first visit during the pregnancy, the visiting nurse engages with the family in the comfort of their home, providing them with valuable advice. This support extends to the first days after leaving the maternity ward and continues as the baby reaches six months of age. The parents emphasize that above all, the visiting nurse instils self-confidence.
"That's something you wait for, for someone to tell you – you're doing it right," says Jelena Jovanov, Marta's mom.
"I didn't know how to hold my child on the first day when we came home from the maternity ward. I never imagined that I could take a child so small, carry her, change her. My confidence grew over time," says Borivoje, Marta's dad.
Three months after Marta's birth, Bora and Jelena encountered a significant challenge when Bora fell ill and spent the subsequent months confined to bed.
"I had a problem with my spine," recalls Borivoje. "I spent the next four months in bed. At first, we didn't know what to do. And then Jaca came a few times to guide us through it."
"He continued offering Jelena emotional and mental support. Whenever I visited them, he was always willing to discuss parenting and took excellent care of Jelena. This exemplifies good practice, highlighting the significance of parental support and the importance of having a broader support network," Jasmina explains, reflecting on her experience and the advice she provided to the family.
In an empowered family, children thrive and flourish through play and communication, as affirmed by Jasmina. Dad Bora attests to the transformative power of support, as they managed to overcome every challenge and now relishes in playing Marta's favourite game, catch. Embracing the advice of the visiting nurse, both mom and dad have cultivated a habit of reading books with Marta since her earliest days, fostering a love for storytelling and nurturing her growing and developing brain. Through these shared experiences and a strong support system, this family continues to create a nurturing environment where Marta can thrive and develop.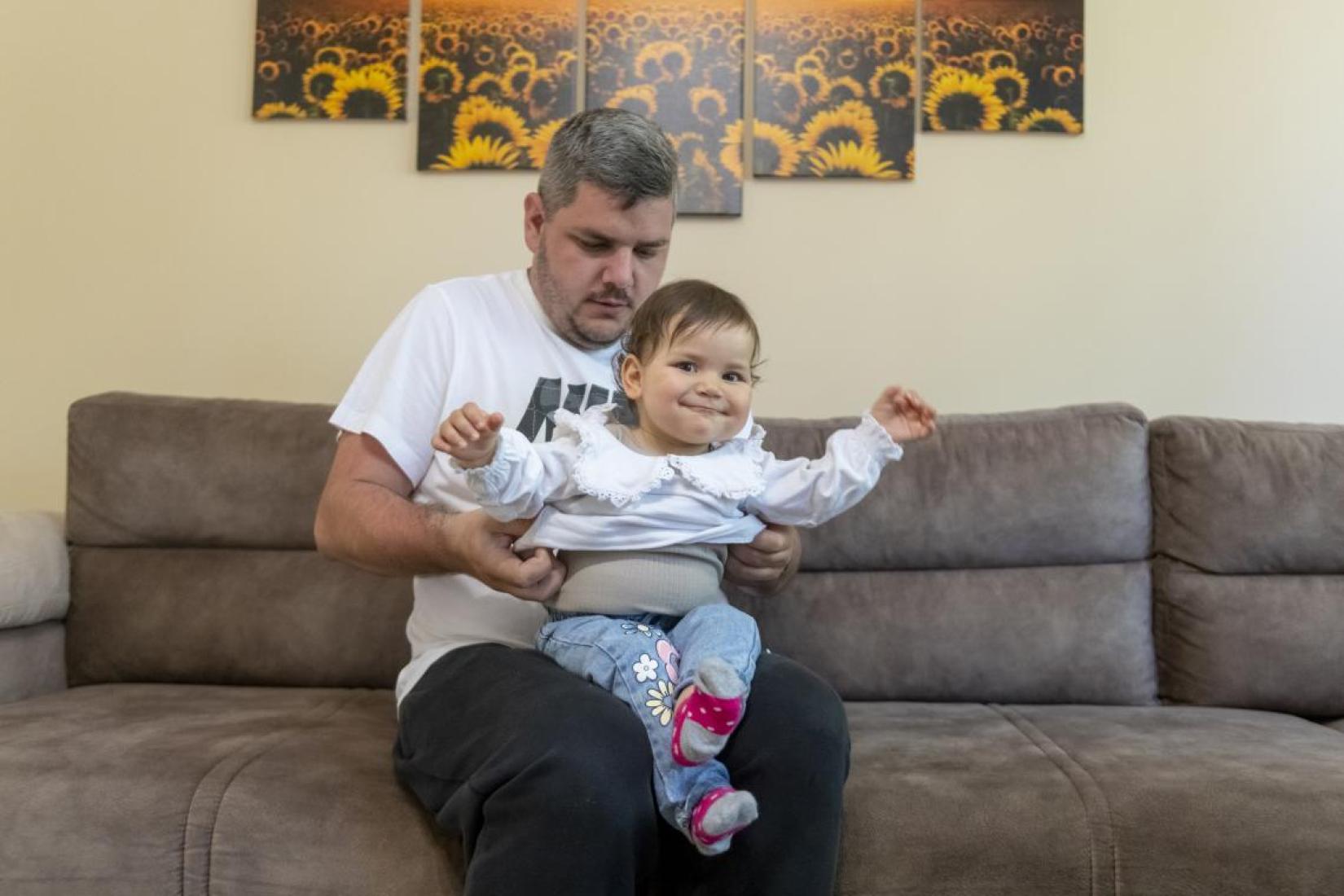 "She told us to play with Marta, to look her in the eyes when we're playing with her, to name colours. Maybe I would have left her to play with Bora while I make lunch, if Jaca hadn't told us – let her see, talk to her about what you're cooking," says Jelena.
"You can clearly see that Marta has bonded with both parents. That Marta is growing up in a stimulating environment," Jasmina believes.
UNICEF's Playful Parenting Programme aims to fortify the support network for early childhood development, and empowering parents and caregivers. The programme was initially launched in Novi Sad, Kragujevac, Vranje, Novi Pazar, and Bor, and last year, an additional 29 local self-governments joined in, developing models to foster supportive parenting. So far, UNICEF has reached over 20.000 families with scaled-up services provided by home visiting nurses and paediatricians. This includes improved access to, dissemination and uptake of relevant information related to parenting, child development and nurturing care through innovative digital solutions such as the Bebbo mobile application. Another objective of the programme is to empower practitioners, including visiting nurses, preschool teachers, and foster care counsellors, enabling them to enhance parental skills and ensure the holistic well-being of both children and caregivers.
UN entities involved in this initiative
UNICEF
United Nations Children's Fund